Make plans this spring to enjoy a variety of visual and performing arts events at Lone Star College-CyFair.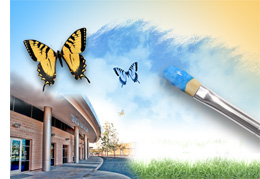 The Center for the Arts season begins in the Bosque Gallery with Houston artist Al Nash's realistic approach to Pop Art and expression of themes of patriotism and social comment in his engaging "American Icons" exhibition Jan. 20-Feb. 12. Then on display Feb. 24-April 2 will be an evocative exhibition of luminous paintings with Houston area artist Margaret Smithers-Crump's exhibition "Life Lines." The semester showcase of creative talent closes with the original works of photography, painting, drawing, design and ceramics students in the Student Art Exhibition April 21 – May 1.
For gallery, artist receptions or exhibition information, go to LoneStar.edu/bosquegallery or call 281.290.5273.
To learn more about LSC-CyFair's performing arts programs, there will be a special "Faculty Performance and Open House" event held Feb. 21 in the Main Stage Theatre. First enjoy a free concert featuring LSC-CyFair Music, Drama and Dance faculty along with student testimonials. Then stay for a reception and an open house to visit with faculty and students as well as receive information and ask questions about specific programs including Vocal, Chorus, Musical, Commercial Music, Drama and Dance. For event information, contact department chair Alex Qian at 281.290.5985.
On stage in the Black Box Theatre, Jeff Wax will direct the Pulitzer Prize and Tony Award-winning play "Doubt: A Parable" March 27- April 12. Set at a Catholic school in the Bronx in 1964, John Patrick Shanley's play examines the human tendency to convict others with our own convictions and to doubt others with our own doubts. In the Main Stage Theatre, he directs a delightful action-packed children's show "A Mugwump, Some Flim-Flams, and a Dumb Cluck" this summer. Families should mark the calendar June 29 – July 2 to bring their children for an interactive, interstellar ride on a mission to defeat a terrible Mugwump and save the Flim-Flam planet from the Mugwump's tyrannical rule.
For those who enjoy instrumental and vocal events, save the dates March 26 for LSC-CyFair's String Ensemble annual "ChamberNChocolate"; April 1 for a Jazz Ensemble concert, April 17-26 for the award-winning musical "A Man of No Importance"; April 30 for the annual Pop Songwriting Concert and May 2 for the Symphonic Band, Chamber Singers and String Ensemble joint concert.
All production dates and show times are subject to change, but for a complete up-to-date schedule and ticket information, go to LoneStar.edu/boxoffice or call 281.290.5201.