Lone Star College-CyFair's Music Department will hold summer auditions for fall scholarships available for instrumentalists and vocalists.
LSC-CyFair's student instrumentalists perform major works for band, orchestra and jazz ensembles, often featuring acclaimed guest artists. The vocal program includes opportunities to perform in full-scale operas and musicals, as well as in the Concert Choir, Chamber Singers and Pop Singers ensembles. Musical theatre courses provide practical experience in auditioning, rehearsing, and performing in a major musical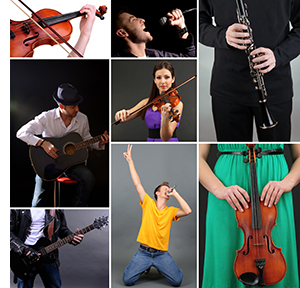 For instrumental musicians, scholarship auditions will be held from 1 p.m. – 3 p.m. June 27. Instrumentalists should be prepared to play a one-minute excerpt from an etude, a solo or from the band literature. Dr. John Wolfskill recommends students choose an excerpt that effectively showcases their skills at an appropriate level. For information, email him at John.C.Wolfskill@LoneStar.edu.
For vocalists interested in the Pop Singers class and associated scholarship, auditions will be from 6 p.m. – 7 p.m. Aug. 3. Students are asked to prepare two contrasting pieces of popular (non-classical, non-operatic) music as well as to bring sheet music for piano accompaniment, said Associate Professor of Music Dr. Aaron Alon.  For information, email him at Aaron.Alon@LoneStar.edu.
For those interested in choral or musical theatre, auditions will be held from 7 p.m. – 8 p.m. Aug. 3. Music Department Chair Alex Qian said students should be prepared for vocalizing, to sing one classical song or one musical selection in its original language and perform the selection with piano accompaniment. While original music is not required, copies should be put into a 3-ring binder and perform with piano accompaniment only. For information, email him at Alex.Qian@LoneStar.edu.
The Music Department will provide a pianist for the Aug. 3 auditions.
In addition to grade and enrollment criteria, applicants must demonstrate a commitment to the profession with involvement in campus activities related to the profession, such as participating in campus music concerts, plays and/or musicals. 
All scholarship auditions will be held in the Recital Hall (ART 102) in the Center for the Arts building at 9191 Barker Cypress.
Both scholarship and audition information are available at LoneStar.edu/cyfairmusic.