Students who attended GED classes and took the GED test at Lone Star College over the past year received their GED® certificate during a recent commencement ceremony held at LSC-North Harris.
Students who complete General Educational Development (GED®) test preparation courses and pass GED® testing are certified to have high school level academic skills. The commencement ceremony held May 28 included 49 students from across the greater Houston area.
"Students who learn more, earn more," said Dr. Nadia Nazarenko, LSC executive director, college preparation programs. "Students with a high school diploma, or GED® can earn more than $8,000 a year over someone who does not have a diploma."
The ceremony featured former GED® student Darren Rickets who is currently attending LSC-University Park. Rickets spoke to the graduates, sharing his story of how he overcame adversity to obtain his GED® and worked toward a life that has made him and his family proud. A member of Phi Theta Kappa, an honors society, and a small business owner, Rickets is currently studying pre-med with hopes of continuing to medical school.
In addition, graduates Laurel Glover and Miguel Delarosa each received a $450 LSC scholarship to help them take that next step in their educational pursuits.
"Earning a GED® certificate can lead to a better career, more job security and greater sense of pride, and it's also a big step toward attending college," said Nazarenko.
Not having a high school diploma can severely limit job and career opportunities. Visit LoneStar.edu/GED to begin taking an important first step to a better life.
Currently, the computer based 2014 GED® Test is offered through Assessment Centers at LSC-CyFair, LSC-Kingwood , LSC-North Harris, LSC-Tomball, LSC-University Park, and LSC-Conroe Center.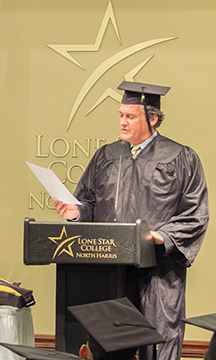 Former GED® student and current LSC-University Park student Darren Rickets, pictured, spoke during a recent GED® graduation ceremony held at LSC-North Harris.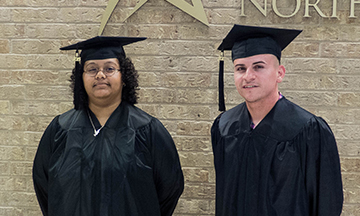 GED® graduates Laurel Glover, left, and Miguel Delarosa each received a $450 Lone Star College scholarship to assist them in continuing their education.
Lone Star College has been opening doors to a better community for more than 40 years. Founded in 1973, LSC remains steadfast in its commitment to student success and credential completion. Today, with almost 83,000 students in credit classes, and a total enrollment of more than 95,000, Lone Star College is the largest institution of higher education in the Houston area and one of the fastest-growing community colleges in the nation. Stephen C. Head, Ph.D., is the chancellor of LSC, which consists of six colleges including LSC-CyFair, LSC-Kingwood, LSC-Montgomery, LSC-North Harris, LSC-Tomball and LSC-University Park, seven centers, LSC-University Center at Montgomery, LSC-University Center at University Park, Lone Star Corporate College, and LSC-Online.
####