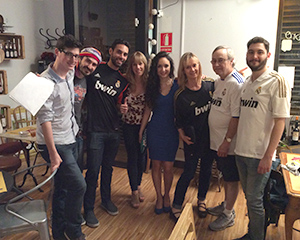 Lone Star College-Montgomery Spanish professor Andrea Bacorn hopes to bring a higher level of entertainment back into learning Spanish with the production of her new telenovela, "Compañeros de Piso."
It all started with the idea of updating the
Spanish educational videos that accompany student textbooks, when Bacorn found herself submerged so passionately in a project that it literally led her to the other side of the world.
Recognizing the growing disinterest among students in the tools utilized in aiding students to learn a new language, Bacorn took it upon herself to create a solution to the problem and wrote an entire script that turned into a telenovela web series similar to the English version of "Friends."
The educational mini-series, whose title translates to "roommates," is a Spanish language soap opera that adds modern touches of technology and mixes them with relatable college student interactions and much needed humor to keep students engaged.
Experienced and rich with over 20 years of Spanish culture, Bacorn believes telenovelas are well suited for language studies due to their utilization of melodrama with visual clues and body language about the content. They are predictable and have a much easier speaking style with clear and heavy accents, and they are very engaging.
Recognizing the potential in her idea, last year Bacorn presented a proposal of her plan and received a Faculty Exploration Grant, utilizing all the funds to pay the production company enlisted and the actors hired.
Bacorn, knowing all the actors' personally, wrote the script for each character in collaboration with the individual actors personalities, making the on-set chemistry that much more real and relatable to viewers. 
The production, which took place in Madrid, was filmed over the course of two days, and resulted in five five-minute episodes, paired with Spanish subtitles for the students to follow along.
Substituting the telenovelas for the standard videos that accompany the required class text books gives students the opportunity to study Spanish culture and learn the true native language while enjoying their educational experience.
Bacorn plans to have these videos readily available for educational purposes by the fall semester, and envisions them being used not just on other Lone Star College campuses, but also in local high schools. Her ultimate dream is to see this project become an integrated part of the statewide curriculum.
"The acting is very good, and overall it's funny," said Bacorn. "These videos are a great tool and are very unique. I hope to see it go beyond our campus."
LSC-Montgomery is located at 3200 College Park Drive, one-half mile west of Interstate 45, between Conroe and The Woodlands. For more information about the college, call (936) 273-7000, or visit

www.LoneStar.edu/montgomery

.
Lone Star College System has been opening doors to a better community for more than 40 years. Founded in 1973, LSCS remains steadfast in its commitment to student success and credential completion.  Today, with 78,000 students in credit classes, and a total enrollment of more than 90,000, Lone Star College System is the largest institution of higher education in the Houston area and one of the fastest-growing community college systems in the nation.  Dr. Steve Head is the chancellor of LSCS, which consists of six colleges including LSC-CyFair, LSC-Kingwood,LSC-Montgomery, LSC-North Harris, LSC-Tomball and LSC-University Park, seven centers, LSC-University Center at Montgomery, LSC-University Center at University Park, Lone Star Corporate College, and LSC-Online. To learn morevisit LoneStar.edu.