A month of programs focused on women's rights features a special Sept. 23 community "Texas Women: Documenting History" presentation and book signing with Dr. Stephanie Cole at Lone Star College-CyFair.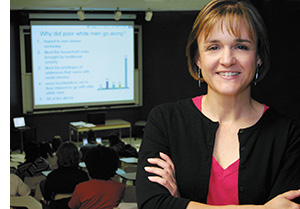 Dr. Cole's presentation is a highlight of the library's Powerful Women in Texas and Beyond: The Struggle for Women's Rights programs and exhibitions available through Oct. 6.
As an associate professor of history at the University of Texas at Arlington, she teaches courses on women's history, on work history, and on gender, race, sex and marriage in the United States. Her current research is on the role of the state in organizing labor relations in antebellum households, and how that role restricted the efforts of all domestics, both enslaved and free, to resist the oppressive conditions of their work. 
As an award-winning author, her book "Texas Women: Their Histories, Their Lives" provides concise narratives with chapters on influential women starting in colonial times through the late 19th and early 20th century, with emphasis on the struggle for women's suffrage, legal rights, health care, access to education and professional standing.
Among the women featured are Julia Scott Reed, the first African-American writer hired full time at a major Texas daily newspaper in Texas; Hermine Tobolowsky, a Dallas lawyer who was a driving force behind the Equal Rights Amendment; politician Barbara Jordan, astronaut Mae Jemison, peace activist Casey Hayden, and the Houston Post's Oveta Culp Hobby, who led the World War II Women's Army Auxiliary Corps and served under President Dwight Eisenhower as the first secretary of Health, Education and Welfare.
Join Dr. Cole at 7 p.m. in LSC-CyFair's Main Stage Theatre in the Center for the Arts building for her presentation followed with her book signing in the lobby. Then return Sept. 30 for the "Up to the Challenge: Women in the Halls of Power" panel discussion with Professors Heidi Jo Green, Blake Ellis and James Seymour as well as former Texas legislator Patricia Gray set 12:30 p.m. in the library, room 131.
Also be sure to stop by the library for the Humanities Texas "Citizens at Last: The Woman Suffrage Movement in Texas" exhibition, which focuses on the 27-year campaign for woman suffrage in Texas.
For event and exhibition information, go to LoneStar.edu/library/womensrights.