Join Lone Star College-CyFair graduate and artist Lyvia Alvarez for a free "Landfill Art" program Aug. 10 that explores upcycling, the artistic process of creating artwork out of discarded materials such as paper and cardboard.
This program is part of the Learning, Inspiration, Fellowship, and Enrichment (L.I.F.E.) series offered at 10 Wednesdays in the library, room 131, at 9191 Barker Cypress.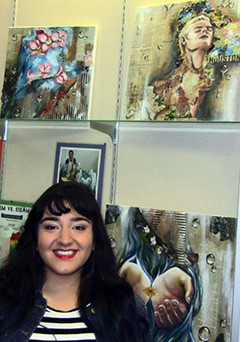 "Upcycling is easy to do and affordable if done more than once," said Alvarez. "You're using distressed magazines and misc. objects to create layers upon layers to create accurate perspective."
Her love of art began as a child when she illustrated stories and continued through high school and college where she shined as an artist. While at LSC-CyFair she received a Robert McGehee Scholarship earned for her artistic endeavors and later won first place in the 2015 Student Art Exhibition and Best of Show in 2016.
She admitted she was not one to excel in academics until she was selected as a member of LSC-CyFair's inaugural cohort of Honors College Chancellor's Fellows. She persevered, went to tutoring, did what she needed to succeed and proved she could handle tough academic classes.
"I have been challenged academically and forced to recognize that I have potential. This (cohort) journey allowed me to uncover my strengths and understand my weaknesses," said Alvarez, who plans to pursue a master's for the option to teach art at the college level.  "Knowing that my potential is limitless is key for continuing my educational career. I'm going to do whatever it takes to follow my dream."
It was a solid waste management research project for an environmental science class addressing better methods to prevent waste going to landfills that she was able to combine upcycling art and engaged her interest in science. This past year, she showed her upcycling paintings created with recycled paint and materials honors project at the Student Symposium and presented at The Honors College Undergraduate Research Day.
"I'm intrigued by hyper realistic art – art that looks like photographs. I also find it fascinating to create 3d illusions on 2d canvas. And it's great to try something new and out of the box with paint such as adding magazines and layering," she said. "It's an amazing experience to learn. I want a little more time to experiment and develop my own style."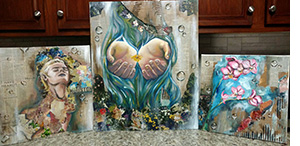 While she earned her Honors Associate of Arts degree and plans to transfer to the University of North Texas for its art program, Alvarez will stay one more semester at LSC-CyFair to work on her art portfolio.
Aurora Lugo, Alvarez's Honors Environmental Science professor, is excited Alvarez will share her talent in an upcycling art workshop in the library and to have her upcycling paintings displayed in the Health Science Center.
"I have seen her grow from a student that struggled in my class and was insecure about her own potential to a student who shined in class and now knows her potential and abilities," said Lugo. "I have to say I could not be more proud of her."
For information on the Honors College or L.I.F.E. programs, go to LoneStar.edu/cyfair.