Lone Star College-CyFair graduates Skyeler Aguado, Ya Xing Li and Thuy Pham recently received prestigious Terry Foundation Transfer Scholarships to pursue future careers as a speech pathologist, college finance teacher and anesthesiologist, respectively.
"Overcoming personal obstacles, these Honors and Phi Theta Kappa students were engaged not just on campus but also within the community," said LSC-CyFair President Dr. Seelpa Keshvala. "They leveraged the opportunities and programs Lone Star College had to offer, and we are so pleased that their perseverance, hard work, and positive attitude have been acknowledged with these amazing scholarships from the Terry Foundation."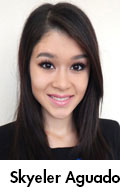 Aguado, who began at LSC-CyFair as a dual credit student with a 4.0, turned down a full-ride scholarship to play college volleyball choosing instead to follow her passion of speech pathology as a result of her brother's success with his speech pathologist. 
However, she struggled in college when her father, the family's sole source of income, walked out and she had to get a second job while taking a full class load and serving as an officer for two campus clubs. Her GPA dropped, negative thoughts overwhelmed her and she said she felt like a complete failure.
Aguado regrouped, graduated Magna Cum Laude and then applied and was awarded three prestigious scholarships, including the $69,100 Terry Foundation scholarship to the University of Houston.
"This award has solidified all of my hard work these last two years at Lone Star College. It has proven to me that my personal hardships and struggles have not defined me. Instead, they have prepared me and enabled me to push harder to attain my education," she said.
 She will be pursuing a master's with a minor in business management so she can ultimately open her own Deaf culture-friendly Speech Pathology practice.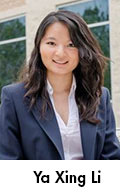 During her time at LSC-CyFair, Li served as a Student Ambassador as well as volunteered at college events and in the community, such as Habitat for Humanity and the Houston Food Bank. She was also one of only 20 students who earned prestigious national recognition as a member of the 2016 All-USA Community College Academic Team.
However, success has not come easy for Li, who immigrated to the United States from China. Her mother abandoned her as a child, she had surgery to remove a tumor from her leg, was homeless for a time, faced language barriers and worked multiple jobs as a full-time student.
While the $67,000 Terry Foundation scholarship covers financial expenses of attending University of Houston in pursuit of a teaching career, Li said she still plans to work to make money to care for her mentally disabled father's medical and living expenses.
"I am very grateful that I have the privilege to be a Terry Scholar," said Li. "I am a very determined person. I never know how my effort will help me to succeed. I want to get internships and have job experiences that will help me to strengthen my leadership, finance, communication, mathematics and organization skills."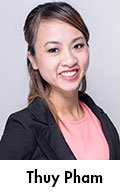 "My mind was blown away as I saw the word "Congratulations" in the acceptance email. I now have the opportunity to focus on school and participate in study abroad programs, extracurricular activities and community service opportunities," said Pham. "Receiving this award proves that my struggles and hard-work have finally paid off. There were times when people told me I needed to be realistic with my dreams. They told me I couldn't, so I did."
Pham faced several challenges along the way, including living on her own in Vietnam at age 15.  Three years later, she immigrated to the United States. Facing medical issues along with depression could have easily been a setback on her aspirations, but Pham continued to work two jobs and maintain 13-18 hours a semester at LSC CyFair. 
>Involvement in Phi Theta Kappa, serving as Vice President of Campus Affairs, along with working as a Student Ambassador, were opportunities that gave Pham a life-changing college experience. More importantly to Pham, she said her Phi Theta Kappa co-advisors, Dr. Blake Ellis and Dean Daniel Villanueva, and fellow officers, became a second family.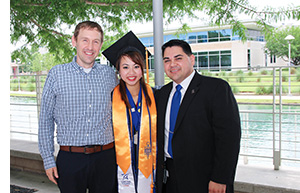 "Although we started as strangers, somehow we became family. They helped me become a better leader and pushed me to where I am today," said Pham, who dreams beyond just becoming an anesthesiologist. "My ultimate goal is to establish a nonprofit organization to provide medical treatment around the world, especially for orphans and those who cannot afford medical treatment."
The Terry Foundation, a Houston-based philanthropic organization which Nancy and Howard Terry established in 1986, provides scholarships for outstanding Texas students, who show a record of leadership in school and community, financial need and strong academic abilities. The foundation has assisted hundreds of students with scholarships that provide financial assistance as well as academic, cultural, social and leadership opportunities and support throughout the college experience.  
"As a faculty member, I can attest that all three of these students have been challenged and excelled academically and are prepared to do great things in the future. We are proud of each of them," said Dr. Ellis.  "For our chapter to have three Terry Scholars is both rewarding and remarkable. It speaks to the success of our students and the strength of our chapter."
For information the Terry Foundation Transfer Scholarships, go to terryfoundation.org. For information on LSC scholarships, programs and Phi Theta Kappa at LSC-CyFair, go to LoneStar.edu/cyfair.