Recognizing the importance of helping college students form the habits of civic engagement and participation, Lone Star College has joined the ALL IN Campus Democracy Challenge to improve, measure, and celebrate its efforts to change campus climate and encourage informed participation in our democracy.
"There is certainly great interest and heighted awareness in this year's presidential election," said Dr. John J. Theis, LSC Center for Civic Engagement director. "This ALL IN program works toward improving democratic engagement, increasing voter participation rates, and graduating informed and active citizens."
The ALL IN Challenge is a program of Civic Nation, a nonpartisan group dedicated to increasing civic involvement. ALL IN works with colleges and universities nationwide to commit to a set of actions. Schools are recognized for achieving established benchmarks and presented awards for exemplary efforts.
"Preparing graduates for their public lives as citizens, members of communities, and professionals in society has historically been a responsibility of higher education," said Zaneeta E. Daver, director of the ALL IN Challenge. "We are thrilled to welcome Lone Star College to the Challenge and applaud this commitment to making engagement with our democracy a meaningful and pervasive part of campus culture."
Lone Star College will create a system-wide committee of faculty, students and staff to develop and implement an action plan and coordinate efforts of individual and groups that share the goal of increasing informed participation in the electoral process.
LSC will also join the National Study of Learning, Voting and Engagement (NSLVE), a program of the Jonathan M. Tisch College of Civic Life at Tufts University, and share the student voting participation rates from its NSLVE report with the ALL IN Challenge in order to be considered for recognition nationally and among its peers. The first ALL IN awards presentation will take place in Washington in fall 2017 and biennially thereafter.
The LSC Center for Civic Engagement also provides students a way to register to vote with TurboVote, a service which sends text message alerts when an election is taking place as well as other Election Day information. Lone Star College is rated by TurboVote as the No. 1 institute of higher education in the nation with 2,974 students, faculty and community member sign-ups since Jan. 1.
"We believe an engaged community is a stronger community," said Theis. "These enterprises go a long way to accomplish that goal."
Visit LoneStar.edu/CivicEngagement to learn more about this and other initiatives at the LSC-Center for Civic Engagement.
About ALL IN Campus Democracy Challenge
The ALL IN Campus Democracy Challenge is a Civic Nation initiative. Civic Nation is a nonpartisan organization that believes the participation of informed citizens is of the utmost importance and encourages individuals to play an active role in the U.S. democratic endeavors. It does not support or oppose candidates for public office in any election, nor does it take a stand for or against any political party.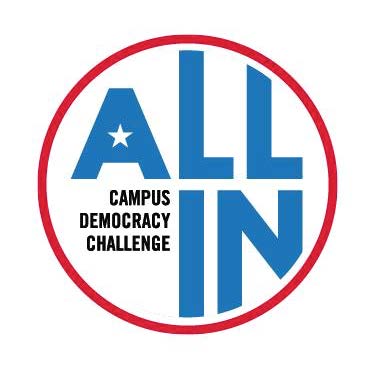 Known for its leadership, innovation and steadfast commitment to student success, Lone Star College provides high-quality academic transfer and workforce education / career training programs to more than 83,000 credit students each semester, and a total enrollment of 95,000 students. LSC is training tomorrow's workforce today and redefining the community college experience to promote student success and economic prosperity. Stephen C. Head, Ph.D., is the chancellor of LSC, the largest institution of higher education in the Houston area, which consists of six colleges, eight centers, two university centers, Lone Star Corporate College and LSC-Online. To learn more visit LoneStar.edu.
####