Lone Star College-CyFair offers flexible options for earning a degree as Robyn Rawlings knows having graduated this month taking 99% of her coursework online.
"I started in 2013 with the winter mini-mester," said Rawlings, who took one hybrid (part online and part classroom) EDUC 1300 class. "Online classes were the best for me because I work full time and am a single mom of a busy little 7-year-old boy."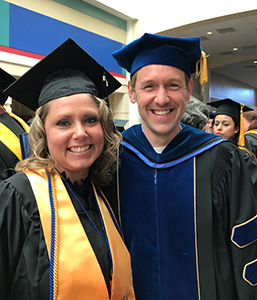 While she wasn't able to participate in as much of the campus life as she would have liked, she did attend some weekend events and those that included family activities.
"My experience as an online student was convenient and successful. Taking all my classes online gave me the opportunity to not let my other obligations lag behind," she said. "I was able to take each class more at my pace even though there were due dates for assignments."
She also took advantage of some tutoring in the library and was inducted into the Phi Theta Kappa Honor Society.
"Robyn's commitment to her education is tremendous," said Dr. Blake Ellis, Phi Theta Kappa advisor. "Not only did she complete her degree online, but she excelled academically and stayed active in our college's Phi Theta Kappa chapter. She is a great example of the resilience of the community college student."
Excited to be among the more than 500 graduates at LSC-CyFair's May 13 commencement ceremony, Rawlings earned an AAS in Business Management and now plans to transfer to the University of Houston in the fall in pursuit of a bachelor's in Management Information Systems.
"Earning my AAS will help me to advance with my career growth allowing me to be eligible for promotions that require a degree," she said.
Rawlings works as a customer success manager for an area software company, CA Technologies, that she would like to grow within and eventually run her own customer success team.
Registration is under way at LSC-CyFair for summer sessions that begin June 5 and July 13 as well as the fall semester, which begins Aug. 28. LSC-CyFair offers day, evening, weekend and online classes for degrees, workforce certificates and more. For information, go to LoneStar.edu/registration.