Karen Picker's dream of becoming the first woman engineer in her family, began with Lone Star College-CyFair's English for Speakers of Other Languages (ESOL) Program in 2009.
While waiting to begin college in Venezuela, Picker spent some time in the United States visiting friends. At the time, she said she could barely spell her name or say basic words in English. She heard about LSC-CyFair's ESOL Program and began the Level One class that spring.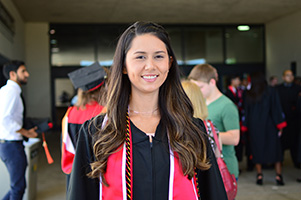 After a couple of months and with the support of her family, she made a life-changing decision to get a Student F1 Visa and stay the summer to continue ESOL classes at LSC-CyFair.
She spent the next two months learning and practicing English all day long, every day and by Spring 2010, she'd completed all four levels of the ESOL program, which she said was "one of her best academic achievements."
"When I got to LSC-CyFair, I could not speak English at all, and, only a year later, I went on to regular college level classes," said Picker. "I remember, in my first college level writing course, I was one of only two students who got an A in the class. This was a class where everyone else was native English speakers. This is when I realized the strong academic foundation the ESOL program had laid for me."
More than just learning to speak English, Picker said the program taught her dedication and responsibility as well as a handy engineering skill - technical writing. Engineering is not just math and science like most people think, she said. Technical writing skills for laboratory experiments and writing reports are needed, too.
In 2011, Picker became the college's language lab coordinator where she helped others with language software training and language practice. She also provided some Spanish and math tutoring at the Academic Success Center.
"I loved the diversity LSC-CyFair has to offer," she said. "I got to meet new people from all over the world and learn about their culture while I shared a little bit of my experience."
By the next spring she had earned an associate degree, Magna Cum Laude, and then transferred to the University of Houston's Cullen College of Engineering to pursue her Bachelor of Science in Petroleum Engineering.
"I always wanted to be an engineer because I was influenced by family (with male cousins, uncles and dad all engineers) and to be the first woman engineer in the family was a personal challenge," said Picker. "I kept changing my mind on what type of engineer (civil, then chemical and deciding on petrochemical.) Being from Venezuela, a predominantly oil producer country, and living in Houston, this sounded like a great idea."
In preparation for graduating and finding a job in her chosen field, Picker began a six-month internship in January with Sandvik Materials Technology where she assists a group of engineers in their technical marketing/sales duties.
"This has been a great experience as it has exposed me to the real and corporate world, and it has added great value to my resume," she said. "I start a new job at Weatherford as a field engineer in June, where I plan to get as much experience as possible before I move on to an office job."
Among those celebrating with Picker at the University of Houston graduation May 12 was one of her ESOL professors Macarena Aguilar.
"Karen was serious about her studies and her GPA. She showed great maturity, critical thinking skills, a good work ethic and real talent with people," said Aguilar. "I have always been impressed by the fact that if Karen wants something, no obstacle is too big for her. She works as hard and focuses all her energy on achieving her goals. I have no doubt that Karen will be a very successful in her career as well as in her personal life."
Picker's future plans include a master's and eventually, after retiring, becoming a teacher or tutor. In the meantime, she is beginning an engineering career and it all started with LSC-CyFair's ESOL program. For information, go to LoneStar.edu/esol-dept.
Registration is also under way at LSC-CyFair for summer sessions that begin June 5 and July 13 as well as the fall semester, which begins Aug. 28. LSC-CyFair offers day, evening, weekend and online classes for degrees, workforce certificates and more. For information, go to LoneStar.edu/registration.