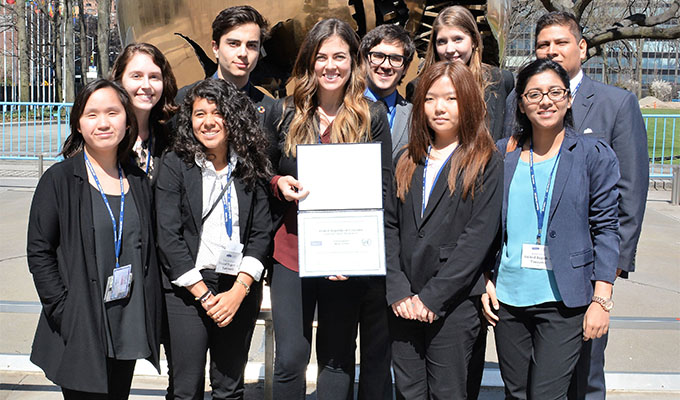 For the third year in a row 10 honors students from LSC-Montgomery helped Lone Star College win the most prestigious award at the National Model United Nations (NMUN) Conference in New York City. Lone Star College received an Outstanding Delegation Award. This award is given to approximately 20 schools out of more than 200 participating international colleges and universities. Lone Star College represented the Republic of Tanzania.
"Attending the conference taught me to look at issues from multiple viewpoints," said Summer Johnson, a LSC-Montgomery Honors College Chancellor's Fellow. "I discovered that there is no single answer to a problem, so we need to share ideas and work together to solve issues."
Johnson won an individual award for her position paper on harnessing data for sustainable development. In preparation for the conference, students write sophisticated position papers on their committee topics. These papers reflect extensive research into the historic and substantive backgrounds of U.N. committees, key topics addressed, and the positions of their represented country on these topics.
"The position paper is only two-pages, which makes it very dense and a challenge to fit the wealth of information into such parameters," said Johnson.
Students work long hours during the conference.
"My fellow delegates and I worked diligently throughout the conference despite sleep deprivation," reflected Johnson. "As a business major, I learned so much from the simulation. It does not matter if you want to study political science or international relations, NMUN fits a variety of interests, and there truly is no experience that compares."
"Our entire student delegation has done a tremendous job over the past several months preparing for the conference and participating in the intense simulation that leaves students exhausted and elated," said David Kennedy, LSC-Montgomery professor and Director of The Honors College at LSC-Montgomery. "During the conference our students represented the best of LSC, working more than 18 hour days and always exhibiting collegiality and professionalism. They have truly served as an exemplary model of teamwork, diplomacy, and hard work."
For more information about the Honors College at LSC-Montgomery or National Model U.N. contact David Kennedy at montgomeryhonors@lonestar.edu.
Lone Star College offers high-quality, low-cost academic transfer and career training education to 95,000 students each semester. LSC is training tomorrow's workforce today and redefining the community college experience to support student success. Stephen C. Head, Ph.D., serves as chancellor of LSC, the largest institution of higher education in the Houston area with an annual economic impact of $3.1 billion. LSC consists of six colleges, eight centers, two university centers, Lone Star Corporate College and LSC-Online. To learn more, visit LoneStar.edu.