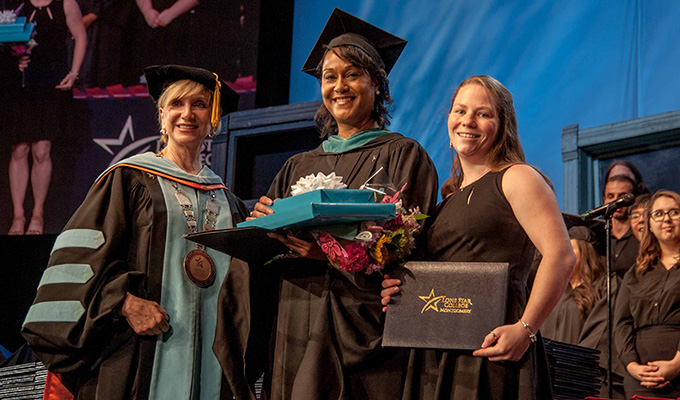 Lone Star College-Montgomery is recognizing the need in our community for more health care professionals with a new scholarship. The $500 scholarship is named after Michelle Riley-Brown, executive vice president at Texas Children's Hospital and president of Texas Children's Hospital The Woodlands.
"I was overwhelmed with excitement when the scholarship was announced," said Riley- Brown. "I am truly honored and humbled to have a scholarship named after me at LSC-Montgomery. It was definitely a surprise!"
Riley-Brown leads Texas Children's community hospitals, primary care practices and the sub-specialty Health Centers in the community. She is a native of New Orleans, Louisiana, where she attended Tulane University for her undergraduate degree and Washington University School of Medicine in St. Louis, Missouri, for her master's degree in Healthcare Administration. Riley-Brown joined Texas Children's Hospital in 1999 and has held various leadership roles within the organization ever since. She led the planning efforts for Texas Children's Hospital The Woodlands, which opened in April.
"Texas Children's Hospital The Woodlands is looking forward to providing quality pediatric care to families and patients, closer to home, in their own backyard," said Riley-Brown. "We also look forward to being a good neighbor and becoming very involved in the community."
Riley-Brown recently served as the keynote speaker at LSC-Montgomery's commencement. She spoke about being flexible and trying new things, working hard while growing a spirit of service and never giving up.
"I would encourage anyone that is interested in working within a health profession to pursue the required courses and begin researching opportunities at Texas Children's Hospital The Woodlands to better understand the possibilities," said Riley-Brown. "We always have staff members and leaders that are willing to discuss potential opportunities with students."
In order to qualify for the Michelle Riley-Brown Healthcare Scholarship, LSC-Montgomery students must be a Health Occupations major with a 3.75 or higher GPA. The selected student will also demonstrate participation in leadership/extra curricular activities. Finally the recipient must have one more year to complete his or her program of study.
At LSC-Montgomery's commencement, Zoe Campbell was presented with the inaugural award.
"I was shocked and appreciative because I have two bachelor's degrees - I came back to school after working a few years and money has been really tight," said Campbell. "Hearing my teachers thought so highly of me to even nominate me was incredibly meaningful to me. Receiving the scholarship at commencement was inspring because I saw all the students whose hard word has paid off and there were a lot of people who had gone back to school like myself, so I looked at all of them and thought, 'I will make it there one day.'"
Campbell is in her first year in the Physical Therapy Assistant program, secretary for the Student Physical Therapy Assistant Organization and has provided more than 15 hours of service learning each semester.
"I really want to say thank you from the bottom of my heart to LSC-Montgomery for supporting me and so many other students in following our dreams and making it more affordable," said Campbell. "It is nice to have the school's support, to know they are looking out for the students, wanting to reward them for doing well by coming up with new scholarships."
Health occupations are expected to grow here and in surrounding counties in the coming years. This growth is due to technological advancements; an increased emphasis on preventative care; and the large, aging baby-boomer population which will continue to push the demand for quality health care services as these individuals lead more active and longer lives. Lone Star College is developing proposals to offer a Bachelor of Science in nursing after Texas Governor Greg Abbott signed a bill allowing certain public junior colleges to offer baccalaureate degree programs in nursing.
For more information on current openings at Texas Children's Hospital The Woodlands, visit texaschildrenspeople.org/the-woodlands/
Texas Children's Hospital The Woodlands is the first hospital devoted to children's care for communities north of Houston. Located in one of the fastest growing areas in north Houston, the hospital, which has a staff of over 600, has already provided thousands of patients with specialty care closer to home. The outpatient tower, which opened in October 2016, includes 72 exam rooms and clinics for major pediatric specialties including cancer, cardiology, allergy/immunology/rheumatology and diabetes/endocrinology. The hospital's inpatient tower features the area's only dedicated pediatric emergency center with 25 patient rooms, 32 acute care beds, four operating rooms, 12 radiology suites and 28 critical care rooms.
Lone Star College offers high-quality, low-cost academic transfer and career training education to 95,000 students each semester. LSC is training tomorrow's workforce today and redefining the community college experience to support student success. Stephen C. Head, Ph.D., serves as chancellor of LSC, the largest institution of higher education in the Houston area with an annual economic impact of $3.1 billion. LSC consists of six colleges, eight centers, two university centers, Lone Star Corporate College and LSC-Online. To learn more, visit LoneStar.edu.