A discussion with community experts on the impact and benefit of workplace and government ethics will be held Oct. 10 at Lone Star College-CyFair.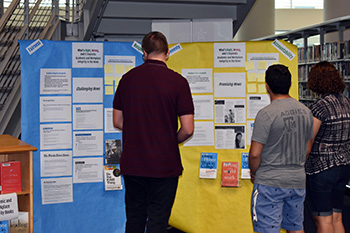 "Our experts will discuss the practical value and impact of ethics on the local, state and national level as it relates to ethical climate, standards, guidelines, misconduct, profitability and more," said Monica Norem, LSC- CyFair librarian and event coordinator. "In addition, we hope attendees gain a new perspective on the value and promotion of integrity in the workplace and our community."
The Harris County Public Library LSC-CyFair Branch Library is sponsoring this community talk titled "Ethics in the Workplace and Government: How You Can Benefit." A Q&A will follow this Tuesday discussion set for 1:30 p.m. in the library, room 131, on the college campus at 9191 Barker Cypress.
Helping attendees explore the moral and legal expectations on the job and in public office at this discussion will be Mario Castillo, Lone Star College System Vice Chancellor & General Counsel/CLO; Tom Kelly, LSC-CyFair History Professor; Darcy Mingoia, CFISD's School Board President; and Mike Olfers, Community Manager-Urban Development at David Weekley Homes.
The library will also sponsor an Oct. 3 talk for students, titled "What's Clear and Unclear about Academic Integrity," to help students learn about integrity as it relates to college course expectations.
Last month, the library featured an "Academic Integrity and Workplace Ethics" display and currently has a blog on integrity and ethics in the classroom and workplace, titled "What's Right, Wrong, and It Depends."
For information on these integrity and ethics events or blog, contact Norem at Monica.R.Norem@LoneStar.edu.