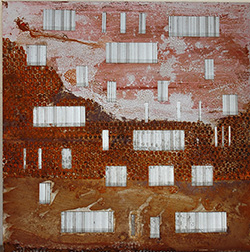 As the saying goes, sticks and stones may break bones … but at Lone Star College-CyFair's Bosque Gallery, an arrangement of metal, stone, ceramics and wood are on display for the pure pleasure of seeing.
The talent of LSC-CyFair Adjunct Professor Glenn Edwards is featured in the fall exhibition "Steel, Stones and Sticks" Oct. 24-Nov. 16. Edwards said his work has no deep meaning or social statement, it is just "eye candy."
"I live in a world of line, shape, pattern, texture and form. I see things as design before I see them as objects," said Edwards.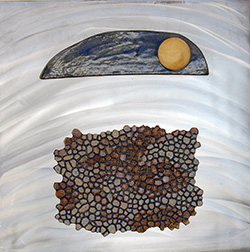 In this body of work, he provides insight into his perspective of the world by removing design elements from their normal environment and presents them out of context to show the detail of the world.
"I do not use conventional titles on my work. Labels limit the viewer's imagination. If I title an image 'tree,' all you will see is a tree," said Edwards. "I try to create vehicles for your thought to travel in. Enjoy the ride."
Visit with Edwards about his art at the Oct. 26 reception from 5 p.m. – 7 p.m. that includes a 6:30 p.m. artist talk or for "Tea + Art + Talk" from 1:30 p.m. – 2:15 p.m. Nov. 7.
Gallery hours this fall are 10 a.m. – 3 p.m. Mondays through Thursdays.
The Bosque Gallery is located in the Center for the Arts building on the Barker Cypress campus at 9191 Barker Cypress. For information, call 281.290.5273.