Lone Star College-CyFair students recently helped raise awareness and change perceptions of mental illness through a poster project on various disorders.
Professor Cindy Sledge's general psychology students wrapped up a chapter on psychological disorders with a mental illness awareness campus-wide project and an exhibition in the library as part of Mental Illness Awareness Month.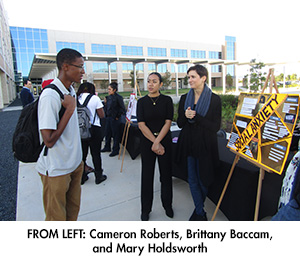 "I want to try to change the stereotype that mental illness is viewed as a weakness. It's not that at all. There is help and support available and there could be more if we talk about it and try to 'normalize' talking about it," said Sledge. "I also learned how much misinformation is out there, which adds to the stigma and can make it sound worse than it really is."
Sledge's class shared information and resources about the different disorders they learned with students and employees passing by between the Center for Student Engagement (CASE) and the Center for Academic and Student Affairs (CASA.) College counselors and a representative from the Mental Health America of Greater Houston were also on hand to answer questions and provide additional community resources.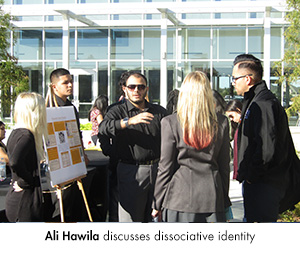 A few of the 15 different types of mental disorders students addressed were Major Depressive Disorder, Bipolar Disorder, Dissociative Identity Disorder, Obsessive Compulsive Disorder, Generalized Anxiety Disorder, Attention Deficit Hyperactivity Disorder (ADHD), Post-Traumatic Stress Disorder and Anorexia Nervosa Disorder.
The student projects will be displayed in the library through Nov. 10.
Sledge said she hopes her students have not only increased their own awareness of mental illness disorders, but feel good knowing they've made an impact on campus and done their part to "normalize" talking about mental illness.
This class project gave students an opportunity to earn hours toward a Service Learning designation on their transcript. They also gained knowledge on how to do research using the library database, learned a lot about APA style formatting and citation and had some public speaking practice.
Registration for LSC-CyFair's spring semester begins Nov. 15. For information, go to LoneStar.edu/registration.