Lindsey Brockhan is living her dream as a wife, a mother, a part-time x-ray technologist and one of Lone Star College-CyFair's Medical Radiologic Technology (MRT) Program teachers.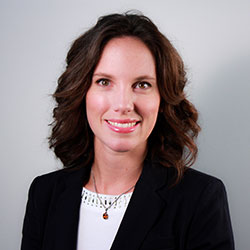 "I'm a compassionate person. I like people and taking care of them. That is the essence of this field. You have to love people at their worst," said Brockhan, who graduated LSC-CyFair's MRT program in 2011 and returned to teach full-time in 2014. "Every little part we're teaching students is important because the patient is depending on you to take a good x-ray to get a correct diagnosis. My mindset is – not to do anything halfway, it should be done right."

Her career began with aptitude test in high school that led Brockhan to first pursue a career in aviation followed with health care. While she loved the flying profession - helping get people from point A to B, and even earned her pilot's license - this path wasn't conducive to the family life she wanted, so she changed to nursing like her stepmother.
Having completing the Certified Nursing Assistant Program at LSC-Montgomery, Brockhan was working at Memorial Hermann in The Woodlands when her passion for x-rays was sparked.
When she graduated with her bachelor's in radiologic science, her former LSC-CyFair professor and current MRT program director Lawrence Norris mentioned a teaching position. In some professions, new graduates need more time to gain experience, but Brockhan was already a full-time rad tech who understood all the material.
"I don't believe in closing a door, so if I can handle it, I'll still do it," she said. "And I love x-rays, so I couldn't imagine just teaching. I never want to quit doing the essence of what I teach."
As an alumni of LSC-CyFair's MRT Program, Brockhan said she knows students receive all the information and on-the-job-training throughout the program they need to be prepared and competent in this medical profession. LSC-CyFair's program features an energized x-ray room with the latest and greatest computerized radiography equipment (and digital equipment on the way.)
In addition, students receive a well-rounded experience with a built-in internship at five partner hospital sites.
"We tell our students this is your time to shine. If you make a good impression and prove to be a good tech while at (our partner) clinical sites, you will potentially be employed there," she said.
Students get to see how x-ray, trauma and surgery departments are run, work with elderly populations and if they complete all their competencies in x-ray, they can observe Magnetic Resonance Imaging (MRI), Computed Tomography (CT) and other modalities.
"We want them to observe those other modalities because we want to encourage them to get an extra certificate. It makes them more marketable," she said.
LSC-CyFair's program professors frequently test the students, have an open door policy for one-on-one tutoring, prep them for two years in clinicals and prepare them to pass the exam for the certificate and their license, said Brockhan.
"Our job placement rate is exceptional and the registry pass rate is above the benchmark," she said.
LSC-CyFair's 2017 MRT graduates had a 100% pass rate on the American Registry of Radiologic Technologists (ARRT) examination, while the program's 5-year average pass rate is 98%.
In addition, the program's 5-year average of successful job placement is 92%.
For details on this program or upcoming April 4 information session, go to LoneStar.edu/medical-radiology-dept-cyfair or email Lindsey.H.Brockhan@LoneStar.edu.