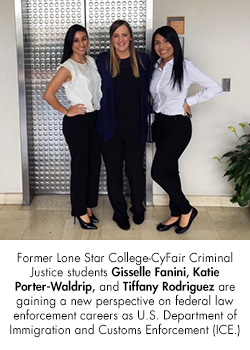 Three former Lone Star College-CyFair's Criminal Justice students and CJ Club members are excited to be interning with the U.S. Department of Immigration and Customs Enforcement (ICE.)
Earning their associate degree at LSC-CyFair and in pursuit of their bachelor's at Sam Houston State University, Gisselle Fanini, Tiffany Rodriguez and Katie Porter-Waldrip are gaining a new perspective on federal law enforcement careers.
First-time ICE interns Rodriguez and Porter-Waldrip are interested in becoming a prosecutor and intelligence analyst, respectively.
"However, during my first few weeks as an intern with ICE, I have become more educated on the different departments within Homeland Security, and it has peaked my interest in hopefully becoming a special agent," said Rodriguez.
Porter-Waldrip said "I feel like this experience will give me the chance to explore different careers and help me choose which one I would like to pursue."
Fanini, who also interned at ICE last year, is looking at a career with Homeland Security Investigations as an Intelligence Research Specialist or Special Agent. In addition to learning how the agency's administrative side works, she's now getting more involved in the special agent side.
"I'm hoping that this internship will provide a more in-depth view of agent life, so that I may be more well informed on the different career choices," said Fanini.
All three say LSC-CyFair Professor Jennifer Bourgeois's passion, encouragement and guidance beyond teaching in the classroom, was motivation in pursuing their Criminal Justice academic and career goals.
For information on the CJ Club or department at LSC-CyFair, contact Bourgeois at Jennifer.W.Bourgeois@LoneStar.edu.