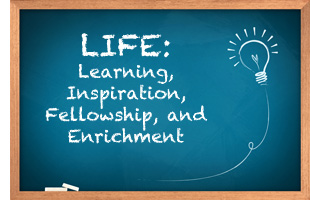 Learn about Scotland, CPR, coffee and Arbor Day at Lone Star College-CyFair's free April workshops.
The Learning, Inspiration, Friendship and Enrichment (L.I.F.E.) programs are held Wednesdays from 10 a.m. to 11 a.m. in the library (LRNC room 131 unless otherwise noted) at 9191 Barker Cypress.
April 4 — Roamin' in the Gloamin'
Scotophile, singer and songwriter, Sia Beaton, wears her tartan for National Tartan Day (April 6), enlightens us on the culture of Scotland all over the world and sings songs of Scottish lore.

April 11 — Staying Alive with CPR
It's Go Red Week and the American Heart Association gives a lively and interactive cardiopulmonary resuscitation (CPR) workshop with a free DVD and practice dummy to take home.

April 18 — Coffee, Mocha Java, Joe, Brew, Mud…
You get the idea. Starbucks joins L.I.F.E. for a coffee tasting and factual tidbits about how coffee is grown, processed, and enjoyed. Did you know that coffee makes you smarter?

April 25 — (Every Arbor Day) Plant a Tree
LSC-CyFair Professor Trish Smith celebrates Arbor Day early with tips on grafting fruit trees and reasons to plant and care for our trees.
Call the library at 281.290.3214 for L.I.F.E. program information or go online to LoneStar.edu.