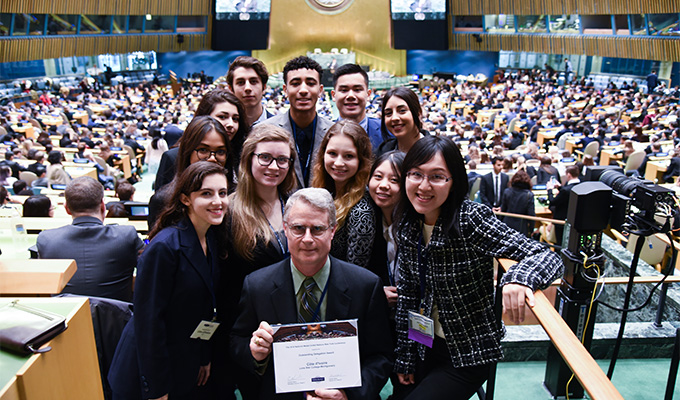 For the fourth year in a row, 10 honors students from Lone Star College-Montgomery helped the College win the most prestigious award at the National Model United Nations (NMUN) Conference in New York City. Lone Star College received an Outstanding Delegation Award. This award is given to approximately 20 schools out of more than 200 participating international colleges and universities. Lone Star College represented the Republic of Cote d'Ivoire commonly known as the Ivory Coast.
"One of the things that stood out at the conference was our academic excellence," said LSC-Montgomery student delegate Mytrang Huynh. "We were a community college up against prestigious universities and after winning the Outstanding Delegation Award, we were able to break through the stigma generally associated with community colleges."
LSC-Montgomery student Elena Rohaizad won an individual award for her position paper. In preparation for the conference, students wrote sophisticated papers on their committee topics based on extensive research.
"My position paper was difficult because the Republic of Cote d'Ivoire is a third world country, so some issues like conserving urban ecosystems are beyond their scope of immediate concern," said Rohaizad.
The students learned how to conduct important, all-encompassing research, but they also learned other life lessons.
"The most important thing I learned was how to collaborate," said Rohaizad. "It is not you against the world, it is the world coming together to collaborate and to fix issues."
"The NMUN Conference helped me define what a leader is," said Veronika Lysenko, LSC-Montgomery student delegate. "I always dreamt of being a leader as a child, but I never really had a specific understanding of what a leader was. Now, I understand that leading means hearing others voices and making sure their voices are heard. It is not about you being the dominant voice."
"This experience changed the way I saw my position as a global citizen," said Huynh. "All of us recognize that certain issues are interconnected, but sometimes, we ignore the similarities and differences between countries. These struggles have different aspects, but it is important we recognize our similarities as well, not forgetting that we are interconnected. All human beings understand what it feels like to struggle as we all have a will-to-live and the most humanitarian act is being reasonable and compassionate."
The LSC-Montgomery student participants come from all academic backgrounds. Rohaizad plans to transfer and triple major in finance, economics and French; Lysenko is majoring in computer science; and Huynh plans to major in philosophy.
"Students do not have to know everything about international relations to attend the conference," said Lysenko. "We did not know a lot going in, but we came out experts."
"During our preparation we all go through a process of figuring out what we know and what we do not know," said Huynh. "Then we have to determine is what we know right? Is what we know wrong? And finally what can we do with what we know."
The students prepare for the conference eight months ahead of time and they do not receive academic credit.
"I think this generation is more open-minded to pressing issues such as climate change, poverty and inequality, so coming to NMUN, I found people who are just as passionate as me are on these global issues, people who are driven to make a change," said Rohaizad. "It was heartwarming, inspiring, and really restored my faith in making this world a better place."
"This experience at the conference and in the honors program at LSC-Montgomery makes me feel like I am in the right place, with the right people who will help me reach my full potential," said Lysenko. "I am thankful for the professors and my fellow students who are raising the bar and helping me reach it, when I do reach it, like I did at this conference, it makes me accomplished."
For more information about the Honors College at LSC-Montgomery or for more information about the student application process for NMUN email MontgomeryHonors@LoneStar.edu.
Lone Star College offers high-quality, low-cost academic transfer and career training education to 99,000 students each semester. LSC is training tomorrow's workforce today and redefining the community college experience to support student success. Stephen C. Head, Ph.D., serves as chancellor of LSC, the largest institution of higher education in the Houston area with an annual economic impact of $3.1 billion. LSC consists of six colleges, eight centers, two university centers, Lone Star Corporate College and LSC-Online. To learn more, visit LoneStar.edu.