Two Houston area artists share their fascination with birds in Lone Star College-CyFair's summer exhibition on display June 19 – July 19 in the Bosque Gallery.
The "Taking the Auspices" exhibition features Beth Secor and Michael Golden, who have not only used birds in their imagery off and on throughout their artistic careers, but see birds as signs and messengers, said Josh Estrada, LSC-CyFair Fine Arts Coordinator.
The title of this exhibition suggests augury, which is the practice from ancient Roman religion of interpreting omens from the observed flight of birds, he said. When the individual, known as the augur, interpreted these signs, it was referred to as taking the auspices.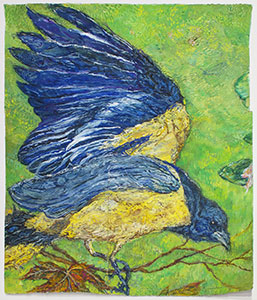 Secor's current watercolor and gouache works are layers of obsessive brushwork from careful observation, often with detailed, natural backgrounds. Her Scottish and Celtic roots feed her love of crows and grackles.
Golden's acrylic paintings of birds tend toward an economy of brushwork to create his birds, which are often hunting or floating over backgrounds of sacred geometry, labyrinths, or personal imagery. Certain birds, like herons, take the place of his human body and act as self-portraits for him.
The fascination with birds for both artists began in early childhood and continue in their work today.
"Ever since I was little, I felt a connection to birds. My first memory is grabbing the sand filled fabric birds that hung on the mobile over my crib," said Secor, who has an almost obsessive need to communicate with birds. "This inability to communicate with them was transferred onto my desire to communicate with my mother, whose ability to speak diminished as her Alzheimer's deepened."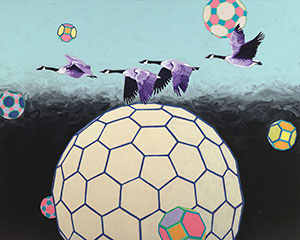 Golden's first memory of birds were birds in a crab apple tree in his back yard on the south side of Chicago and his father's blue parakeet, which flew around the house like a sixth child.
"I loved drawing, climbing trees, and collecting things from nature," he said. "I nailed a few boards high in the tree to create a bench and easel and nailed a pad of paper to the tree. I learned birdcalls and squirrel chirps and would sit up there and draw them."
Come hear more from the artists in person at the reception set from noon to 2 p.m. with an artist talk at 1 p.m., Thursday, June 21. There will also be a "Tea + Art + Talk" from 1:30 p.m. – 2:15 p.m. Thursday, June 28 in the Recital Hall, ART 102.
The Bosque Gallery is located in the Center for the Arts building on the Barker Cypress campus at 9191 Barker Cypress.
For information, go to LoneStar.edu/bosquegallery or call 281.290.5273.