Enjoy exploring African-American art and culture at Lone Star College-CyFair with performance art, drumming and dance, a genealogist speaker presentation and a month-long photographic exhibition.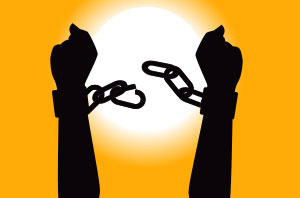 "We are hosting an African-American Art and Performance Celebration in honor of Juneteenth, which marks the anniversary of emancipation of slavery in Texas," said LSC-CyFair Reference Librarian Rachel Hugenberg. "This holiday, June 19, dates back to 1865, and has been celebrated with events throughout Houston and Galveston. Don't miss the opportunity to participate and celebrate right here in Cypress."
A spirited event, "Voices of Inheritance," celebrates the history and living legacies of African culture. There will be a hands-on art workshop, a lecture in art/artifact collecting, and historical demonstrations, discussions and musical performances. Attend this cultural celebration June 13 from 4 p.m. – 6 p.m. in the library, LRNC 131.
Come back June 20 for the "Think Like a Genealogist: Using the Five Senses" presentation, which is part of the Learning, Inspiration, Friendship, and Enrichment (L.I.F.E.) workshops from 10 a.m. – 11 a.m. in LRNC 131. Franklin Smith of the Clayton Library demystifies the research process for beginning genealogists using the senses as a guide. Smith uses examples from his own family to demonstrate how the process works.
Stop by the library all month to see the "Black Art - Ancestral Legacy: The African Impulse in African-American Art" panel exhibition featuring the work of 45 artists, including unknown Africans and Haitians, through photographs, posters, and concise texts on display through June 30.
This travelling exhibition of Humanities Texas addresses the question posed by African-American poet Countee Cullen in 1926: "What is Africa to me?" The artists draw heavily on African influence, while simultaneously reinterpreting it for a different time and place, which results in a lively and vibrant mix of artworks.
Among the panel topics are: captivity and slavery, faces and masks, Talismanic carvings and paintings, metal sculptures as well as music, dance and carnival, to name a few.
Black Art - Ancestral Legacy is based on the major exhibition organized by the Dallas Museum of Art and produced by Humanities Texas, the state affiliate of the National Endowment for the Humanities.
For Houston and Galveston area Juneteenth events, visit City of Houston ; Visit Houston; and the City of Galveston websites.
In addition to Juneteenth celebrations, the library's annual Summer Reading Program continues through Aug. 4 with activities, book clubs, storytimes and more for children, teens and adults. This year's theme is "Libraries Rock!" and all activities are free.