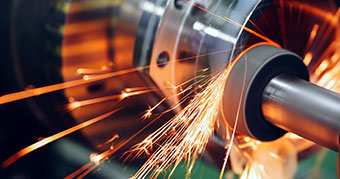 In addition to expanding its facilities to continue meeting industry demands for trained workers in machining, engineering and welding, Lone Star College-Cypress Center has established a new scholarship designated for machining students.
As part of a 2014 bond referendum, last year's center expansion project added 5,000 square feet of classroom and lab space. This year, the new Gene Haas Scholarship will help defray educational costs for those pursuing manufacturing-related careers.
A recipient of a $10,000 Gene Haas Foundation grant, LSC-Cypress Center has earmarked these grant funds for multiple $1,000 scholarships to be awarded to qualifying fall 2019 machining students. The application deadline is March 1.
To be eligible for the scholarship, criteria dictates that students must:
be a currently enrolled at LSC-CyFair, LSC-Cypress Center, LSC- Fairbanks Center or LSC-Westway Park Technology Center;
be enrolled in machinist-based training/machining technology program and
have a minimum GPA of 3.0 n a 4.0 scale.
In addition to financial assistance, workforce instructors are helping students build their resumes for future academic and career success through internships with local businesses. This past summer, several students received internships working at Mitsubishi Caterpillar Forklift America (MCFA.) Among other companies hiring LSC-Cypress Center machinists, welders and industrial electronic technicians are C&J Equipment Manufacturing, Baker Hughes and Schlumberger.
"Things are picking up in industry and not just oil and gas; it's other manufacturing. Some companies are working with plastic, machining aerospace parts and fasteners," said Michael Young, LSC-Cypress Center's Director of Advanced Technology.
LSC-Cypress Center's workforce program students, both male and female, are gaining hard and soft skills for their portfolio that cannot be taken from them, can always put food on the table and will serve them for a lifetime, said Young. These students can enter into the workforce as a welder or machinist expecting to make $18-$20 an hour to start their career. As they continue industry training, they can earn up to $25 an hour.
LSC-Cypress Center's workforce instructors are teaching with the three Rs - real, relevant and related to current industry standards and practices - and training students with current technology. Young also said new and updated equipment planned for drafting, machining and engineering students include five manual mills, three manual lathes, two Stratasys 3D printers and state-of-the-art 5-axis and multi-axis machines to replace two CNC machines being retired.
For more information on the Gene Haas Scholarship and LSC-Cypress Center programs, go to LoneStar.edu/wf-energy-manufacturing-construction, email Michael.L.Young@LoneStar.edu or contact Machining Technology Instructor Bo Cui at Bo.Cui@LoneStar.edu.