LSC-Montgomery Administrative Services Department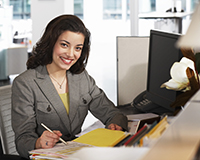 This program prepares students for the business world by covering topics such as time management, human relations, filing procedures, inventory management and business communications. Computer skills are very important in this field. Our courses include word processing, spreadsheets, databases, presentation software and telecommunication applications.
For information on accredited programs offered by Lone Star College in Administrative Services please visit the Business Management & Administration webpage.
Administrative Services Department Contacts

Phone: 936.273.7321

Office: F-355


Academic Advisor
Phone: 936.273.7258
Office: F-338


Carolyn Poe
Department Chair
Phone: 936.273.7481
Office: F-353