LSC-Houston North Office of Student Life

Welcome, Panthers!
• Student Life Virtual and Campus Events
• Clubs and Organizations (SLO)
• Student Government Association (SGA)
• College Activities Board
Student Life Vision Statement
To cultivate an environment dedicated to the holistic development of our students through personal, professional, emotional, social, and cultural engagement initiatives.

Student Life Mission Statement
The Office of Student Life endorses our vision by implementing co-curricular enrichment opportunities and establishing engaging relationships across our college. This affords our students a direct connection to institutional and community resources which bestows experiential learning opportunities to ensure our students success beyond the classroom.


---

Communications Club
The purpose of the Communication Club shall be to
Create a forum for students to improve their communication skills,
Help students to become more confident, and
Create a community to connect students at Lone Star College Houston North.
Primary location: LSC-Houston North Fairbanks
Latin American Student Organization (L.A.S.O.)
Sharing positive influence of Latin & Hispanic cultures & promoting awareness of their importance through unity & education activities.
Chapters at LSC-Houston North | Fairbanks, Greenspoint, and Victory locations
Campus Christian Club
Uniting students interested in a deepening understanding of the Bible and its relevance to their lives.
Chapters at LSC-Houston North | Greenspoint and Victory locations
Enhancing Leadership Initiatives Through Education (E.L.I.T.E.)
Providing educational and social networking forums, peer mentoring, professional enrichment, self-esteem building, and community service opportunities
Chapter at LSC-Houston North Victory location
Brother for Brother (B4B)
Assisting in the academic, personal, and social development of minority young men
Chapters at LSC-Houston North Victory location
Criminal Justice Club
The Criminal Justice Club is a student led organization for students in Criminal Justice and other Social Science disciplines with a focus on Personal Development, Career Development, Networking, Fellowship, and Community Service.
Human Services Student Organization
The purpose of HSSO is to:
Provide networking opportunities for students studying Human Services
To provide students the opportunity to explore various career options within the Human Services field
To support and enrich student experiences and learning through social activities and professional development.
---

Student Members
The Student Government Association (SGA) is composed of dedicated student leaders who represent and express the needs of the Houston North student body experience, as well as creates the ideal sense of balance among education and social involvement.

As student leaders, the Student Government Association will pursue peers by means of a variation of engagement activities with the definitive goal of enhancing their college experience while instilling school spirit, as well as building and strengthening the leadership mindset of their peers.

All full-and part-time students with a minimum of 6 semester credit hours attending LSC-Houston North are eligible to be members of the student government association. Elections of the Executive Board of the Student Government Association are held at the end of the spring semester.
Executive Office Positions Include:
President

Vice President

Secretary

Treasurer

Historian

Parliamentarian
Students interested in holding an office within SGA must visit the Office of Student Life or make contact via email for an application at the beginning of each spring semester. Elections are held yearly in April to be selected for upcoming academic term.
Contact Information
HN-StudentLife@LoneStar.edu
HN-SGA@LoneStar.edu
---

The College Activities Board (SAB) is a committed student-led institution programming association accountable for forecasting, organizing, directing and presenting various social, cultural, and educational events across the college campus. CAB supply's resources that encourage communication, networking, and leadership among the student body. The board builds campus community through a diverse spectrum of extracurricular and co-curricular programs that contribute to campus life by promoting interactive and intercultural experiences.
In addition, CAB oversees all student clubs and organizations and serves as their liaison along with the Student Government Association (SGA) to provide other diversified programing.
Student must:
Be enrolled in a minimum of 6 credit hours per semester

Have a minimum of a 2.0 cumulative GPA

Available to volunteer a minimum of 30 hours per semester (fall and spring) with some weekend and evening event flexibility.
Benefits of joining LSC-Houston North Panther Pack:
Advance leadership abilities

Develop communication and networking skills

Create strong relationships with college administrators and staff

Create professional portfolio through the collection of volunteer experiences
Contact Information
HN-StudentLife@LoneStar.edu
---
LSC-Houston North Student Life Links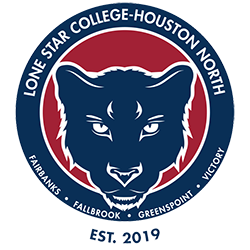 Contact Us
Office of Student Life
HN-StudentLife@LoneStar.edu
Make LSC part of your story.