LSC-University Park Graduation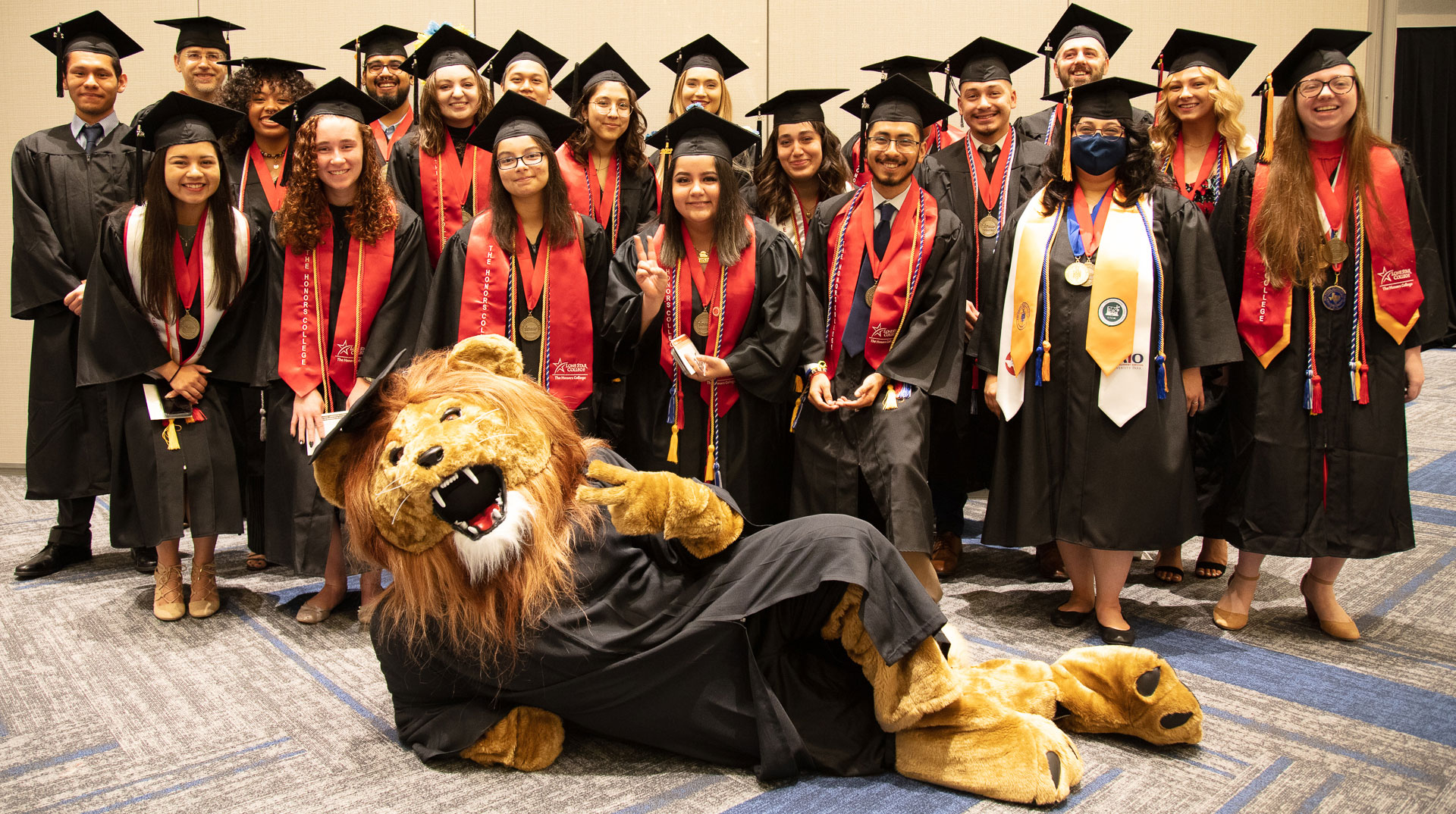 Lions, you are almost to the finish line. It's time to apply to graduate and get the degree and/or certificate that you've earned. All Lone Star College students must apply for graduation online. Please use the tiles and links below to apply, and to learn more about the 2023 Commencement ceremony.
---
---
To be eligible for graduation, students completed their program in December or will complete their program in May or over the summer. All eligible Lone Star College students will apply for graduation online through their myLoneStar student account. View our step-by-step graduation application guide for more information.
Do you have questions?
For questions about your diploma, certificate or graduation application, please contact your campus graduation coordinators at UPGraduation@LoneStar.edu.
Any questions for your Academic Advisor can be directed to:
Email: UPAdvising@LoneStar.edu
Phone: 281.290.2600
In-person: LSC-University Park Campus, Office B13.200 (Building 13, 2nd floor)
For Bachelor's Graduation applicants:
Please note your graduation will be held at a different time and location:
Friday, May 12*
Stone Bridge Church
Map / Directions
For further details about your graduation ceremony please contact LSC-BachelorDegree@LoneStar.edu.
---
Join your fellow Lion graduates, their families, faculty and staff as we all celebrate the dedication and achievements of our graduating class. Please direct any questions about the ceremony to UP-Commencement@LoneStar.edu.
Please complete this RSVP form that you will participate in the Lone Star College-University Park Commencement Ceremony.
2023 LSC-University Park Commencement
Friday, May 12*
9 a.m.
Berry Center of Northwest Houston
Map / Directions
View the Berry Center Parking map.
Event Venue Policies
Attendees please note the Berry Center adheres to a strict clear bag policy for events. All bags and purses may be subject to search upon entrance. Diaper bags must follow the clear bag policy and size restrictions. Visit berrycenter.net/policies for more information on the clear bag policy and a list of prohibited items.
*Date is tentative and subject to change.
---
All LSC-University Park students participating in the Commencement ceremony are required to wear a black cap and gown.
Graduation caps and gowns can be purchased online now or in-store beginning April 9 at the LSC-University Park campus bookstore.
Cap Decoration Guidelines
Students are allowed to decorate their caps. Please review the cap decoration guidelines for what is and is not allowed. Failure to follow these guidelines will result in the removal of the cap prior to the ceremony.
---
All graduates are encouraged to attend an orientation ceremony where they will learn more specifics about the commencement ceremony. All orientations, unless otherwise noted, will be held in West Dining at the LSC-University Park campus.
Monday, April 17: 10 a.m.
Thursday, April 20: 1 p.m.
VIRTUAL - Tuesday, April 25: 6 p.m.
Thursday, April 27: 6 p.m. (B13.210)
iSchool - Friday, April 28: 9 a.m.
Monday, May 1: 1 p.m.
Wednesday, May 3: 11 a.m.
An example of a 2022 commencement orientation can be viewed below for reference.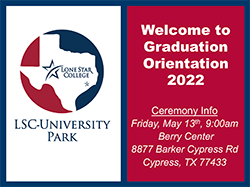 PDF: 2022 Orientation Presentation
VIDEO: 2022 Orientation Presentation
---
Celebration of Success Event
Celebration of Success is an opportunity to celebrate the accomplishments of our graduates. Graduating students are encouraged to invite family, faculty, and staff members who have had an impact on their educational journey while at LSC-University Park.
Wednesday, April 19
1 - 2:30 p.m.
West Dining, LSC-University Park
---
More information will be available in April 2023.
---
Degrees and/or certificates will be printed and mailed from the Lone Star College System Office in the Woodlands once requirements are certified.
Please note that mailings will occur in late July for May graduates, mid-October for summer graduates, and mid-March for December graduates. Students will receive an email to their MyLoneStar email account once graduated and at that time, it takes between 8-12 weeks to receive their diploma in the mail. Contact UPGraduation@LoneStar.edu for more information.

Request a Replacement Degree/Certificate
Replacement diplomas requested one year after the posted graduation date will incur a $25 fee. To request a Diploma Reprint form and payment options, please contact a campus graduation coordinator at UPGraduation@LoneStar.edu.
---
All guests will need a ticket to enter the Berry Center for the commencement ceremony.
Tickets are free of charge and can only be reserved by LSC-University Park graduating students that provided their RSVP to the ceremony. Each student will be able to reserve a maximum of 8 tickets for distribution amongst their family and friends.
Please note: If a student did not RSVP for the ceremony, they will not be able to request tickets through the Berry Center ticketing link. Guests will need to go to the will call window at the Berry Center between 8 - 9 a.m. on Friday, May 12, 2023 to request tickets.
---
For all guests and visitors attending commencement ceremony, please see below for information and instructions. For additional information and venue policies, reference the Berry Center's website.
The Berry Center is an ADA-friendly facility. View accessibility information here.
Arrival and Parking
View the Berry Center Parking map.
The Berry Center doors will open at 8 a.m.
Use the Barker Cypress entrance to access the Berry Center parking lots
Please park in lots A and B
Use Entrance 2 of the Berry Center
We encourage any guests requiring special accommodations to arrive at 8 a.m. to allow for additional time and assistance, if required.
Permitted Items and Photography
Only clear bags will be allowed into the Berry Center. Please view the bag policy here.
No balloons or gifts will be permitted into the ceremony.
No loud noise makers or air horns are permitted in the facility.
Photography during the ceremony is permitted from a guest's seat only.
Photography after the ceremony will only be permitted outside of the facility.
---
**Graduation Notice and Disclaimer**
Please note that participation in the ceremony does not guarantee graduation from Lone Star College. Graduates must meet all requirements and competencies before degrees will be issued and must not have any outstanding financial obligations to Lone Star College System. It is the student's responsibility to ensure that all requirements are complete. Please check your MyLoneStar email for important updates about Commencement and your graduation status.
Make LSC part of your story.