LSC-CyFair Engineering Department
Division 2: Science & Engineering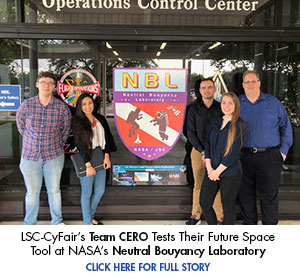 Office: HSC2 145
Front Desk: 281.290.5279
Fax: 832.482.1080
The Associate of Science degree in Engineering has been developed:
to help ease students' transfer from community college to baccalaureate engineering program;
for students planning a career in an engineering field;
to assist students in saving tuition money by completing basic coursework at the community college;
and to expand the pipeline into engineering careers and produce more engineering graduates.
Field of Study Curricula
Engineering programs and courses were updated to align with Field of Study (FOS) that are guaranteed by state law to transfer and apply to a degree program in all other Texas public institutions of higher education. You can read more about FOS by scrolling to the end of the programs linked above, and on the Texas Transfer Framework website.
In general, the first year of study is common to all of the Associates of Engineering degrees and the second year involves some divergence in coursework. Lone Star College now offers the following Associates of Science degrees:
The key to success – and to minimizing stress – is planning ahead. LSC has transfer agreements with dozens of colleges and universities across Texas. These transfer guides, 2 + 2 agreements, and equivalency guides will show you the LSC courses that fulfill bachelor degree requirements at the institutions listed. Visit the transfer center at LSC-CyFair here.
Engineering FAQs
What academic background is required to enroll in Lone Star's engineering program?
Although this is an open admissions program, the key to successfully mastering engineering coursework is a strong foundation in mathematics (students entering the program must be college Calculus-ready and have already taken college algebra and trigonometry, or the equivalent).
Will the courses transfer to any university engineering program?
Students who successfully complete the requirements of this program will be eligible for admission to a university engineering degree program with junior standing. However, each engineering college has their own admissions requirements and we encourage students to refer to the Transfer Compact (see above) and contact an advisor in the targeted transfer school(s) as early as possible to ensure they are taking the most appropriate coursework for that institution.
How do I get started?
Enroll in the college, meet with an advisor, attend a STEM orientation on campus, and enroll in the courses recommended below. If you're not sure which engineering field is right for you, make sure to take Introduction to Engineering (ENGR 1201) the first semester which will give you an overview of the industry, the various sub-disciplines, and types of engineering careers. At the end of the first semester, you will be encouraged to declare an particular associate of science in engineering.
What if I don't know which engineering discipline I want to pursue?
We suggest you talk with engineers from various fields. These sites may also help narrow your focus:
Are scholarships available?
Lone Star offers a limited number of engineering-specific scholarships and there are also community college engineering scholarships offered by external entities. Both are listed in this link.
Faculty and Staff
Dr. Claire Phillips
Dean of Division II: Science and Engineering
281.290.3967
Office: HSC2 145C
Dr. Yiheng Wang
Department Chair of Physics and Engineering
281.290.3411
Office: TECH 200M
LSC-CyFair Engineering Department e-mail:
Cy-FairEngineering@LoneStar.edu
NASA Student Projects at Lone Star College - CyFair
To learn about the various exciting NASA funded student projects at Lone Star College - CyFair, visit here.
Make LSC part of your story.