Important Travel Information
Take the following documents with you onto the airplane in your carry-on luggage for quick and easy access. Be sure you have all the contact information and your documents before you board the plane. Contact your International Student Advisor to verify that you have all necessary documents before you travel. The advisor's name is on your SEVIS I-20 you received in your welcome packet.
Travel Documents
Passport
I-20 form (pages 2, 3, 4) (Please refer to International Student Handbook for more information)
Academic Documents
Official transcript from the high school, university, or college in which you attended
Photocopies of Important Documents
Make sure you have photocopies of main passport pages, issue and expiration dates, all transcripts and academic documents. Please leave one set of these documents with your family members before your travel. Carry a few passport size photos of yourself with you and put a name tag on all of your luggage. In case of a delay or if your luggage is lost in the travel you can easily provide copies of your documents.
Important Contact Information
Keep your passport number, travelers' checks numbers, bank draft number, flight number and emergency contact number on a sheet of paper. Keep it in your carry-on bag/hand bag, so you don't have to take out your important documents every time you need to fill out a form. Also, leave a copy of the list of all these important numbers with your family/guardian.
Driver's License
You can drive with a valid foreign driver license but if you buy a car, you need to apply for a Texas driver's license. You can view more information at Texas Department of Public Safety (TDPS).
Other Items
Dictionary Reference
Pre-paid Phone Card
Arriving in the Houston Area
Houston has two main airports to fly into: Bush Intercontinental Airport (IAH) in north Houston, and Hobby Airport (HOU) in far south Houston.
At IAH, taxis can be hailed through the Ground Transportation employees outside each terminal. Charges are according to the flat Zone Rate or the meter rate.
At IAH, there is public bus service through Houston Metro, which offers bus service at the south side of Terminal C. These buses do not run to the campuses.
Our campuses and satellite centers are located throughout the north, northeast and northwest part of the Greater Houston Area. See the area map below for our locations.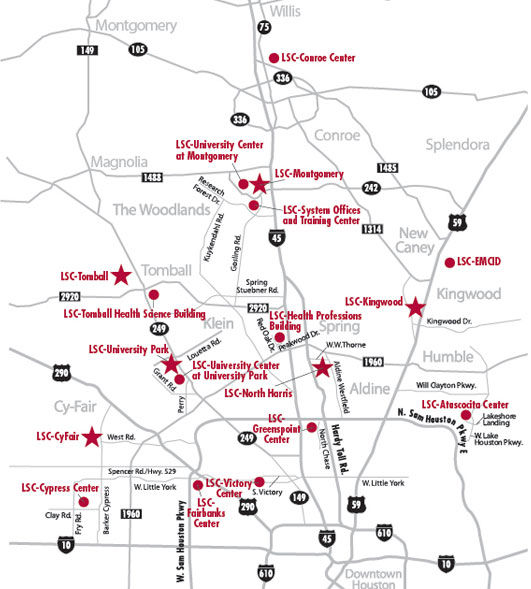 Make LSC part of your story.