"Where Students Come to Succeed!"
The mission of Lone Star College-Tomball Extended Learning Center (ELC) is to help students become independent learners by providing tutoring and other academic support services. We believe that all learners have the right to develop to their highest potential. Resource materials and computer-based instruction are available to help students with their academic goals.
The Extended Leaning Center is here to help you succeed. We offer expert tutoring in a variety of subjects and a variety of modes. All tutoring is FREE to Lone Star College students.
The ELC is on the second floor of the Lone Star College-Tomball Community Library.
Fall 2023 Tutoring
*Watch our Welcome Video HERE and see how to get to tutoring, both in-person and online.
We offer Online Tutoring in Math, Physics, Writing, and Chemistry. To access that, you can make an individual appointment through Brainfuse Tutor Match in D2L. The details are below. (Each virtual tutoring session will be recorded, so please be in proper attire (e.g. no pajamas) when attending your session.)
We offer In-Person Tutoring in Math, Physics, Writing, and Chemistry. At LSC-Tomball Main Campus, this tutoring will be on the 2nd floor of the library and is offered on a drop-in basis. At LSC-Creekside, we will have Writing tutoring in the library.
In-Person Tutoring-Fall 2023
Math
Monday-Thursday, 9am-6pm
Friday-Saturday, 10am-2pm
Writing
Monday-Thursday, 9am-4pm
Friday 10am-2pm
Monday 11am-4pm and Thursday 11am-4pm at LSC-Creekside Center
Chemistry
Tuesday, 9am-12pm
Wednesday, 10am-3pm
Physics
Monday & Tuesday 11am-4pm
Friday 10am-2pm
Thursday 9am-2pm at LSC-Creekside Center
Online Writing Lab
Submit your paper in our D2L Online Writing Lab and our writing tutors will review your work, offer constructive feedback, and send it back to you.
To enroll, just send an email with your name and LSC ID# to LSC-TELC@LoneStar.edu
"Brainfuse" Tutor Match
The "Brainfuse" Tutor Match provides students the ability to schedule a live online tutoring session with a Lone Star College tutor for assistance in their course. Through Tutor Match, students will connect with tutors using the Brainfuse Whiteboard.
STEP 1: ACCESS BRAINFUSE TUTOR MATCH
Log into your MYLONESTAR account then click on the "LSC Online" tile.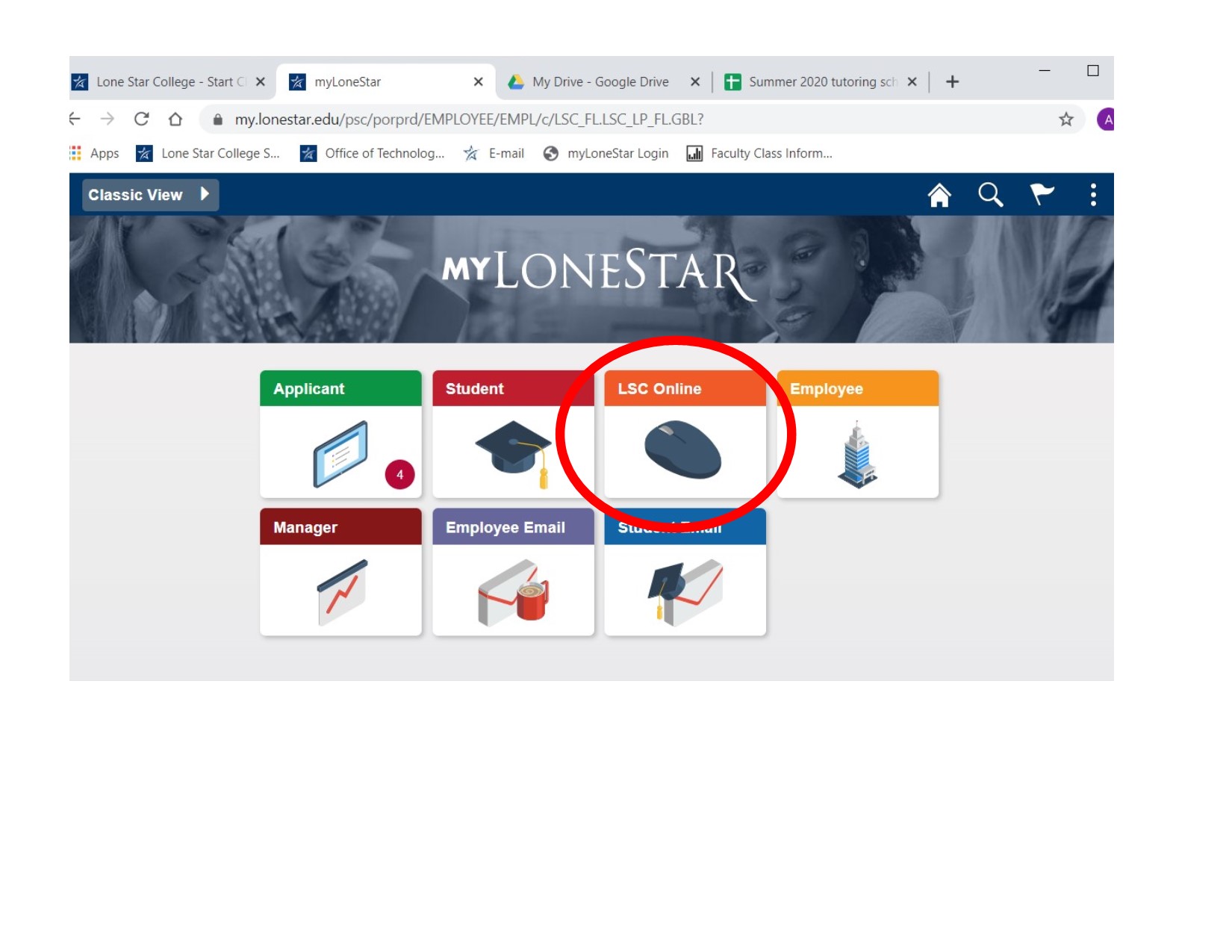 Then click on the "Online Tutoring" tile.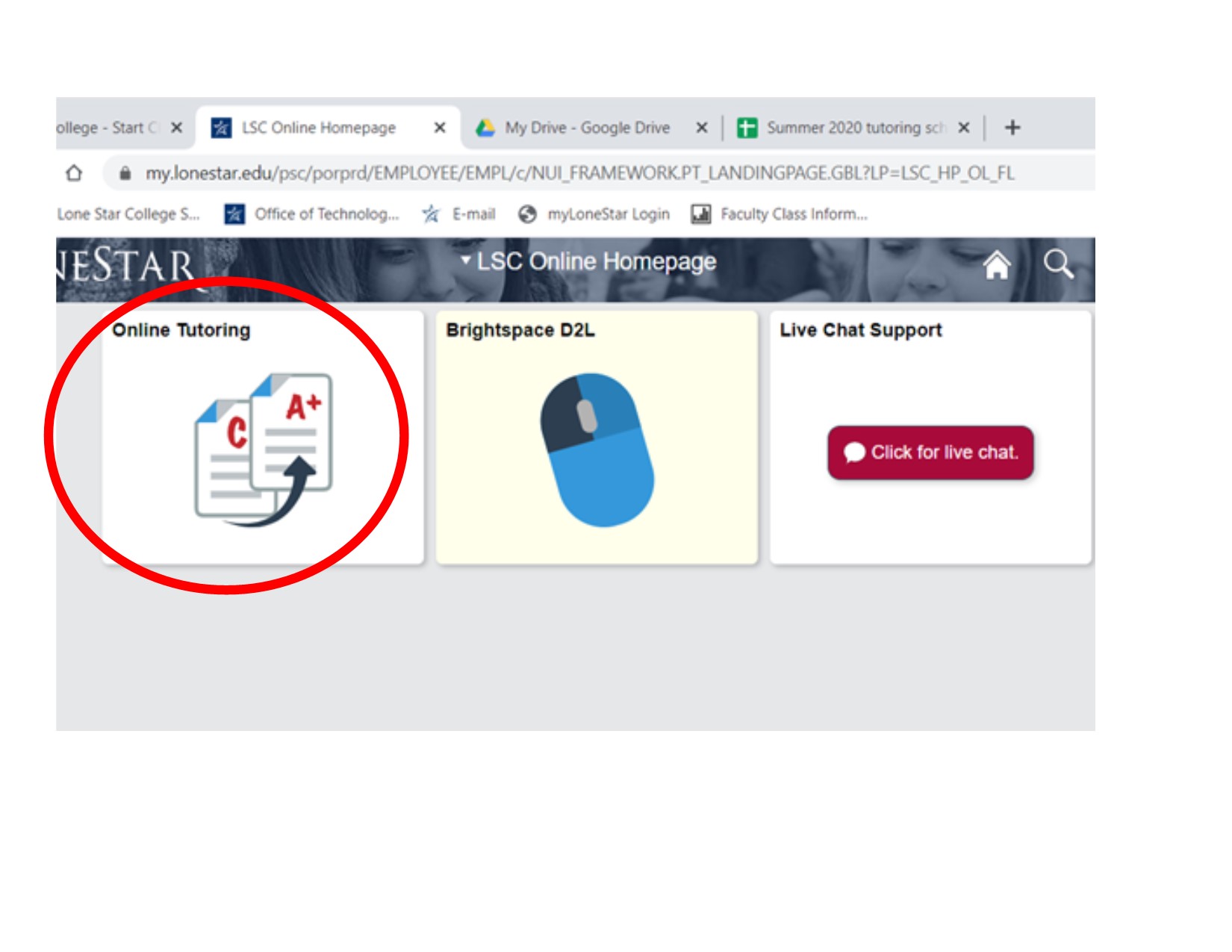 This will take you to the Brainfuse home page.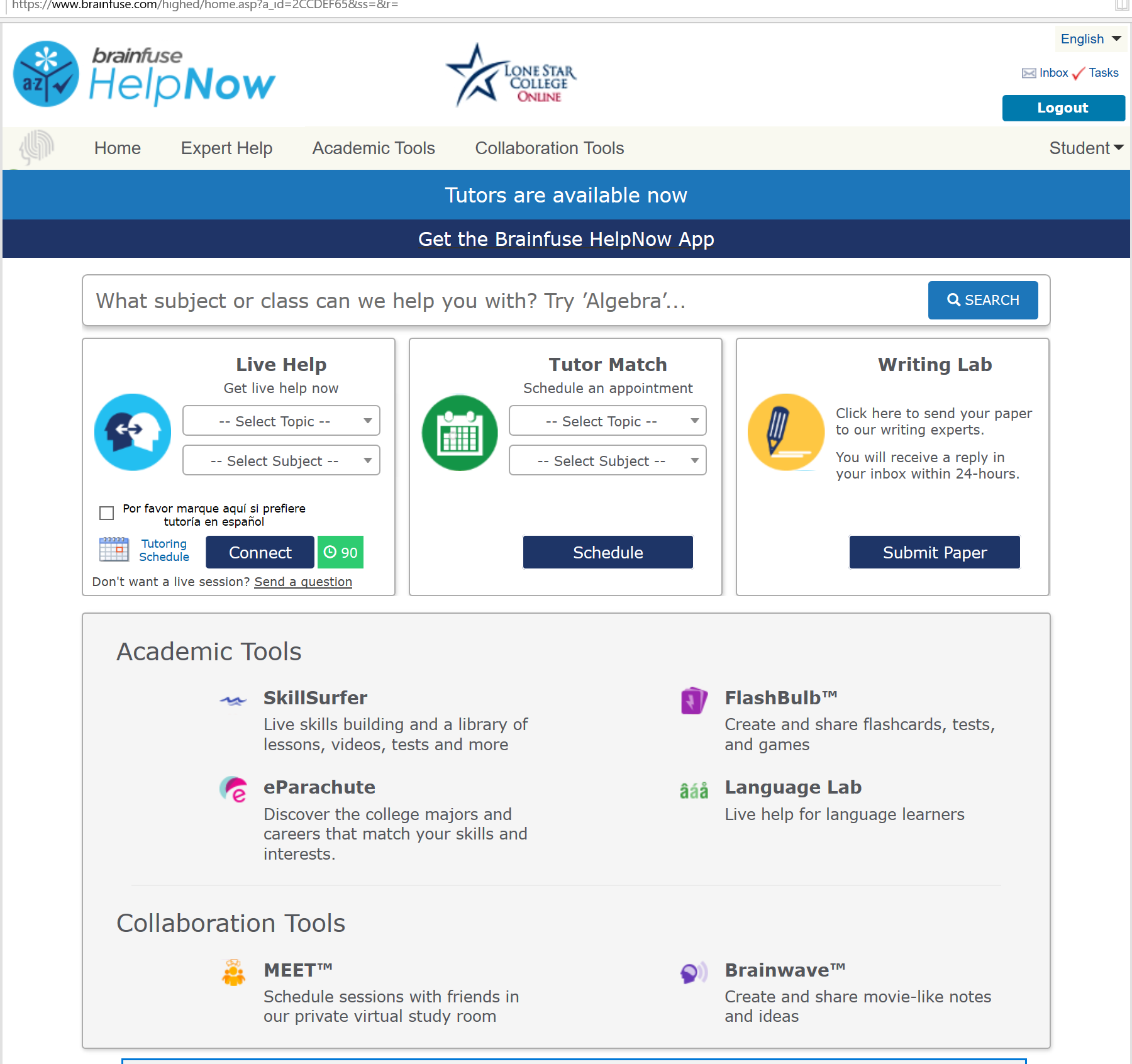 STEP 2: SELECT TUTOR MATCH
Under TUTOR MATCH, (Tutor Match gives you unlimited access to LSC tutors.), choose your subject and course then click Schedule.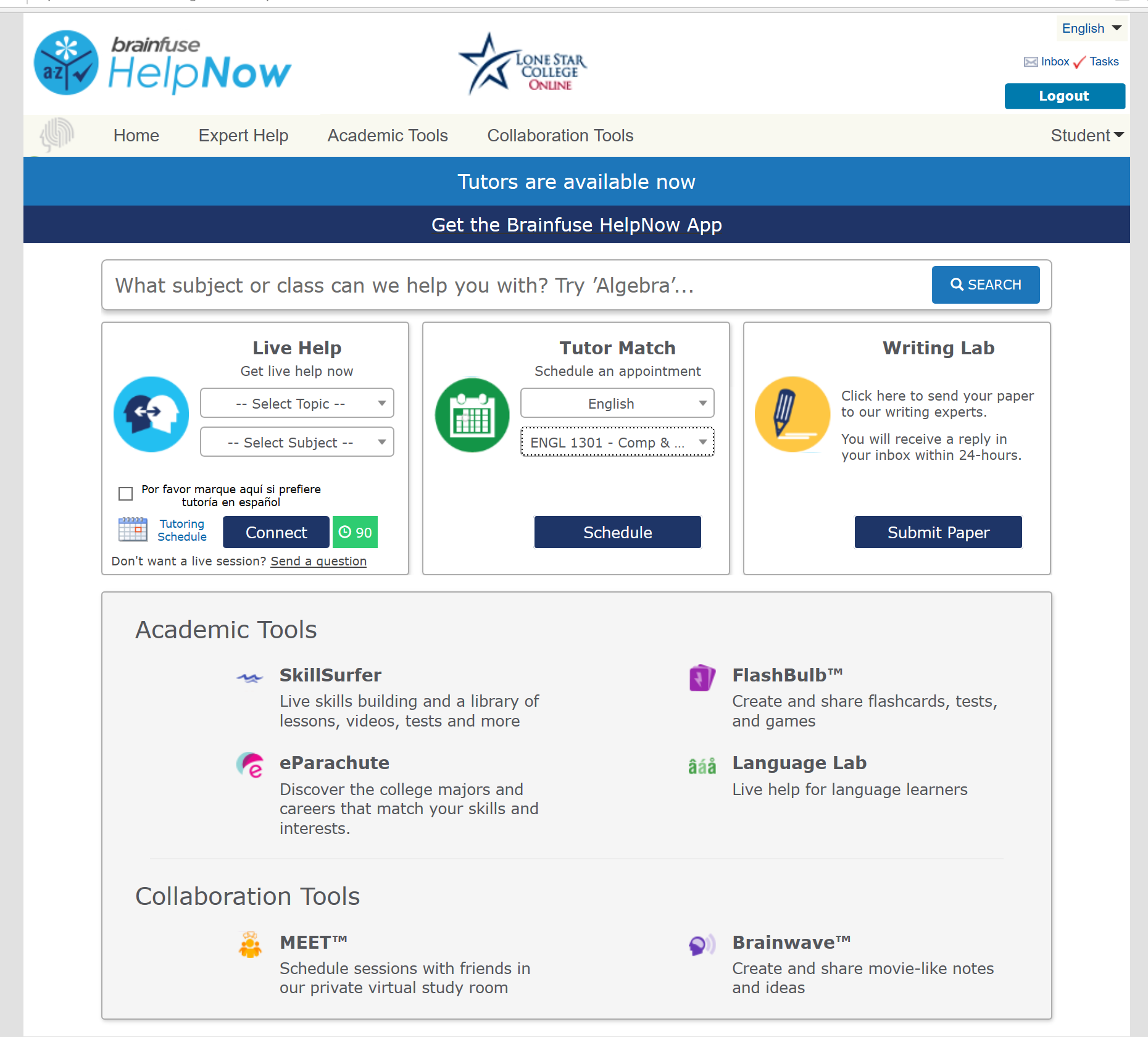 A list of available appointments will come up. You can change the date by clicking on a different date at the top of the list. When you find an appointment that works for you, click Select.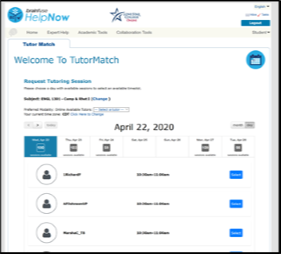 STEP 3: REQUEST SESSION
On the next page, be sure to fill out your phone number and some details about what you need help with so the tutor will be better prepared to work with you. Click REQUEST SESSION at the bottom to finalize the request.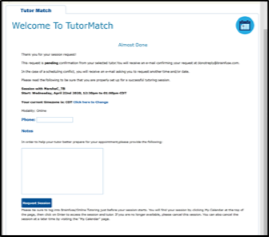 STEP 4: ATTEND YOUR TUTORING SESSION!
Please be sure to set yourself a reminder to attend your appointment. We are eager to help you succeed, but we canít help if you arenít there.
PRO TIP: Our Tomball tutors have the initials TB after their name, for example, MarshaC_TB. They are looking forward to seeing you!
What You Need to Know
Take a look at what each student should know before visiting us.
Talk to Us
How are we doing? Take our survey and let us know.
Schedule an Appointment
Call 832-559-4240 or email LSC-TELC@LoneStar.edu to schedule an appointment for in-depth help with:
Time management
Note-taking
Memory Techniques
Test-taking Tips
Make LSC part of your story.