Message From the Chancellor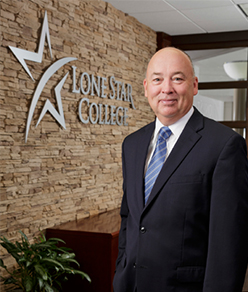 Lone Star College plays a major role in our community, contributing an educated workforce that supports the region's economic vitality and civic responsibility. It is critical for LSC to have a clear course of action over the next five years to ensure our continued success.
The Lone Star College 2020-2025 Strategic Plan is based on feedback and recommendations from all members of the LSC community – faculty, staff, students and community stakeholders – and is designed to address our continuing student population growth and ensure student success. The plan was approved by the LSCS Board of Trustees Aug.20, 2020.
I look forward to working with all of you as we continue the very important mission of providing educational opportunities to enrich lives.
Stephen C. Head, Ph.D.
Chancellor
Strategic Goals
Student Success
Foster equitable student success outcomes by promoting excellence in student-centered teaching, learning and support services.
Academic & Workforce Program Quality
Provide high quality academic and workforce programs that enhance students' learning experiences and prepare them for employment in modern industries.
Financial Responsibility & Accountability
Ensure sound financial practices, transparency with stakeholders and fair allocation of budget and resources.
Culture
Demonstrate LSC Cultural Beliefs in implementation of the Strategic Plan to create experiences that engage all Lone Star College stakeholders in organizational success.
Partnerships
Build strong, visible partnerships with Independent School Districts (ISDs), institutions of higher education, civic and charitable organizations, local government agencies, businesses and industries to further strengthen a thriving community.
Make LSC part of your story.