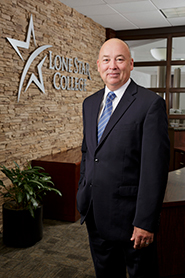 Stephen C. Head, Ph.D. was appointed as the fourth Chancellor of the Lone Star College System in 2014. He began work at the college in 1984 and has an over thirty-year history of high-level positions at LSC including serving as President at three LSC campuses and Executive Vice Chancellor.
His focus is on student access, equality, success and completion; academic quality; workforce programs in alignment with community needs; and collaborative agreements with educational, business and local civic organizations.
His values include operating the college on a sound, fiscally conservative model based on data, efficiencies, accountability and common sense. He also emphasizes transparency, ethical behavior and a culture of high expectations and achievement.
Dr. Head received his Ph.D. in History from Texas Tech University. He earned a Master of Arts degree in History and a Bachelor of Arts degree in History from Lamar University in Beaumont Texas. In addition, he previously taught history undergraduate and graduate classes for LSC and university partners, and graduate classes in community college leadership and higher education finance.
Dr. Head has served on the board of five area chambers of commerce and three economic development districts or councils. He is a frequent presenter at state and national conferences on community college issues. He also is active in community college issues through his participation and leadership roles in a number of local, state and national organizations.
His wife, Linda, is also employed at Lone Star College as an Senior Associate Vice Chancellor. They have four successful children (who all attended Lone Star College) and four grandchildren that live nearby.
Our Mission
Lone Star College provides comprehensive educational opportunities and programs to enrich lives.
Our Vision
Lone Star College will be a model college globally recognized for achieving exceptional levels of success in student learning, student completion, gainful employment, equity and affordability.
Videos
Lone Star College Testimonial Video
Students, faculty and staff share stories about Lone Star College's value to the community.
Make LSC part of your story.