EMT-Basic Course Information

EMT-Basic training at LSC-North Harris (satellites at LSC-Kingwood) consists of two courses: EMSP 1501 (classroom/laboratory) and EMSP 1160 (clinical). These courses are offered at various times during the week. No program application is necessary for the EMT-Basic courses; the student only needs to gain admission to the college and see an advisor, Kenya Hicks to get registered for the two classes. Recommended but NOT required courses include the completion of: (1) ENGL 0304 and 0306 or higher level course (ENGL 1301) or placement by testing and (2) MATH 0306 or a higher level course or placement by testing.
Upon successful completion of both EMSP 1501 and EMSP 1160, the student will be eligible to sit for the national examination conducted by the National Registry of Emergency Medical Technicians (NREMT). State certification requirements of the Texas Department of State Health Services (DSHS) include being at least 18 years old, obtaining a high school diploma or GED, and clearing a FBI background check.
Further information can be obtained by calling Kenya Hicks at 281-765-7957.
Registration
Student must register for the following courses each semester:
| | |
| --- | --- |
| EMSP 1501: | North Harris section of your choice (or the LSC-Kingwood satellite) |
| EMSP 1160: | North Harris section ONLY |
---
Additional Requirements
EMSP 1160 has a mandatory orientation each semester. The location and date is printed on the student's enrollment receipt and is also contained in the published LSCS Credit Schedule. This orientation is typically held during the first week of every semester.
Immunizations, Physical, Health History form, and CPR card must be uploaded to Castlebranch.com. You will use the package code LD37. The cost is at the student's expense.
Immunizations
Proof of immunizations must be provided to the program before the start of EMSP 1501.

Tetanus, Diphtheria, and Pertussis (TDaP): Submit proof of a booster shot within the past three years or TDap if taking now.
Measles, Mumps, and Rubella (MMR): Submit proof of two MMR immunizations, or submit a laboratory report demonstrating positive immunity (positive titer) against measles, mumps, and rubella. Students born prior to 1/1/57 are only required to provide one MMR immunization record.
Hepatitis B: The Hepatitis B series must be COMPLETED, or submit a laboratory report demonstrating positive immunity (positive titer) against hepatitis B. This series consists of three shots and takes 2 to 6 months to complete.
Hepatitis C: A positive serologic study (titer) for Hepatitis C antibodies.
Varicella (Chicken pox): Two doses or submit a laboratory report demonstrating positive immunity (positive titer) against varicella.
Tuberculin Skin Test (PPD): Must be screened within the past 6 months and renewed annually. If positive, student must submit an annual chest X-ray interpretation stating the student is free of disease or provide a negative Quantiferon-TB Gold Test.
Health History and Physical Exam
A current LSCS Health History (completed by the student) and Physical Exam (completed by an approved Healthcare Provider) must be submitted prior to the start of the EMSP 1501 class.
Required American Heart Association CPR card
Proof of successful completion of the AHA CPR for Health Care Providers course must be provided to the program before the start of EMSP 1501.
Drug Screening
Drug screening is required by our clinical affiliate. This will be done through a COLLEGE APPROVED VENDOR and is completed at the cost of the student.
Criminal History
A criminal background check through Castlebranch.com is required prior to course registration. Clinical facilities determine what constitutes an unacceptable background check. Clinical affiliates will not accept any positive criminal history. The student is responsible for working with the background check company to clear up any reporting discrepancies. Students cannot begin or continue their studies until the background check process is satisfactorily completed. Students are responsible for completing the background application process and paying all fees.
Applicants who wish to become certified or licensed with the Texas Department of State Health Services and/or the National Registry of EMTs need to be aware that any criminal history may also prevent them from such action. The Lone Star College-North Harris EMS Professions program is not able to, or responsible for, advising a student with criminal history on whether they are eligible for certification or licensure. All questions regarding eligibility should be directed to both the Texas Department of State Health Services and the National Registry of EMTs.
Possible Additional Requirements
Clinical facilities may also require personal medical insurance, and additional immunizations, all of which are at the student's expense.
---
Program Costs (approximate, in-district rates)
Tuition and fees for 6 SCH:
$501.00
Books:
$150.00
Uniform:
$150.00
Castlebranch.com
Background and Drug Screening
$86.50
CPR:
$40.00
Immunizations:
Varies
Certification Costs (approximate)
| | | |
| --- | --- | --- |
| NREMT testing fee: | | $80.00 each attempt |
| Texas background check: | | $44.20 |
| Texas | | $64.00 |
---
FAQs
What if I haven't had these immunizations?
Simply put, these immunization requirements are governed by the State of Texas and our clinical affiliates. Speak to your health care provider about titer tests. A titer requires that blood be drawn and tested for immunity. If your blood tests as immune, then you can submit the lab test report. You can also ask your provider about an accelerated series. Some providers will offer the Hepatitis B series, for example, at closer intervals. That is their decision and as your provider they are able to make recommendations to you based on your health care status.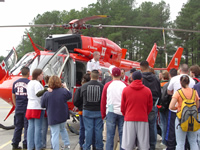 Will the program hold a spot for me in clinical?
No. The clinical sites require that we submit all students' immunization status, and in some case their immunization records, by a specific date in the semester. No students are allowed to attend clinical until all reports have been submitted.
What should I do then?
If you cannot meet the deadline for immunizations, CPR card, or background check, you should wait until the next semester to register for EMT-Basic training.
I have a background check from my fire service, job or somewhere else. Can I use it?
No, the clinical sites have specific things that your background is to be checked for including Medicare/Medicaid fraud. You must use a LSCS approved vendor.
I have a positive background check, what should I do?
If you have a felony, Class A misdemeanor, or a healthcare fraud violation, you cannot complete the clinical portion of the EMT-Basic training and will not be eligible for certification testing. If you have a Class B misdemeanor, it must be at least five years old. If you are unsure, complete the background check done and submit it to the clinical coordinator as soon as possible. The clinical coordinator is Alicia McGee, LSC-North Harris, 281-618-5731.
Why can't I use the CPR card I already have?
We only accept American Heart Association for the Health Care Provider. If you are a fire fighter and have Red Cross, we will accept CPR for the Professional Rescuer. If you do not already have Red Cross, please obtain the American Heart Association for the Health Care Provider. We will not accept any other card/company/service.
Further information can be obtained by calling Kenya Hicks at 281-765-7957 or by visiting Winship 174.