LSC-North Harris: EMS Professions Department
Lone Star College-North Harris is a leader among Emergency Medical Services educational institutions. The EMSP program is intended for students who wish to receive a high quality education experience and desire to dedicate themselves to careers in emergency medical services. Lone Star College-North Harris provides the educational and clinical background necessary to become eligible for certification/licensure at the EMT-Basic and Paramedic levels.
Paramedics are highly recruited in Texas, with an average of 2,800 openings per year and a growth rate that exceeds the state average. Municipal fire/EMS services typically provide their employees with annual salaries ranging from $24,000 to $47,000, depending on experience. Private EMS agencies offer their employees annual salaries ranging from $24,000 to $40,000. Annual starting salaries for certified EMTs range from $18,000 to $24,000.
Certification/licensure is not automatic; the Texas Department of State Health Services (DSHS) and/or the National Registry of Emergency Medical Technicians (NREMT) administer all certification examinations upon completion of a DSHS recognized educational program. Completion of the LSC-North Harris EMSP program does not guarantee eligibility for DSHS/NREMT certification/licensure. Criminal background checks are conducted by DSHS as part of the screening process. Candidates with concerns about their background should contact the Texas Department of State Health Services in Austin.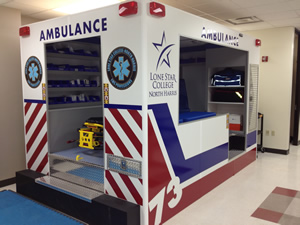 | | | | |
| --- | --- | --- | --- |
| Program Statistics | 2018 | 2017 | 2016 |
| National Registry Written Exam Results | 78% | 93% | 95.5% |
| National Registry Practical Exams | 88% | 87% | 100% |
| Program Retention Rate | 21% | 76% | 73.1% |
| Positive Job Placement Rate | 100% | 89% | 76.8% |
All results can be verified by the Annual Report submitted to CoAEMSP.
The Office of Financial Aid offers various forms of financial assistance. Contact the Office of Financial Aid for more details and to apply for financial assistance and scholarship opportunities. The priority filing date for financial aid is April 1, preceding each fall semester. For more details call 281-618-5464.

There are four levels of educational programs are offered at Lone Star College-North Harris, including an Associate of Applied Science degree, a Paramedic Certificate, and EMT-Basic courses.
---
Interested in one of these programs and want more information? Please attend one of our upcoming information sessions or schedule an appointment with our program advisor, Kenya Hicks at (281) 765-7957. Information sessions will be held:
Tuesday, March 26, 2019
2 p.m. - LSC-North Harris, Winship Building, Rm. 169
Tuesday, April 23, 2019
2 p.m. - LSC-North Harris, Winship Building, Rm. 169
Tuesday, May 21, 2019
2 p.m. - LSC-North Harris, Winship Building, Rm. 169