Our Program
The biotechnology laboratory technician program is taught in a lab designed and dedicated for hands-on experiences. There is a general lab area and a separate cell culture room as well as a preparation room and a storage room. Students are taught techniques that they will use in industry such as PCR, HPLC, Cell Culture, Southern and Western Blotting, Agarose and Polyacrylamide Gel Electrophoresis and Recombinant DNA technology. The skills learned are very applicable to other laboratory technician positions in the chemical and gas/oil fields.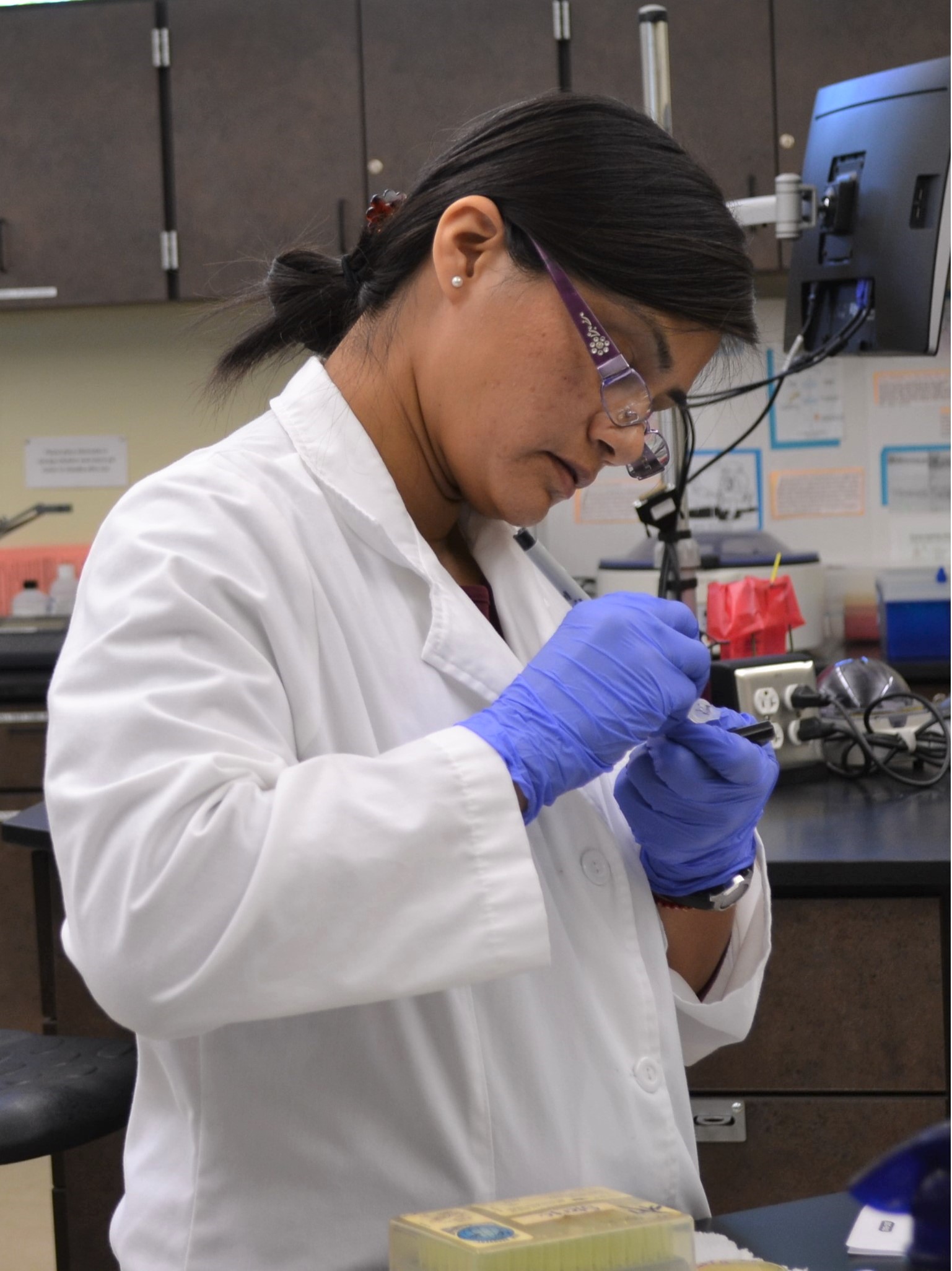 AAS Degree: The AAS degree provides students the skills necessary to become a biotechnology laboratory technician as well as the core courses for transfer to a university such as UH-D or UT M. D. Anderson Cancer Center School of Health Sciences.
How Do I Apply? There is no formal application process necessary. All students who meet the college entrance requirements are eligible to begin the program. The first course in biotechnology, BIOL 1414, is a great introduction to the field of biotechnology. The courses necessary for an AAS degree can be found in the college catalog, http://www.lonestar.edu/biotechnology-aas.htm
ATC Degree: The ATC degree program provides post-baccalaureate students the skills necessary to become biotechnology laboratory technicians and is composed soley of biotechnology courses.
How Do I Apply: To enter the program, students need to meet with the department chairman, Dr. Daniel Kainer (936-273-7060), to evaluate their past experiences and degrees. To be accepted, students must have completed the prerequisite courses in chemistry (2 semesters) and microbiology. The courses necessary for an ATC can be found in the college catalog, http://www.lonestar.edu/biotechnology-certificate.htm.
Information Sessions: To find out more about the program, we recommend that you attend one of our campus information sessions. The fall semester dates are:
Thursday, November 1, 2018 from 11:30AM-12:30PM (Room B-233)
Wednesday, November 28, 2018 from 10:30AM-11:30AM (Room B-233)


Current Projects: The biotechnology program is constantly evolving and changing as the needs of the workforce change. Currently, students and faculty are working on several projects in the areas of algae, aquaponics and bioinformatics. Our newest project involved partnering with NASA to look at strains of algae that would survive in the harsh conditions of Mars. Please look at our current projects page for updates.