FotoFest 2010 Biennial
Shannon Brinkman
Photographer
http://www.shannonbrinkman.net/
Photographer Shannon Brinkman has so far dedicated seven years to documenting Preservation Hall. The images are not just documentary but also a work of art, and all done in medium format film best capturing the richness and light range of its subjects. These photographs are principally of the jazz musicians who regularly play at the Hall and include both portraiture and live images. The show also features photographs of the Hall itself, revealing the space's aging process and the layers of history this very particular institution contains.
These photographs are accompanied by quotations of various lengths in the words of the musicians made by interviewer Eve Abrams. Deeply insightful and at times uplifting, these passages discuss the physical experience of playing, the musicians' personal and collective histories of musicianship, and the spiritual connection fostered between the artists, the audience and this inherently joyful music.

Shannon Brinkman was invited to work with the Preservation Hall in 2003 starting with the album "Shake That Thing" and has traveled with the band internationally, including to Thailand, where they were received by the King of Thailand. For the last seven years, Shannon has photographed the musicians of Preservation Hall for the project, The Change We Play. Since this project began, six members of the Preservation Hall Jazz Band have passed. With the loss of each musician, so goes an irreplaceable part of history. This project, therefore, is an urgent one. Preservation Hall is the only venue remaining in New Orleans which showcases traditional New Orleans Jazz played acoustically. No drinks are sold. No smoking is allowed. People go to Preservation Hall to listen to music and to soak up the flavor of how New Orleans Jazz is performed. Preservation Hall is a container of music, musical history, world history, and most importantly, New Orleans culture. Shannon is currently working on a book of portraying the musicians in the space of the Preservation Hall.
Shannon Brinkman has lived in New Orleans, Louisiana since 1997. She grew up on a working horse farm in Jacksonville, Florida. In university, she studied art and photography, and subsequently became a professional photographer focusing on horse sports and art photography. She is the cover photographer for US Eventing Magazine and Equestrian Magazine. Shannon has traveled around the world covering international horse sport events such as the Olympics, and has received many awards for her artwork. She is the mother of a precocious two year old.
Eve Abrams
Audio Documentarian
eveabrams@yahoo.com

Eve Abrams is an audio documentarian, writer, and teacher living in New Orleans, Louisiana. In addition to creating the audio interviews and sound for "Preservation Hall" she has produced stories and recordings for radio broadcast (NPR news, Community Radio, various radio magazine shows) as well as for community organizations. She was born in Silver Spring, Maryland and lived in Brooklyn, NY for 14 years before moving to New Orleans in January 2007.
Chris Akin
Visual Artist, Photographer
In 2003 I was invited by Kiriko Shirobayashi, a photographer who divides her time between New York City and Hong Kong, to visit New York, and soon thereafter was introduced to Marc Sapir, who works for The Museum of Modern Art in New York. These friendships led to my spending extended periods of time in Manhattan and Brooklyn. The photographs in this exhibition were made in February of 2009 during my daily walks through the city.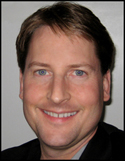 Born in Houston, Texas in 1969, Chris Akin lives in Houston and works for The Menil Foundation, Inc. After graduating from Aldine Sr. High School in 1988, he attended Odessa College in Odessa, Texas, Goucher College in Towson, Maryland, and The University of North Texas in Denton, Texas, graduating in 1994 with a B.F.A. in Photography. In 2004, he had his first solo exhibition of drawings at Devin Borden Hiram Butler Gallery, followed in 2007 with Menil Floor Drawings, also at Devin Borden Hiram Butler Gallery. Concur-rent with his work in drawing, he has produced a number of photographic series and books including Salon/Forêt, New York, Japan, California and Oregon, Seeing Judd, and Improvised Experiments in Stereoscopic Photography.
Elliot Gilbert
Creative Director, Photographer
http://www.elliotgilbert.com/
The long list of celebrities from the worlds of music, film, stage, television, sports and politics have stepped in front of Elliot Gilbert's camera. He has photographed hundreds of record albums and CD covers, and was twice nominated for GRAMMY awards for "Best Album Package". His iconic covers for The Cars and Van Halen are included in Rolling Stone Magazine's "Best Album Covers of All Time".
As the Creative Director at Park Avenue Publishing, and later at Primedia, one of the largest media companies in the world, Elliot was responsible for the look of some of the highest selling magazines on the newsstands. Some of his corporate clients have included Honda, Kawasaki & Suzuki motorcycles, Bank Of America, Elektra/Asylum Records, Columbia Records, Warner Bros. Records, Capital Records, A&M Records, Mercedes Benz, Chevrolet, Walt Disney Studios, Carnation, Gucci and Teleflora.
Photographer- The Hollywood Reporter

In his career with the Hollywood Reporter, Elliot worked for George Christy on his weekly article "The Great Life". He has attended the Academy Awards, Golden Globes, The Directors Guild Awards, The Grammy Awards, The Hollywood Press Association Awards, Comic Relief, Night Of 100 Stars and has photographed hundreds of celebrity events, fund raisers, and grand hotel openings.

Some of the stars that Elliot has photographed include Buzz Aldrin, Chris Brown, President Bill Clinton, Hillary Clinton, Tom Cruise, George Clooney, Billy Crystal, Katie Couric, Ciara, Sean Combs, Clint Eastwood, Tom Hanks, Barbra Streisand, Criss Angel, Muhammad Ali, Robin Williams, Steve Martin, Whoopi Goldberg, Oscar De La Hoya, Bob Hope, Liza Minnelli, Jack Nicholson, Ne-Yo, Jaime Kennedy, Carl Reiner, Shaquille O'Neil, Jon Voight, Chingy, Bette Midler, Magic Johnson, T.I., Marty Feldman, Steven Spielberg, Pharrell, Gladys Knight, Cicely Tyson, Busta Rhymes, Red Hot Chili Peppers, Ted Danson, Michael Bolton, Dale Earnhardt Jr., Common, Ja Rule, Florence Griffith Joyner, Dr. Ruth Westheimer, Floyd Mayweather, Jr., Dwayne Wade. XDC, Jimmy Clausen, Hulk Hogan, Winky Wright, Vladimer Klitsko, Sugar Ray Leonard, Mims, Jermaine Dupri, Bow Wow, Tommy "Hitman" Hearns, Corey Feldman, Lil' Jon and Elizabeth Taylor.
Senior Feature Editor/Creative Director-Lowrider Magazine
As lead photographer Elliot traveled throughout the U.S. attended shows to find feature cars, models and locations and directed photographic crews, usually completing jobs in a two day time frame.
Creative Director- Primedia
While working at Primedia as creative director, Elliot also built two studios and taught staff members to handle the latest technology. Other concerns included scheduling all work for the corporate studio, maintaining the equipment and training photographers from sister magazines.
President and Publisher- BLVD Magazine
For the past two years Elliot has been the visionary force behind BLVD Magazine, a nationally distributed automotive magazine featuring customized "low-rider "cars, trucks, SUV's and bicycles, photographing the magazines cover and most its contents. As BLVD's publisher, he coordinated the work of commercial artist, in house and freelance staff and managed sales and administrative support teams. He also maintained satellite offices, managing photography and writing teams in Los Angeles, California, Denver, Dallas, Houston, Florida, Kentucky, Mexico and Japan.
Freelance Photographer

Since selling Blvd Magazine, Elliot continues to freelance. Some of his recent credits include a a twelve page fashion spread for Flaunt Magazine and two DVD covers for the Chicano band, Tierra, and Chicano rap­star, Kid Frost. Also recently, his work has been featured in European publications in England, Denmark and France. Elliot's career as freelance photographer began after graduation from The Art Center College of Design, when Universal Studios hired him to photograph an album cover for American Graffiti. Since, he has photographed more than three-hundred album covers for some of the most famous musical acts of the eighties, and nineties, including The Cars, Van Halen, Tom Waits, Jimmy Buffet, Kid Frost, Tierra, The Carpenters, Freddy Fender, Cher, The Flying Burrito Brothers, Blue Oyster Cult, Carlos Santana, John Denver, The Brothers Johnson, Leo Sayer, John Mellencamp. His work appears on record covers for Capitol Records, RSO Records, Elektra/Asylum Records, United Artists, A&M Records, Columbia Records, and Motown Records.
Elliot lives and works in the Hollywood area and maintains a studio where for the past thirty-four years he has photographed, among other things, musicians, portraits, jewelry, clothing lines, table-top products and motorcycles. He also hires and trains young and promising photographers teaching them how to work in a professional environment and enjoys taking the time to pass on some of his own experience.
Mari Omori
Visual Artist, Art Professor
http://www.mari-omori.com/
The objects and materials I encounter everyday are photographically presented in two series, one formal, the other site specific. The formal red background series began in 2006 where I would document objects in my left palm as a recordkeeping of gifts I have received. The open palm gesture connotes appreciation, respect, and honor to the giver. The red silk background augments the sense of an occasion that is formal and official. As I have been traveling more frequently within Texas, to the west coast and to Japan, these specific locations where I have encountered these objects have become more meaningful and significant. Photographing these moments has become a way of life.
As I look at these images they seem to reveal more details than objects themselves. The length and shape of my nails are different in appearance from one picture to the next. My hand and fingers are wrinkled, swollen, reddish or pale depending on the location and time the photographs were taken. Over the five year period my hands even show some signs of aging. Aside from these physical changes emotions can also be seen. Some hands express reservation or tension, others show affection, pride or joy. They have become a series of self-portraits, staged performance in time and place. The composite images are in a grid format and suspended. All together, they represent the state of order and structure that is prevalent in Japanese culture and my identity.

Born and raised in Japan, an artist and art educator, Mari Omori received a BA from Cal State University Northridge and MFA from UCLA. She is currently a Professor of Art at Lone Star College-Kingwood, Kingwood, TX, a position she has held since 2002. She was awarded an artist-in-residency at the Mino Cultural Village, Mino, Japan for three months in 2008 in conjunction with her Sabbatical Research Leave with the International Faculty Exploration Grant from Lone Star College Systems. Omori's awards include the Palm Beach County Cultural Artist-in-Residency Grant in 2007 working with 25 non-profit organizations, over 500 participants in an exhibition at the Morikami Museum, Del Ray Beach, FL. Her works have been widely exhibited in solo and group shows in California, Massachusetts, Oregon, Texas, Japan, Taiwan and Thailand.
Her curatorial projects include "Kyomei: Resonance" (Poissant Gallery, 2007), "cross roads: asia/america" (Galveston Arts Center, 2006), and "affinities" (Heritage Gallery, JP Morgan Chase, 2005). Her current project of traveling exhibition "Washi 5" features international artists working with Washi (hand-made Japanese paper) at LSC-Montgomery (June) and LSC-CyFair (July) in 2010. Her solo-exhibition in 2010 includes "Mothers/Daughters" at Bosque Gallery, LSC-CyFair in February and "artifacts" at the College of the Mainland Art Gallery in November.
Mary Parisi
Photographer
http://www.maryparisi.com/

In 2001, I began photographing in vacant buildings. I was interested in the things left behind, little reminders of the people who had once been there. I noticed that in all these places there were decorative materials inspired by nature. These included wallpaper with Asian landscape motifs, linoleum made to imitate stone and of course the views into gardens. There were also shadows from trees growing close to windows, bright spots of sunlight on the walls and leaves that blew into garages. I photographed all of these things. I wanted to photograph the wind but settled for trees showing its effect.
Over time, nature has become a dominant subject in my interior photographs. The pictures have become more minimal and less about a particular place. The forces of nature have become the subjects. This can be seen in the photograph, Star's Window, where the picture is not telling us very much about the place. What is seen is a grey, cloudy sky, in the upper portion of the photograph and a color field in the larger area. The picture's few elements reveal its connection to minimalism, but the brooding sky ties it to the romantic tendencies found in abstract expressionism.

My photographs, while allowing for the romantic sentiment that nature brings, are equally rooted in the ordinariness of daily life. The dirt and smudges on the window glass are meant to be seen. We live in an age where postcard beauty is not perceived as believable. We demand a kind of truth-fulness that is found in an unvarnished view of the world. In looking to the ordinary it is my hope to see and feel what is right before my eyes but goes unseen and unfelt.
The pigeon photographs were taken in a law school, located in San Francisco, CA, which closed in 2008. For years a friend had been telling me about the pigeons. They nested against the windows on the outside of the building's back stairwell. On the day I visited, which was days before the college was to loose possession of the building, a mother bird was in residence. She was sitting on a nest with baby birds. In the two additional views, one sees the habitat, a ledge next to the window, now obscured by the residue from years of bird habitation. The pictures are literal depictions but they could also be taken as abstractions.
Mary Parisi was born and raised in San Francisco. Today she lives nearby in Pacifica CA and has her studio in Brisbane CA. Mary has a long background in sculpture but today works mainly in fine art photography.
Sandra Schulman
Photographer
http://www.sjschulman.com
Several years ago I was introduced to the Holga camera, the antithesis of modern technology. For those unfamiliar, the Holga is a cheap, plastic camera with a plastic lens. Focusing means choosing between three "settings": a mountain, a group of people, one person. The shutter is spring loaded and approximates 1/125th of a second. For your exposure setting, simply choose, 'sun' or 'clouds'. Oh, and you will want to duct tape it closed, since they sometimes pop open. The result of this low-tech equipment is that you must be prepared to be surprised with your results. You're never really sure what you're capturing when you press the shutter and you're never really sure how the exposure will turn out. What fun!
As I travel about, I take my Holga with me and shoot what strikes me as interesting, intriguing or just plain fun. I find the dream-like quality of the images very well suited for observing everyday activities and travels. Even thoroughly modern scenes seem to take on a surreal quality through the lens of a Holga, and that makes us question just what is time and what is current, what is past.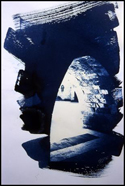 This series, titled Passages, explores our solitary journey of this life through its transitions and transformations. The questions we ask ourselves as we proceed through our journey …. What is my place, What is my purpose, What can I add to the world around me, How can we be so connected and yet feel so separated? We begin alone and end alone, but in between???
You may wonder, why are these all blue? The cyanotype process was used in order to create a different sense of reality; one that blurs the line between our consciousness and our dreams. So while you may be able to recognize the shapes and images portrayed in these pieces, allow yourself the freedom to let go of the recognition of an ordinary experience and image more.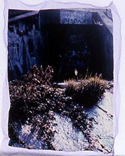 The series Woeful Beauty was inspired by many long walks and hikes through some of the less traveled parts Los Angeles County. As long as I can remember, I've found myself drawn to areas and landscapes that are wilder, less tended and even tempestuous. I find that the beauty that lives in these disorderly environments evokes so many feelings and questions about our human state as well as our nature's state. When we happen upon an environment that we so clearly do not control, how do we feel? What thoughts and judgments arise as we gaze upon a landscape that has no real need for human involvement? Do we feel connected even when we are seemingly so unconnected?
Woeful Beauty includes images created using two different processes. One is Emulsion Lifts on Watercolor Paper. The process starts by using color slide film. The slides are then projected onto Polaroid film and then the emulsion is process I've 'lifted' from the Polaroid. This emulsion is then carefully floated onto watercolor paper. The process is quite delicate and as a result each final image is unique. The second process I've chosen is Lith Printing. This involves using a special developer and greatly modifying the exposure time in the darkroom. Images take from 20 minutes to more than an hour to develop on the silver paper and the result is a manipulation of grain, ontrast and the unusual color tint to the mid-tones.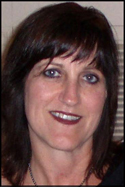 As a native Southern Californian who grew up during a time when kids rode their bikes with abandon rather than helmets and parents didn't worry as long as you were home before dark, I am one of the lucky ones who got to discover and observe from an early age. That freedom extended to my general thinking and my outlook toward society itself. As someone who is always questioning, always wondering and always curious, I have been driven to a pursuit of exploration and investigation.
Following years of self-directed work, I began a formal art studies program in 2001. That led me to discover my passion for using the camera, film and the darkroom as artistic tools. The resulting photographic expression is focused in two areas. The first is the conceptual essay; this allows me the chance to explore personal and societal aspects and ideas using a variety of techniques and approaches. Recently, themes of alienation, transformation and contemplation have been a large part of my work, including an extensive documentary series taken in New Orleans and the surrounding Gulf Coast following Hurricane Katrina. The second is the path of experimentation in both processing and printing of images. More recently I have begun to combine photography with painting and other mixed media. The resulting images, abstract creations and surreal metaphors are a product of both day dreams and night dreams.