LSC-Kingwood Arts
On Exhibit
The Edge of Eden
A Service Learning Project by Environmental Science 1401 Classes, produced to further education and health services for the Batwa people of Uganda. Featuring video and photography by Wendee Nicole. Handmade baskets by the Batwa available for purchase.
January 10-February 9, 2017
Reception/Artist Talk on Thursday, January 12, noon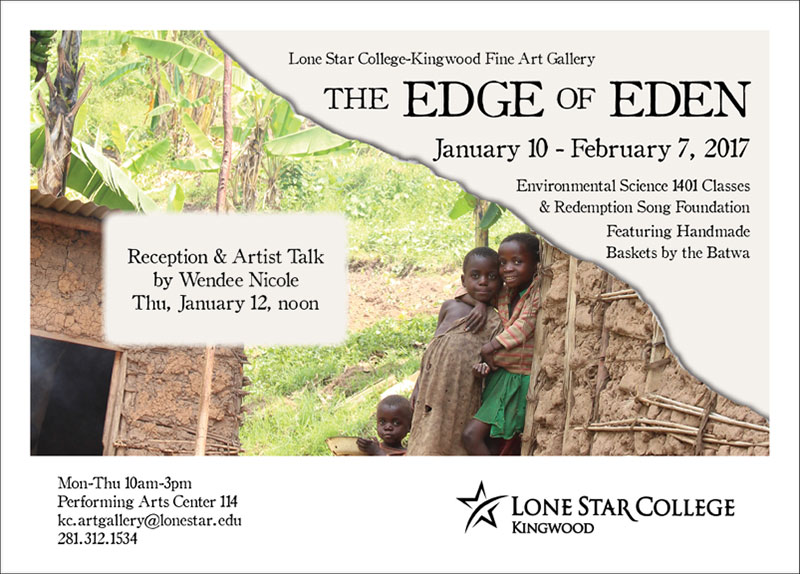 Art Gallery
As an educational institution we continue to foster an environment that promotes an interaction and exchange. We invite you to participate in this dialogue. Dates and times of gallery openings and artist lectures can be found under the Exhibitions link on the left side bar. Also under Exhibitions you may find past show information, videos and catalogs. If you would like more information about upcoming gallery events, including student and CPE workshops, please contact us.
Kristine M. Larson

Director, Fine Arts Gallery

Office: PAC 114D
Email: KC.ArtGallery@lonestar.edu
Phone: (281) 312-1534
Address: 20000 Kingwood Dr., Kingwood, TX 77339

Hours

Monday - Thursday 10:00AM - 3:00PM
Friday - Sunday CLOSED

Social Media