LSC-Kingwood Drama Department
Drama Department - Welcome!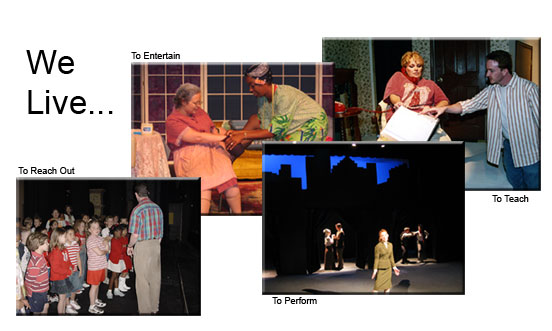 The Drama Department offers a variety of courses that focus on practical training for actors (Acting I & II, Movement, Voice), technicians (Stagecraft I & II, Stage Make-Up, Costuming), and the greater theatre audience (Theatre Appreciation & Film Appreciation). The department also presents multiple stage productions each year, which put all classroom work and discussion into practice (Practicum classes).
We offer a wide variety of productions for our audiences: Musicals, Comedies, Dramas, and our original One-Act Play Festival. Lone Star College-Kingwood actively participates in the Kennedy Center's American College Theatre Festival & the Texas Community College Speech and Theatre Play Festival.
Participation in theatre classes and productions is open to all Lone Star College students and members of the community.
Certain courses may be used as the Creative Arts Component for all Lone Star College degree programs as well as transfer credit to four-year degree programs.
Upcoming Performances
DRACULA
by Hamilton Deane & John L. Balderston - adapted from Bram Stoker's novel
Music Building - Recital Hall
October 25, 26, 27, 28 @ 7:30 pm
Come enjoy a 21st century look at a Gothic Classic! Lucy Seward, whose father is the doctor in charge of an English sanitarium, has been attacked by some mysterious illness. Dr. Van Helsing, a specialist, believes that the girl is the victim of a vampire, a sort of ghost that goes about at night sucking blood from its victims. The vampire is at last found to be a certain Count Dracula, whose ghost is at last laid to rest in a striking and novel manner.
ONLINE TICKET SALES begin September 26 @ 8:00 am.
LSC-Kingwood Fine Arts Scholarship