LSC-Kingwood Music Department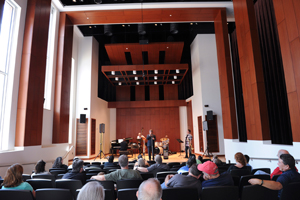 Welcome to the Lone Star College-Kingwood Music Web site! The music program at Lone Star College-Kingwood has two primary functions, depending on our student's needs.
First, it is designed to prepare students to earn an Associate of Arts degree and transfer to a university. For these transfer students (both majors and non-majors), we offer core courses such as music fundamentals, music theory and sight singing/ear training, and music appreciation. In addition, for the beginning student, we also offer class voice, class piano and class guitar. For more advanced students, we offer instruction in applied voice, piano, violin, viola, cello, bass, guitar, drums, flute, bassoon, saxophone, trumpet, trombone, euphonium, tuba, and horn. Students in private and class lessons perform in recitals during the semester. Our seven ensembles (both vocal and instrumental) perform at least twice each semester.
Second, there is a community education track which encourages local citizens to participate in our music classes and performing ensembles, enhancing the skills of the students and the culture of the community.
| | | |
| --- | --- | --- |
| Fine Arts Scholarship | Recital Forms | Jury Forms |
Upcoming Music Events
November 22

Kingwood Chorale Concert: Baroque Gems, 7:30 pm, Christ the King Lutheran Church, Kingwood. Information: 281-319-1260 or visit lhmas.org.

November 24

Monday Music Recital: 12:30 pm in the MUS Recital Hall * 281-312-1709. Free student performances in a recital hall setting.

November 25

Symphonic Band/Jazz Ensemble 7:30 pm PAC Main Stage * 281-312-1532 or KWBox@LoneStar.edu. General admission tickets: $5.
Services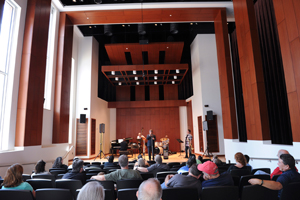 The Music Instructional Building is a high-tech facility that houses state-of-the-art rehearsal classrooms, a piano lab, recital hall and practice rooms. The recital hall offers students and the community a performance space complete with an exemplary acoustic environment for recitals, small ensemble performances, meetings and other events. The 23,000 square-foot facility is also the new home to several music groups: the Kingwood Chorale and Chamber Orchestra, the Kingwood Big Band, the Kingwood Community Band the Kingwood Pops Orchestra as well as numerous student ensembles.
Quick Facts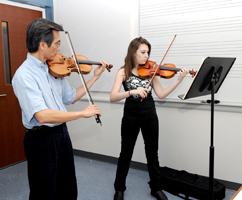 Construction began: March 2010
Location: South of Royston Road on the northeast corner of campus
Construction Completed: August 2011
Architect: Perkins + Will
Gross Square Footage: 23,000
Construction Manager: Jacobs Engineering
Purpose/Services: a recital hall, practice rooms, rehearsal spaces, class rooms, faculty offices, and much needed instrument storage space
General Contractor: Miner-Dederick Construction