LSC-Kingwood Music Department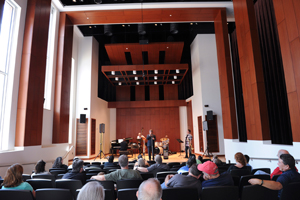 Welcome to the Lone Star College-Kingwood Music Web site! The music program at Lone Star College-Kingwood has two primary functions, depending on our student's needs.
First, it is designed to prepare students to earn an Associate of Arts degree and transfer to a university. For these transfer students (both majors and non-majors), we offer core courses such as music fundamentals, music theory and sight singing/ear training, and music appreciation. In addition, for the beginning student, we also offer class voice, class piano and class guitar. For more advanced students, we offer instruction in applied voice, piano, violin, viola, cello, bass, guitar, drums, flute, bassoon, saxophone, trumpet, trombone, euphonium, tuba, and horn. Students in private and class lessons perform in recitals during the semester. Our seven ensembles (both vocal and instrumental) perform at least twice each semester.
Second, there is a community education track which encourages local citizens to participate in our music classes and performing ensembles, enhancing the skills of the students and the culture of the community.
| | | |
| --- | --- | --- |
| Fine Arts Scholarship | Recital Forms | Jury Forms |
Upcoming Music Events
Check back for upcoming events!
Services
The Music Instructional Building is a high-tech facility that houses state-of-the-art rehearsal classrooms, a piano lab, recital hall and practice rooms. The recital hall offers students and the community a performance space complete with an exemplary acoustic environment for recitals, small ensemble performances, meetings and other events. The 23,000 square-foot facility is also the new home to several music groups: the Kingwood Chorale and Chamber Orchestra, the Kingwood Big Band, the Kingwood Community Band the Kingwood Pops Orchestra as well as numerous student ensembles.
Quick Facts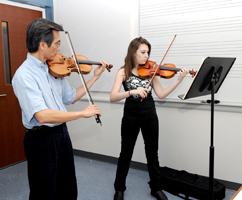 Construction began: March 2010
Location: South of Royston Road on the northeast corner of campus
Construction Completed: August 2011
Architect: Perkins + Will
Gross Square Footage: 23,000
Construction Manager: Jacobs Engineering
Purpose/Services: a recital hall, practice rooms, rehearsal spaces, class rooms, faculty offices, and much needed instrument storage space
General Contractor: Miner-Dederick Construction
Kingwood Summer Opera on hiatus for 2015
Following the monumental 2014 season's two productions of "Ariadne auf Naxos," the Kingwood Summer Opera's (KSO) creative team will take a break to recharge and develop the new "Berlin Opera Experience" for future seasons.
For several years, KSO at Lone Star College-Kingwood has been producing high level complete opera productions in original language for the enjoyment of the entire Houston metropolitan area and for the singers who are in various stages of their operatic training. While performing Strauss' "Ariadne auf Naxos" in the summer and November 2014, the college's music department hosted the TEXOMA Regional NATS voice competition and conference.
"We pulled out all the stops last season in terms of resources, artistic quality, and human capital," said Dr. Todd Miller, producer.  "We all needed to recharge our batteries a bit, as well as our coffers. This hiatus allows us to come to the 2016 season with all of our resources full again."
In addition to the regular Kingwood Summer Opera, the creative team of Anne Heath-Welch, artistic director; Gottfried Schiller, assistant director; and Miller are working to develop a "Berlin Opera Experience" for aspiring singers.
"Schiller sang in the Kommische Oper Berlin for 30 years and still has many contacts in that area of Germany," said Miller. "We are working to develop a study abroad program that provides real training for young opera singers who aspire to work full time as singers in Germany, and that would include two weeks in and around Berlin, meeting and coaching with significant artists and administrators in the German opera system."
For more information regarding Kingwood Summer Opera, contact Dr. Todd Miller at 281-312-1485 or Todd.R.Miller@lonestar.edu.
Register now for credit classes online through myLoneStar.  Classes are offered days, evenings, or weekends in traditional, Internet, video, TV and independent study formats. For more information on how to register online, visit www.lonestar.edu/registration.
For general information about Lone Star College-Kingwood, call 281.312.1600 or visit http://lonestar.edu/kingwood.htm.