Biloxi Blues
"Biloxi Blues" - February 23 - March 4, 2012
By Neil Simon
Directed by Ron Jones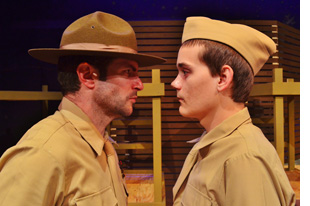 Beginning with "Brighton Beach Memoirs" last year and plans for "Broadway Bound" next year, Lone Star College-CyFair Drama Department presents Neil Simon's comedy "Biloxi Blues".
In this second part of the Neil Simon autobiographic trilogy tracing his rise as a prominent writer, Eugene Jerome is now a young Army recruit during WWII in basic training in Biloxi, Mississippi. Lessons in life and love take Jerome through manhood amid comedic commentary and harsh realities.
LSC-CyFair Drama Professor Ron Jones directs this show, which is for mature audiences only due to strong language and adult themes. "Biloxi Blues" is produced by special arrangement with Samuel French, Inc., New York City.