PTA Alumni Resources
Job Opportunities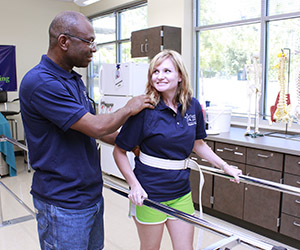 As the U.S. population ages, so does the demand for physical therapy services. The Bureau of Labor Statistics cites a 45.7 percent increase in employment growth through 2020 with the top-paying metropolitan areas for this career located in Texas. The median annual salary for physical therapist assistants in the Houston area is $57,400, and sign-on bonuses are not uncommon. Below are job connections for PTA alumni to explore:
RehabCare
With a large network of programs in diverse care settings, exceptional training, competitive compensation and a full range of employee benefits, RehabCare offers the new and the aspiring rehabilitation professional limitless opportunities to begin a satisfying and challenging career. Learn more at www.RehabCareJobs.com.
RehabVisions
A therapist and family-owned company, RehabVisions support employees in patient-centered environments, provides flexibility, offers opportunities for growth, and has good people to work with. Learn more at www.RehabVisions.com.
Future Education
DPT Bridge Program
University of Texas Medical Branch School of Health Professions
For those interested in earning their doctor of physical therapy (DPT) degree, the University of Texas Medical Branch School of Health Professions is currently developing a pathway to transition physical therapy students into the DPT program at UTMB.
Interested students should contact Dr. Renee Pruitt, PTA program director at LSC-Montgomery, who is currently serving on the UTMB's DPT advisory board.
SPTAA Scholarship Support
The Student Physical Therapist Assistant Association is the student organization that supports professional development and student scholarships on campus. This year's President is Christina Krebs, Vice President Cesar Fuentes and Amy Alvarez, and Secretary/Treasurer Trang Tran.
If you are interested in donating to the SPTAA endowed scholarship fund, please contact Renee Pruitt,
renee.m.pruitt@lonestar.edu
or send your donation to LSC-Montgomery SPTAA scholarship fund, 3200 College Park Drive, Conroe, TX 77384 c/o Renee Pruitt.
Dr. Renee M. Pruitt, PT, MHA, DPT
PTA Program Director
936.273.7470
936.273.7050 (FAX)