What's Happening Archive
November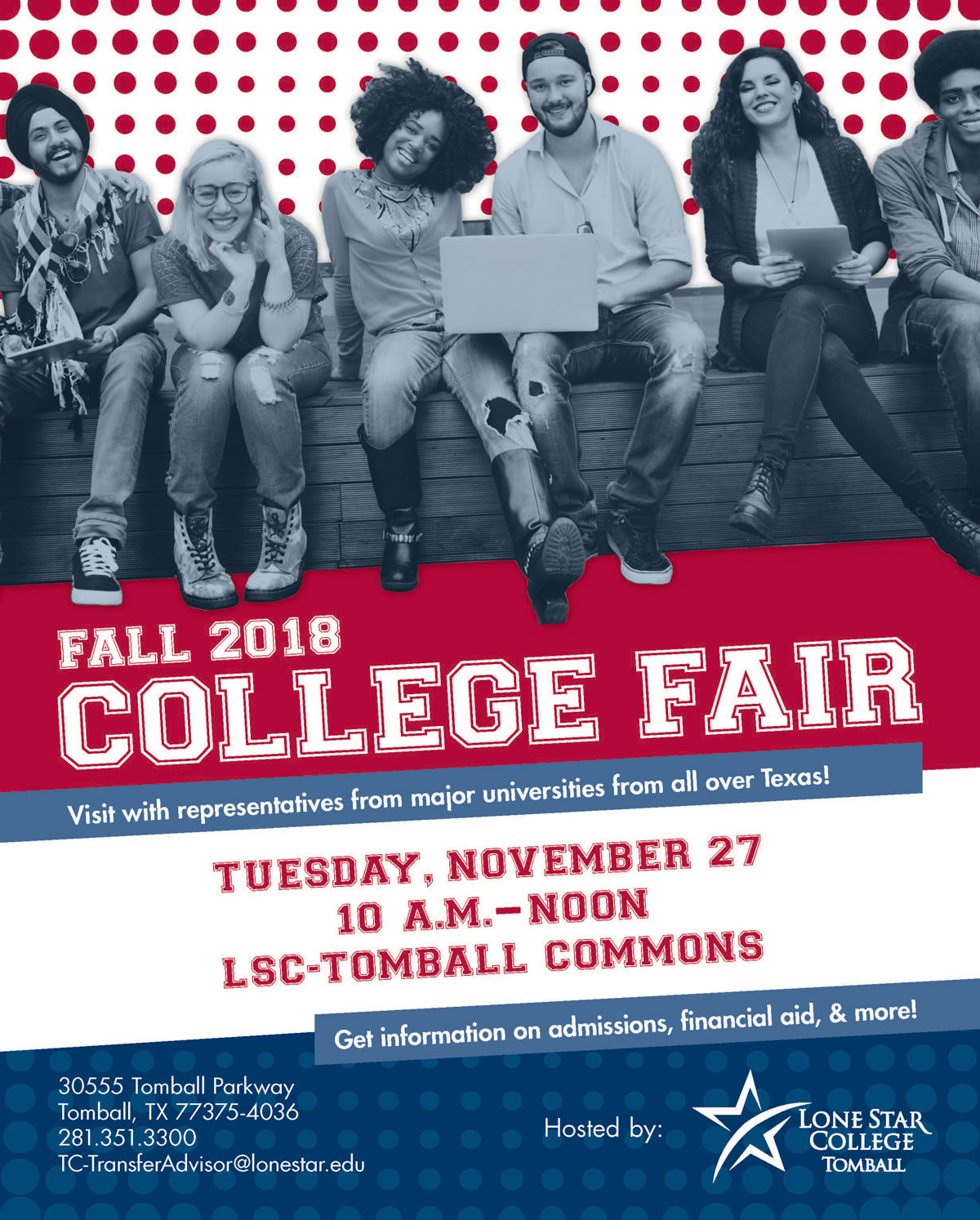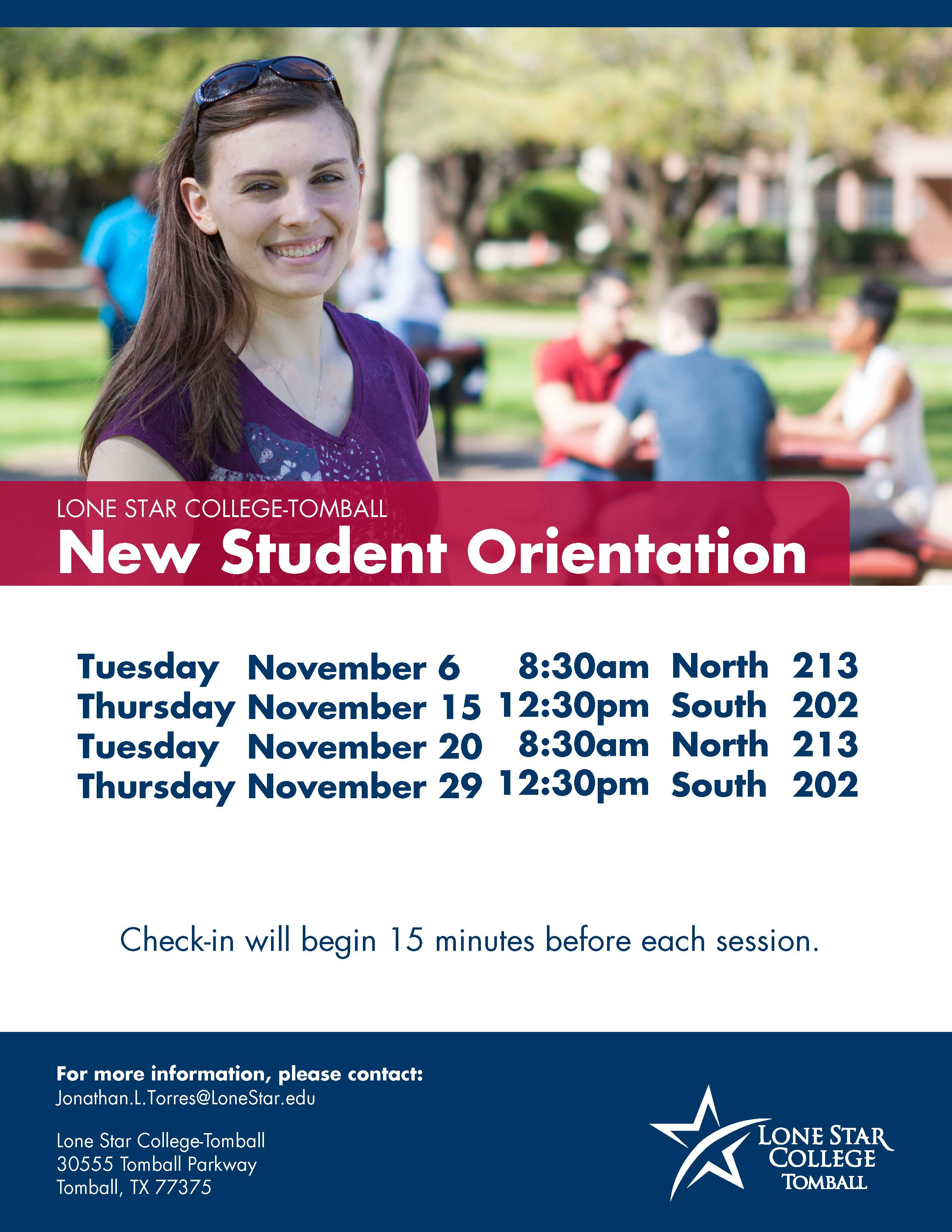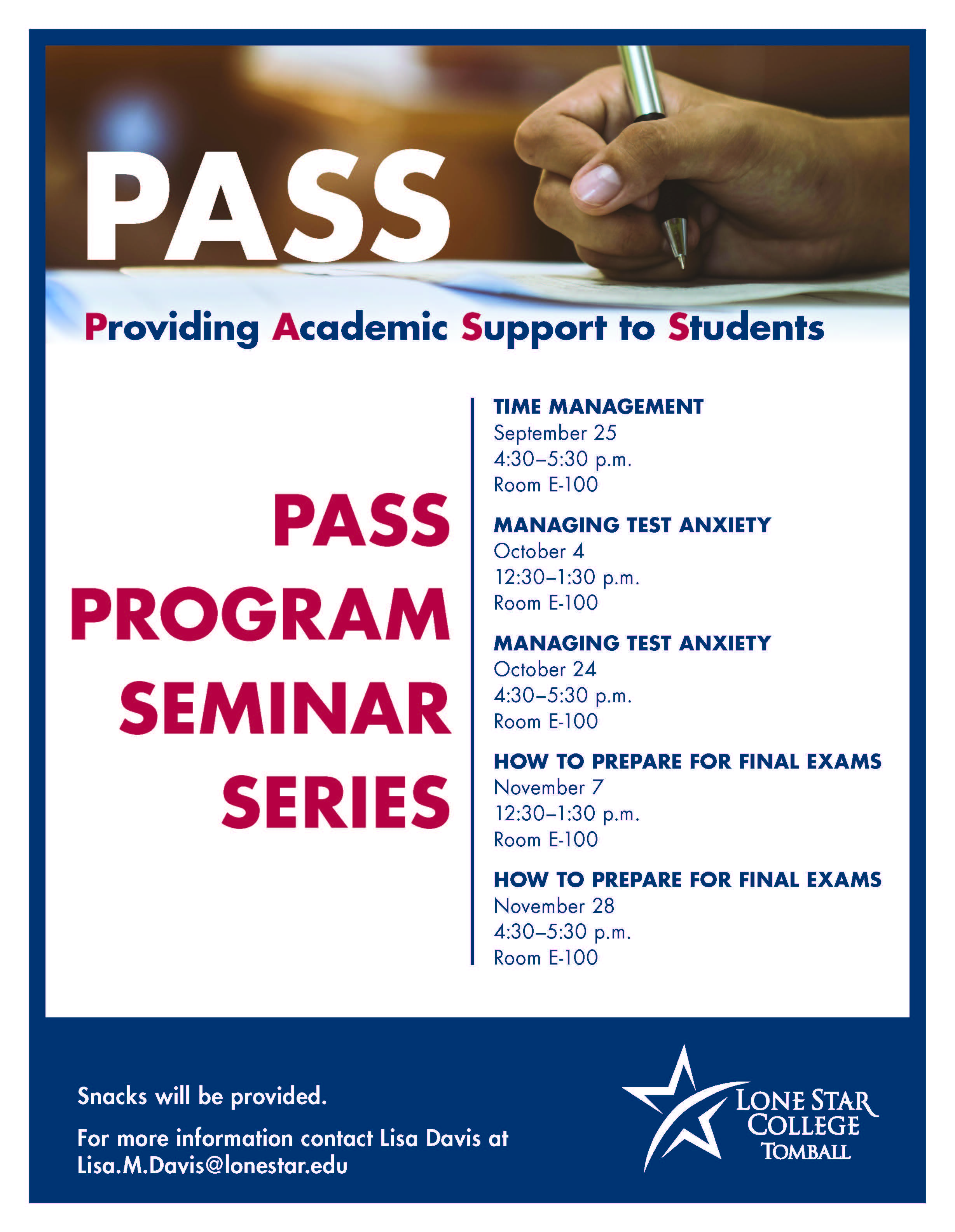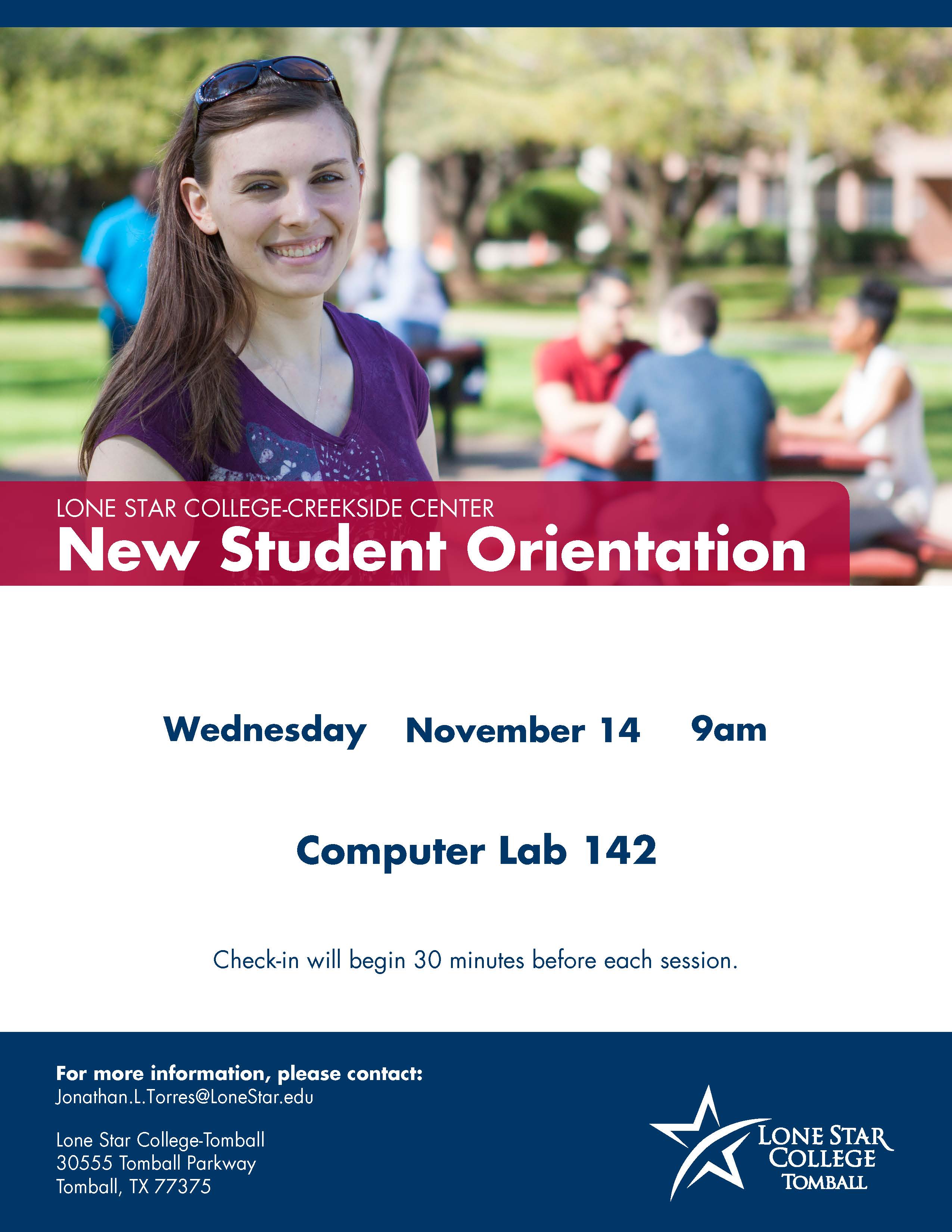 October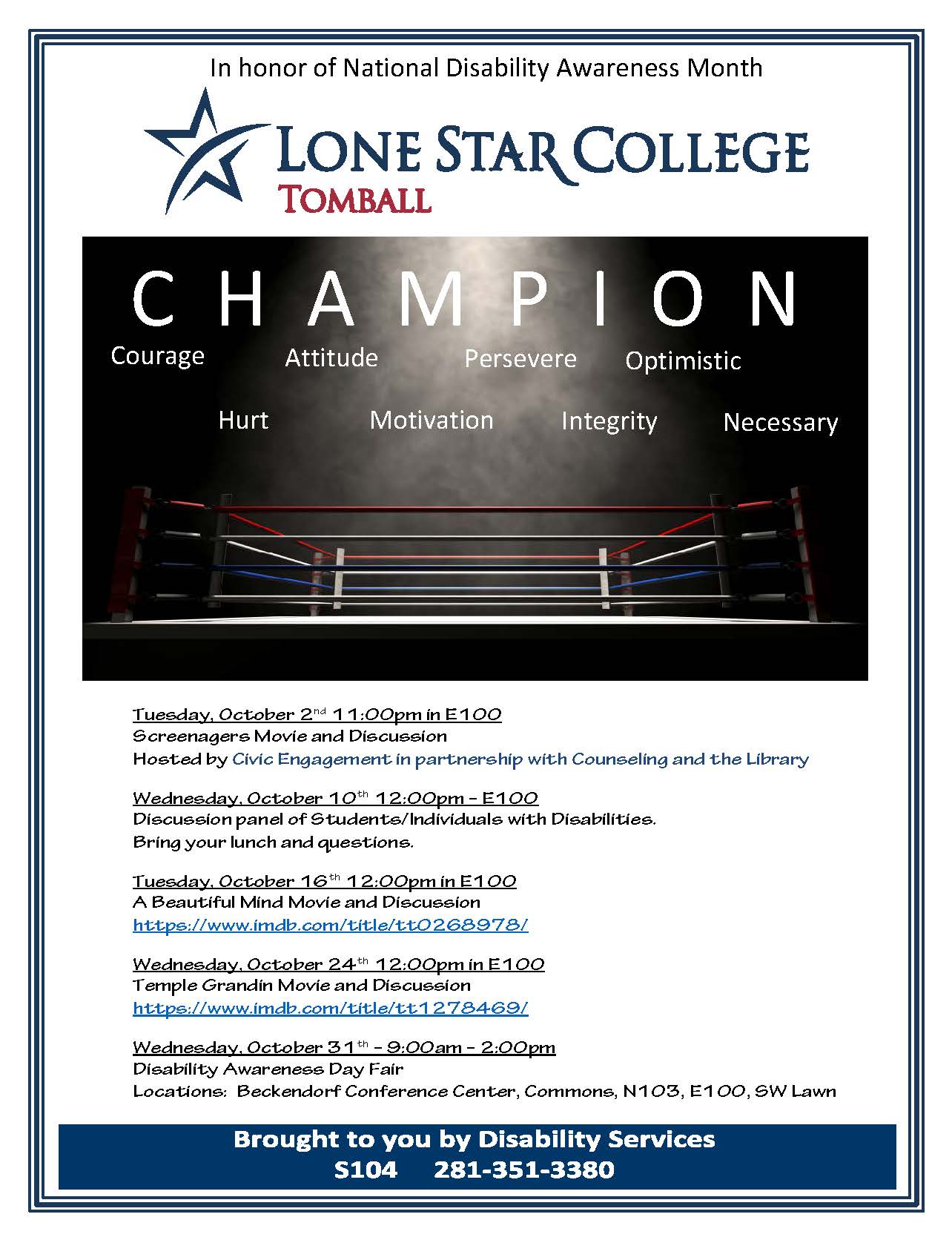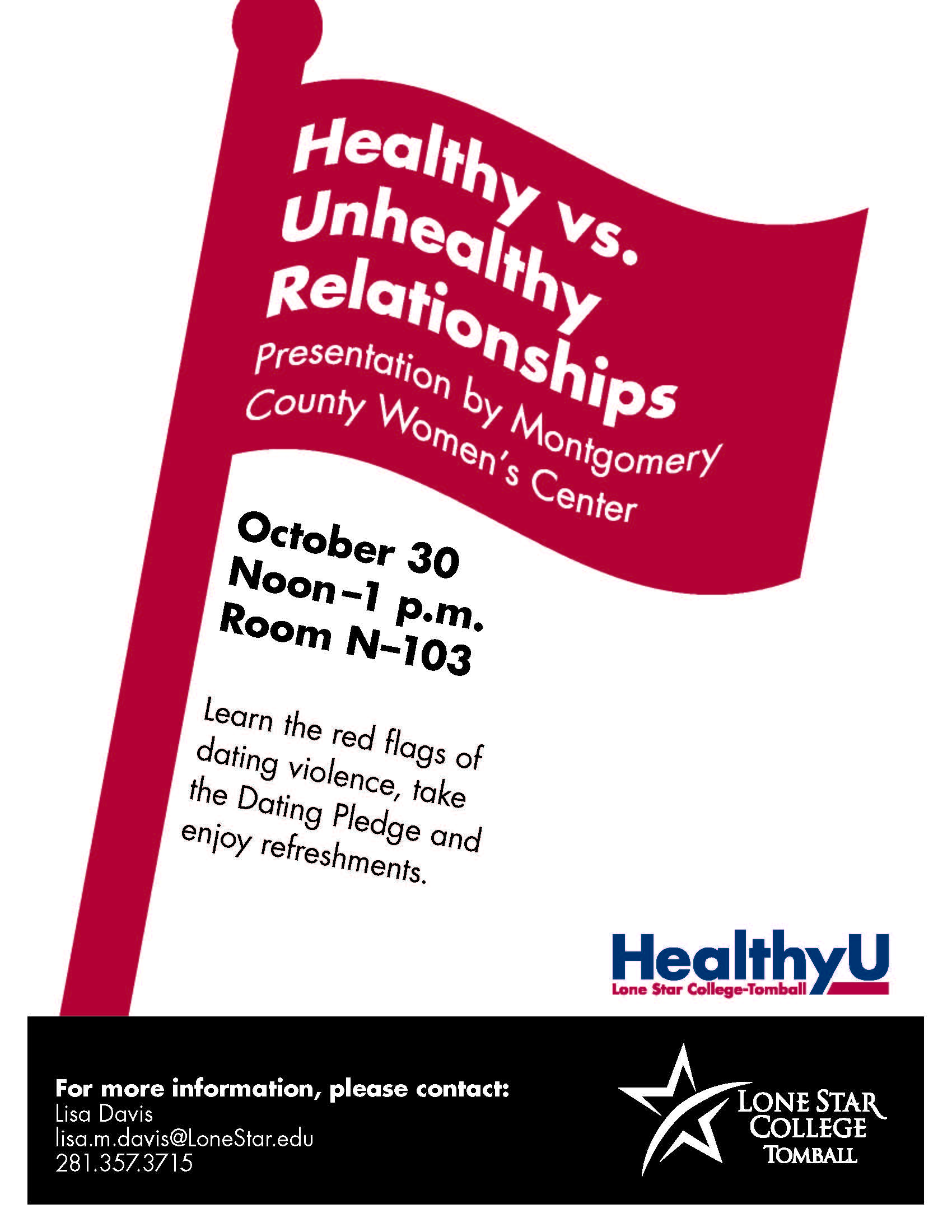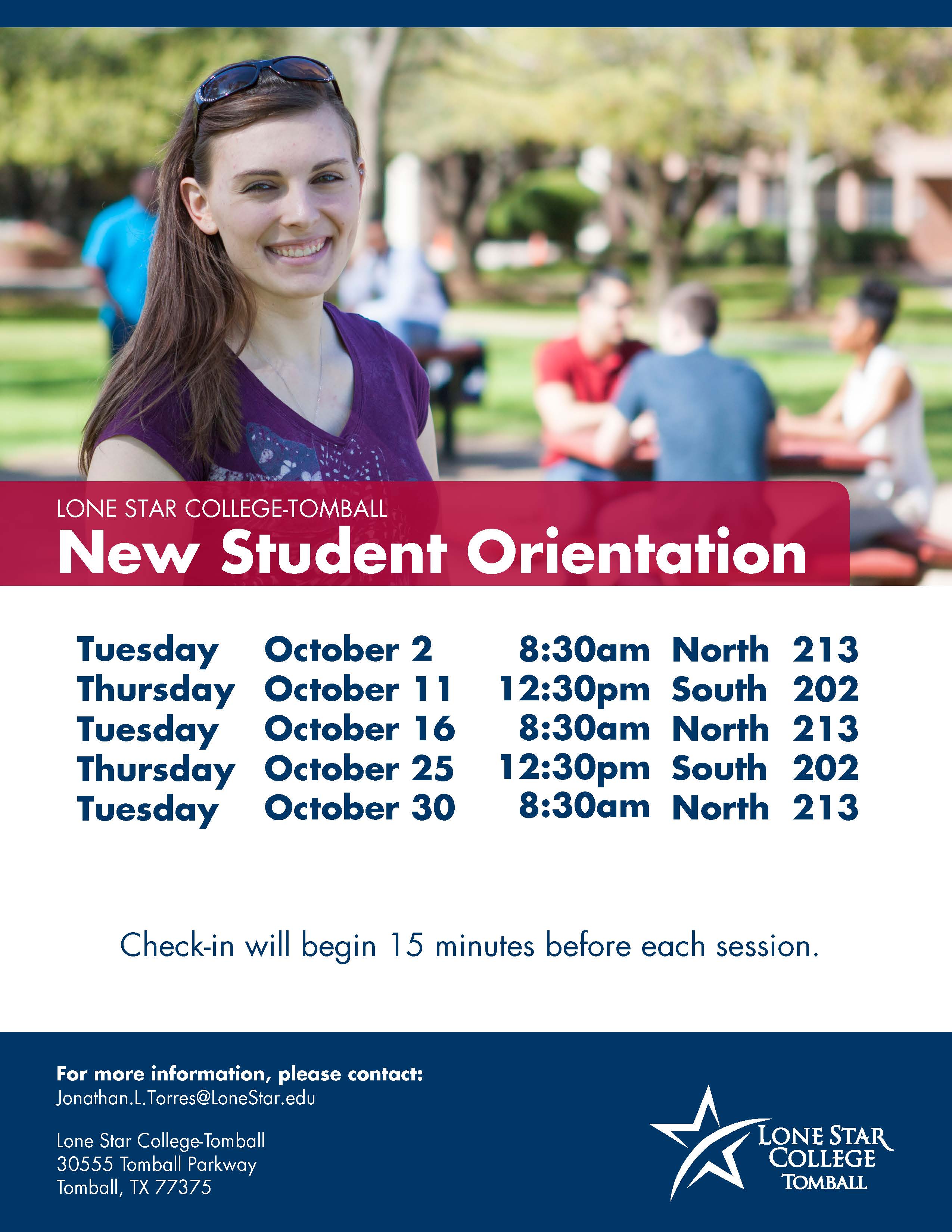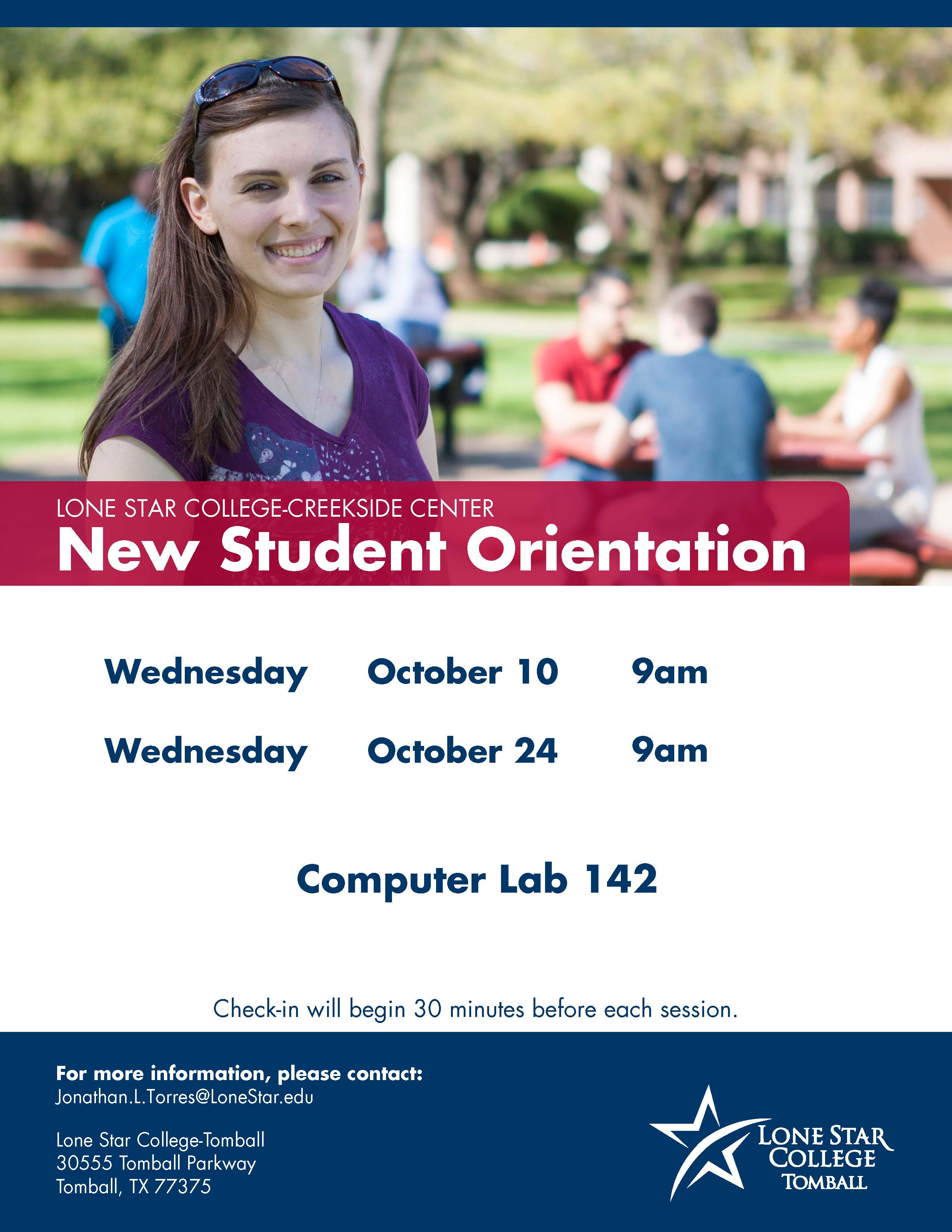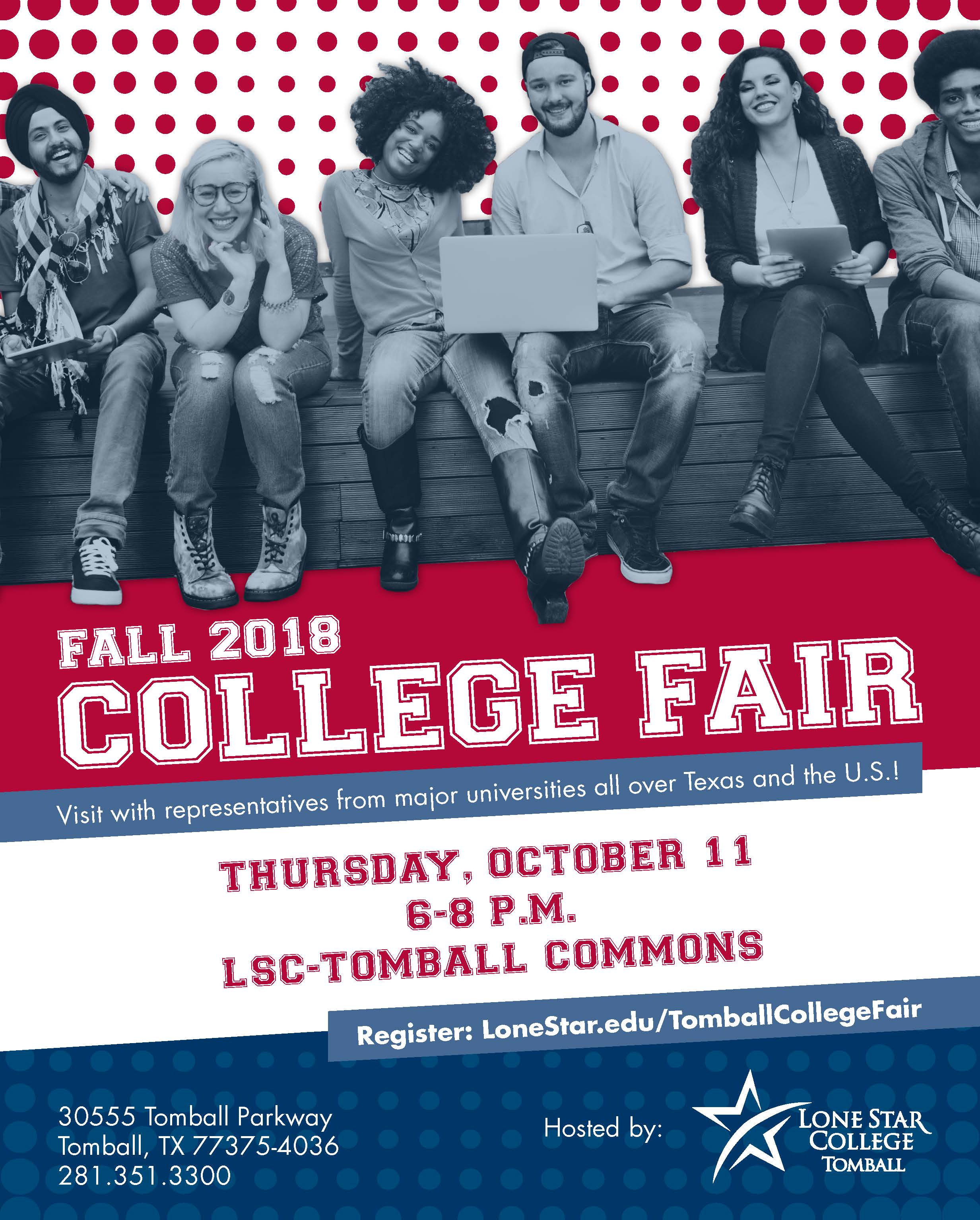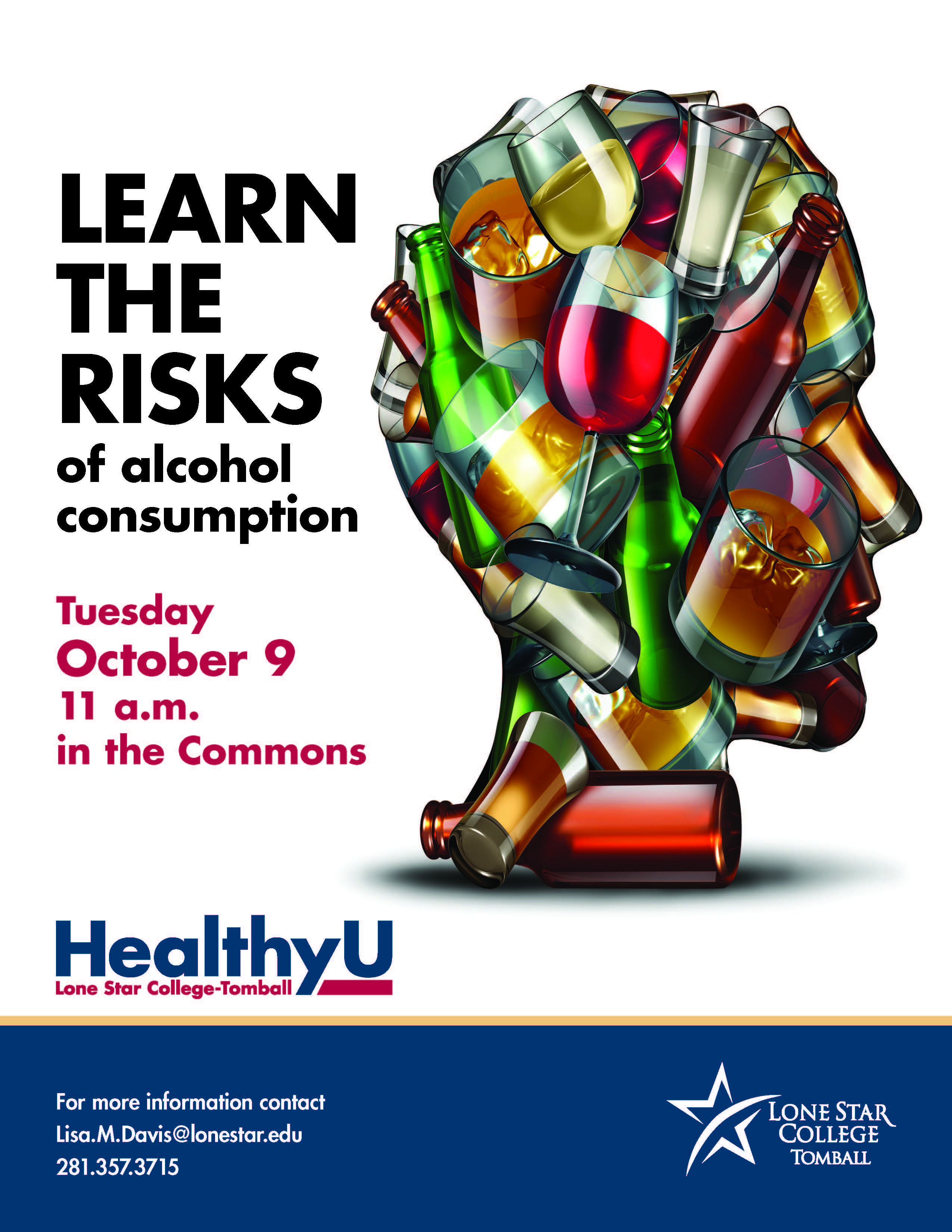 September
SSI Visits the University of St. Thomas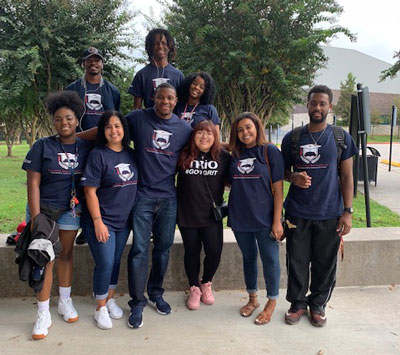 On Friday, September 28, 2018, some students from the Student Success Institute visited the University of St. Thomas, where students gained information about admissions, transfer scholarships, and toured the campus. This event is part of the Student Success Institute's mission to help students reach key academic milestones such as transferring to a four-year institution.
TRiO Visits the Houston Food Bank
On Friday, September 14, 2018, TRiO staff and students traveled to volunteer at the Houston Food Bank. Each year TRiO enjoys helping others in need, giving back and showing others we Care. We made over 3,400 lunches to feed the homeless. It was a great experience.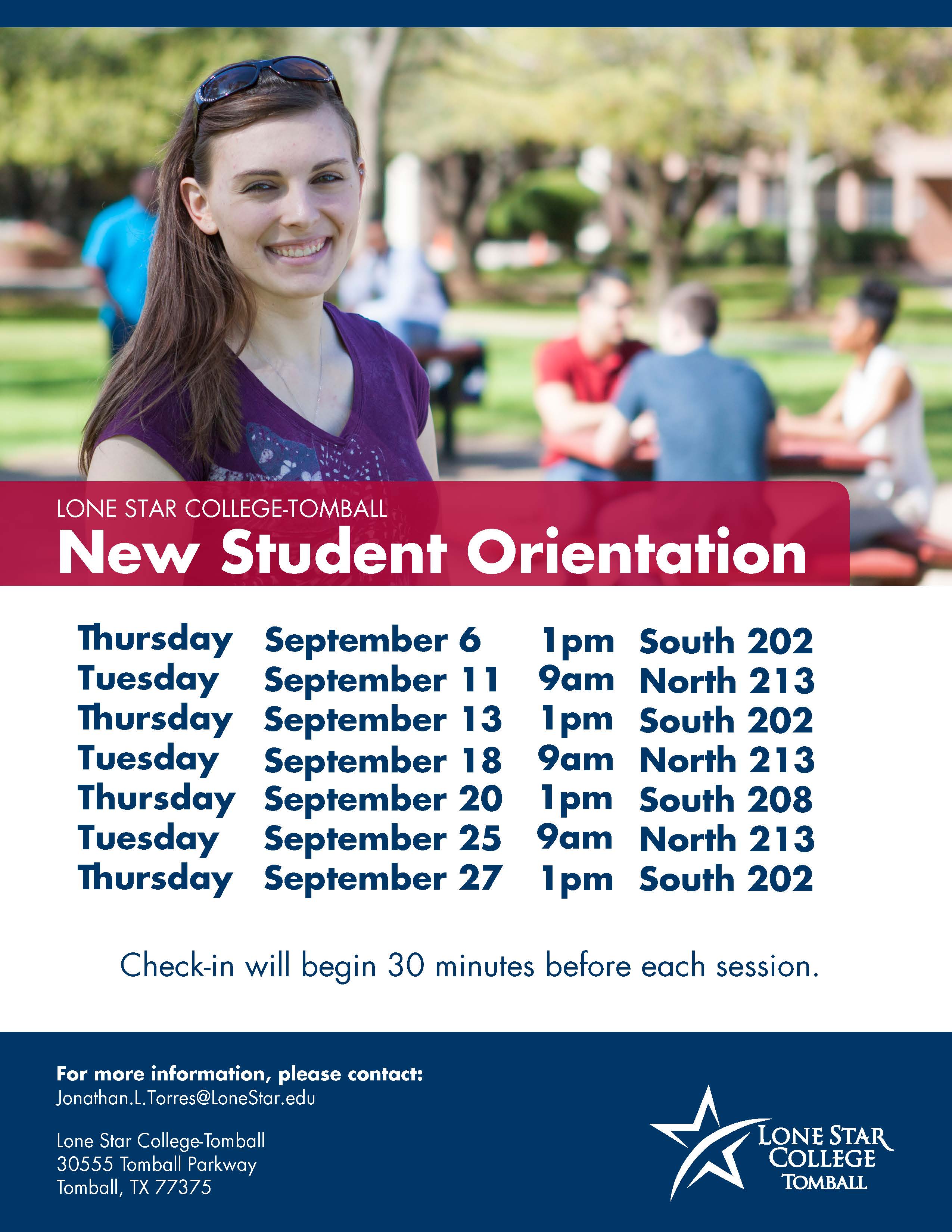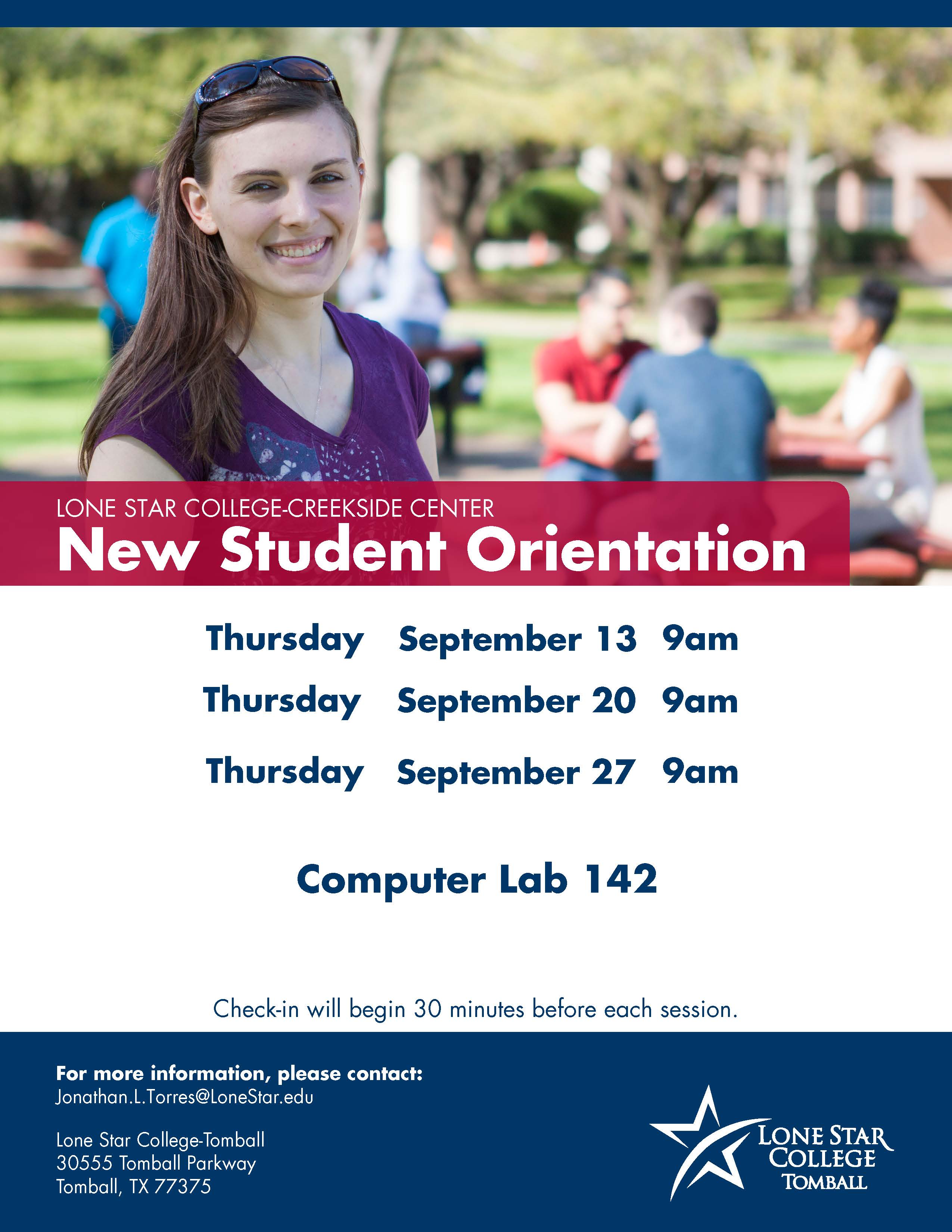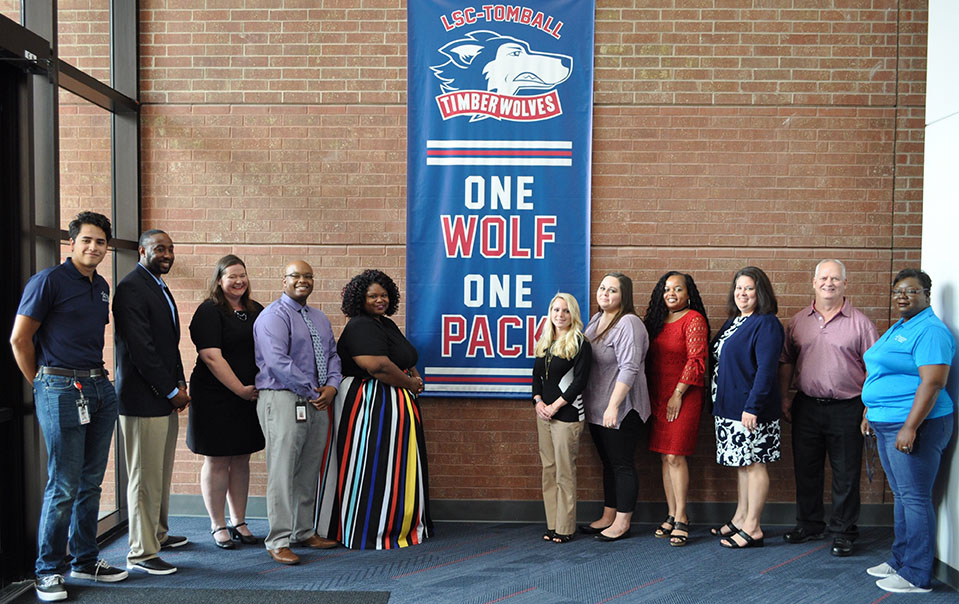 LSC-Tomball Student Success Welcomes New Staff
The Student Success division announces some new staff additions to the team.
From the left to right:
Fernando Martinez (Specialist II – Outreach & Recruitment)
Emmitt Carter (Program Manager – TRiO)
Alison Ketterer (Advisor II – Advising & Counseling)
Raymond Craft Jr. (Program Manager II – Outreach & Recruitment)
Rosalin Lambey (Advisor II – Student Success Institute)
Sarah James (Advisor II – Advising & Counseling)
Lisa Gutierrez (Coordinator I – Student Life)
Flonisha Dames (Advisor/Coordinator II – TRiO)
Deirdre Hayes-Cootz (Assistant Dean – Student Success)
Stephen Wannamaker (Advisor II – Advising & Counseling)
Tamica Roberts (Specialist II – Assessment Center)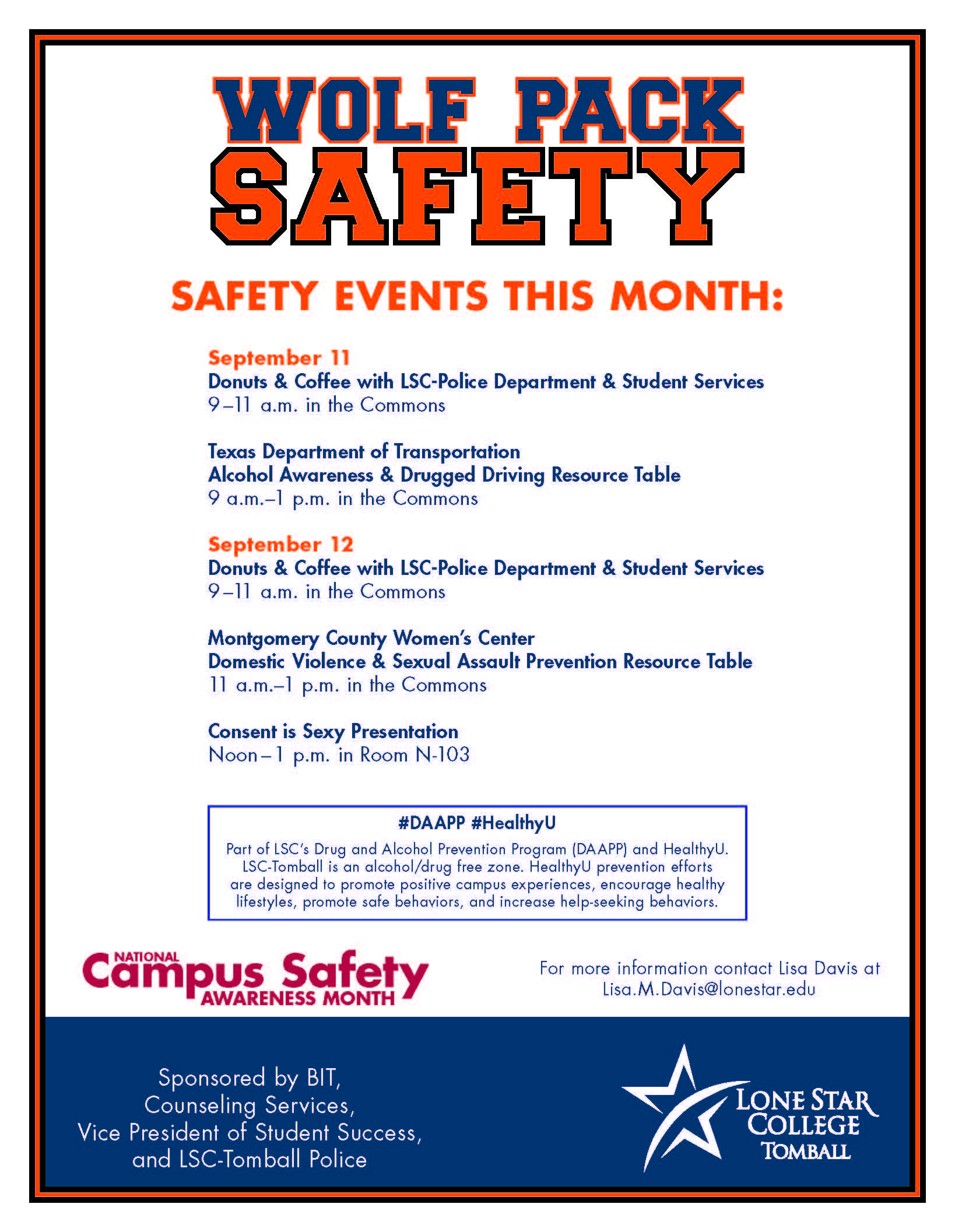 August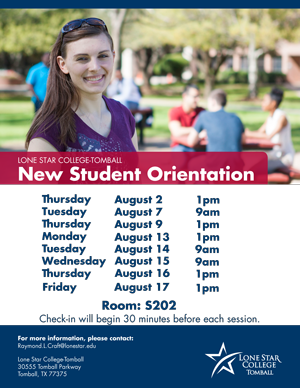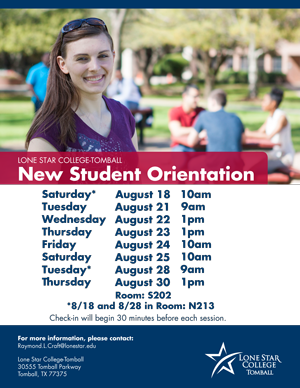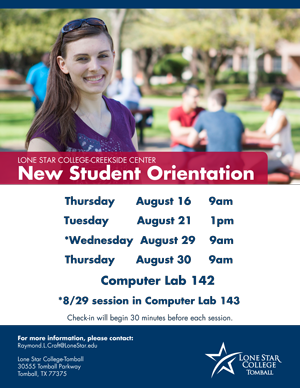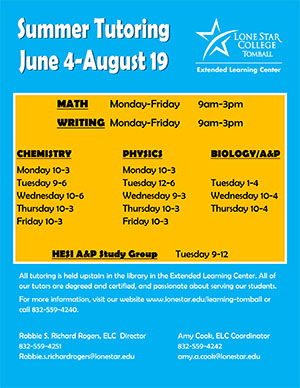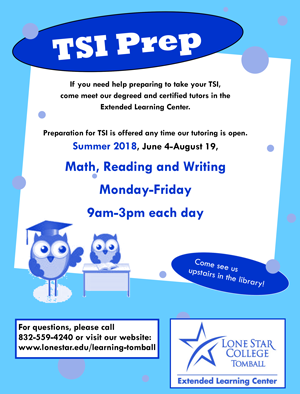 July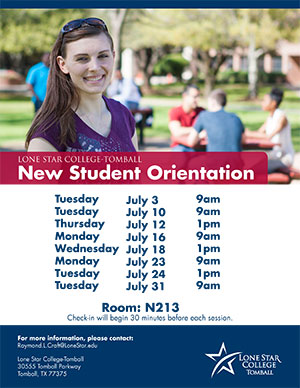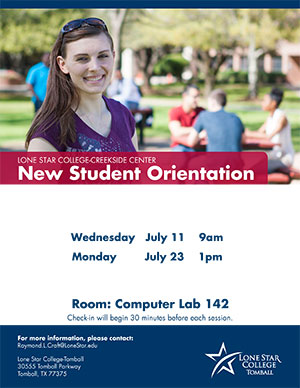 June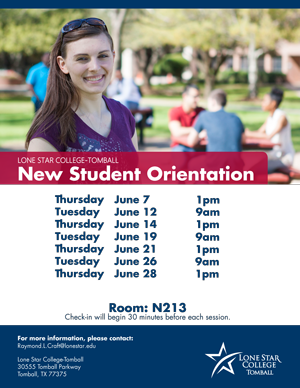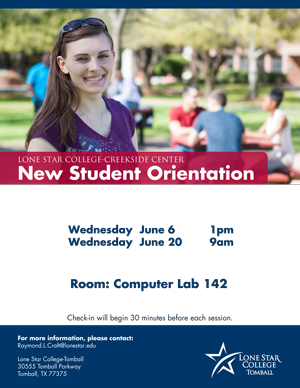 May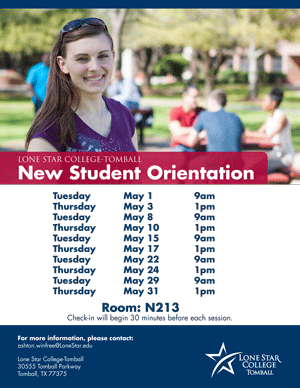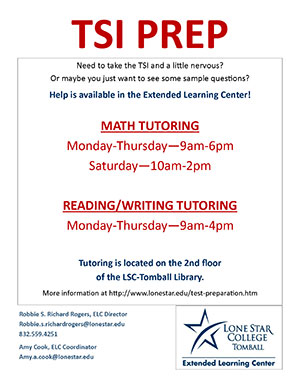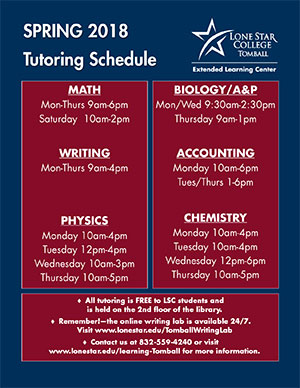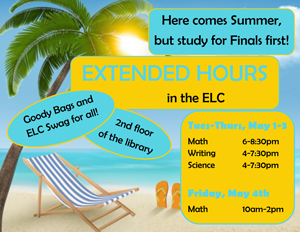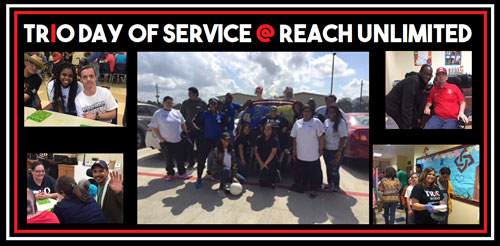 TRiO SSS is Fifty Years Old!
Since 1986, TRiO Day is celebrated on the last Saturday of February and has been designated as a National Day of Service. As such, TRiO programs across the country complete a community service project as a way to give back to their community. This year we chose REACH Unlimited as the recipient of our donation drive and volunteer efforts. We enjoyed spending time with the clients and participating in their International Fest.
REACH provides quality support services to individuals with intellectual and developmental disabilities. The Reach Learning Activity Center opened in January 2005 helping individuals achieve his or her personal goals. The Learning Center offers a comprehensive curriculum that helps each individual develop skills that will help them be more independent and social while participating in programs that enrich their lives and their community.
April 2018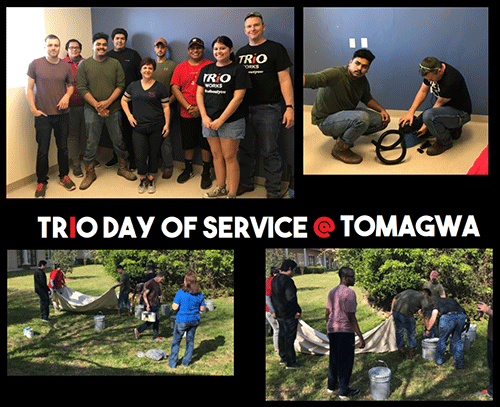 TRiO SSS is Fifty Years Old!
On Friday, March 23, 2018, the TRiO Advisory Council (TAC) completed their Leadership Project at Tomagwa Healthcare Ministries Clinic, assisting with the opening of their medical lab. The project consisted of cleaning and painting the lab. This was a two day project that was finished on Friday, April 20th. Tomagwa's mission is to provide quality health care, offers hope and restores dignity to uninsured, low-income families and individuals in the Tri-County region of NW Harris, SW Montgomery and SE Waller Counties. The TAC donated paint, primer, and painting supplies to help complete the medical lab. With the help of TAC, Tomagwa will be opening its medical lab on Monday, April 23rd.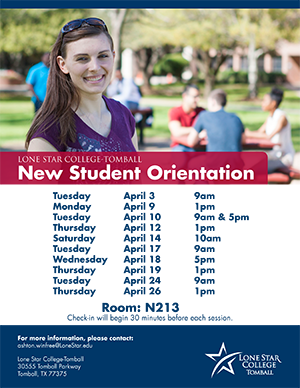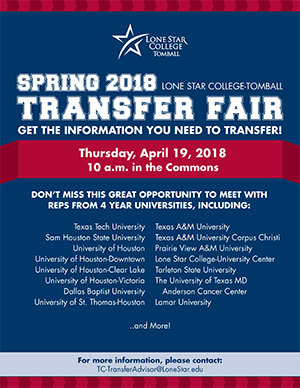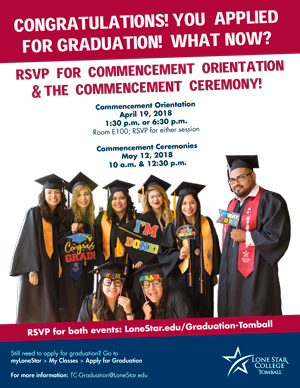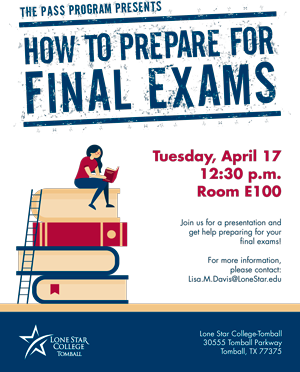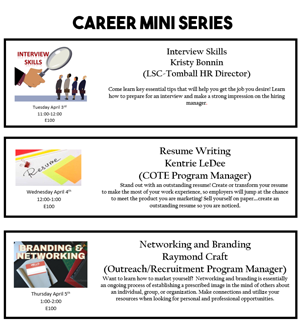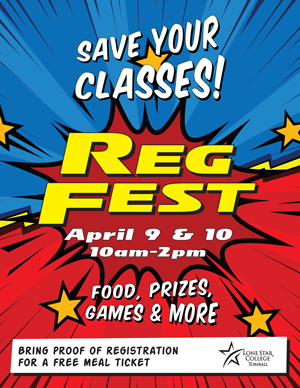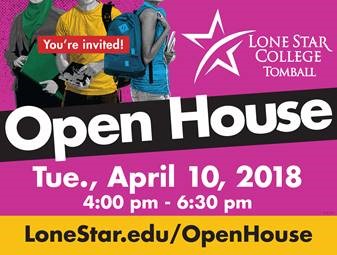 March 2018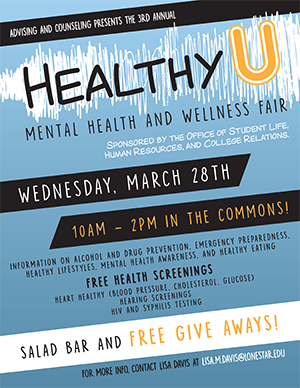 February 2018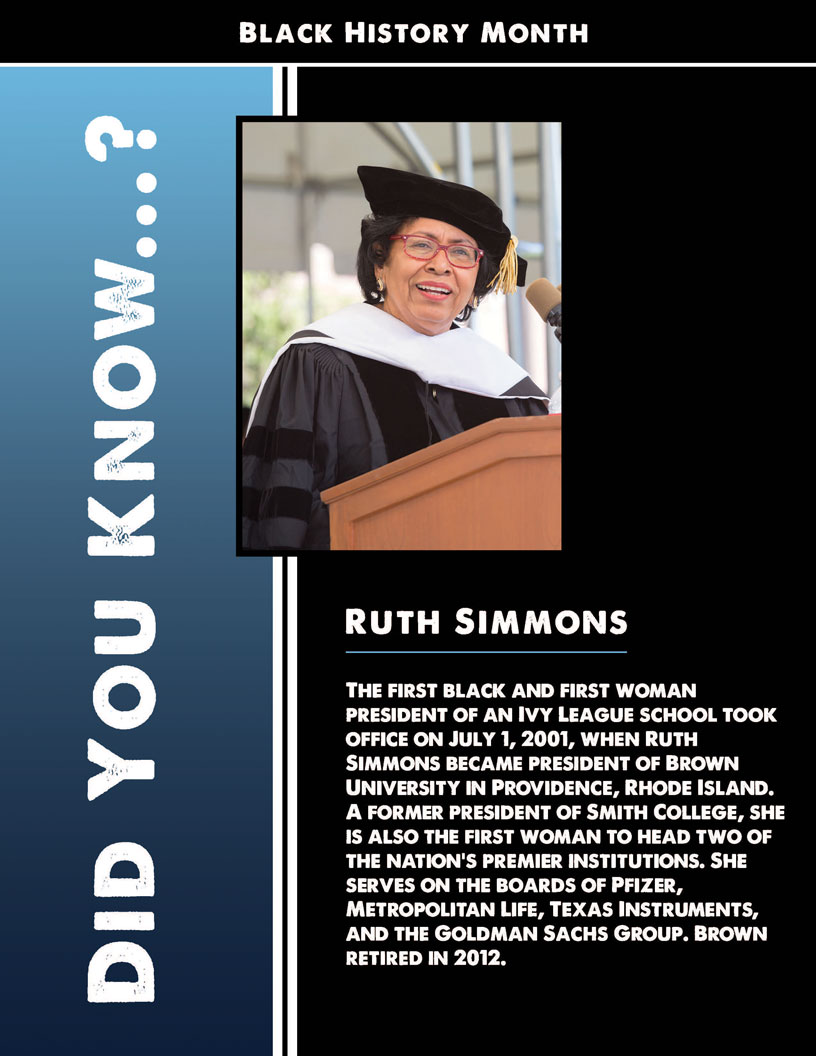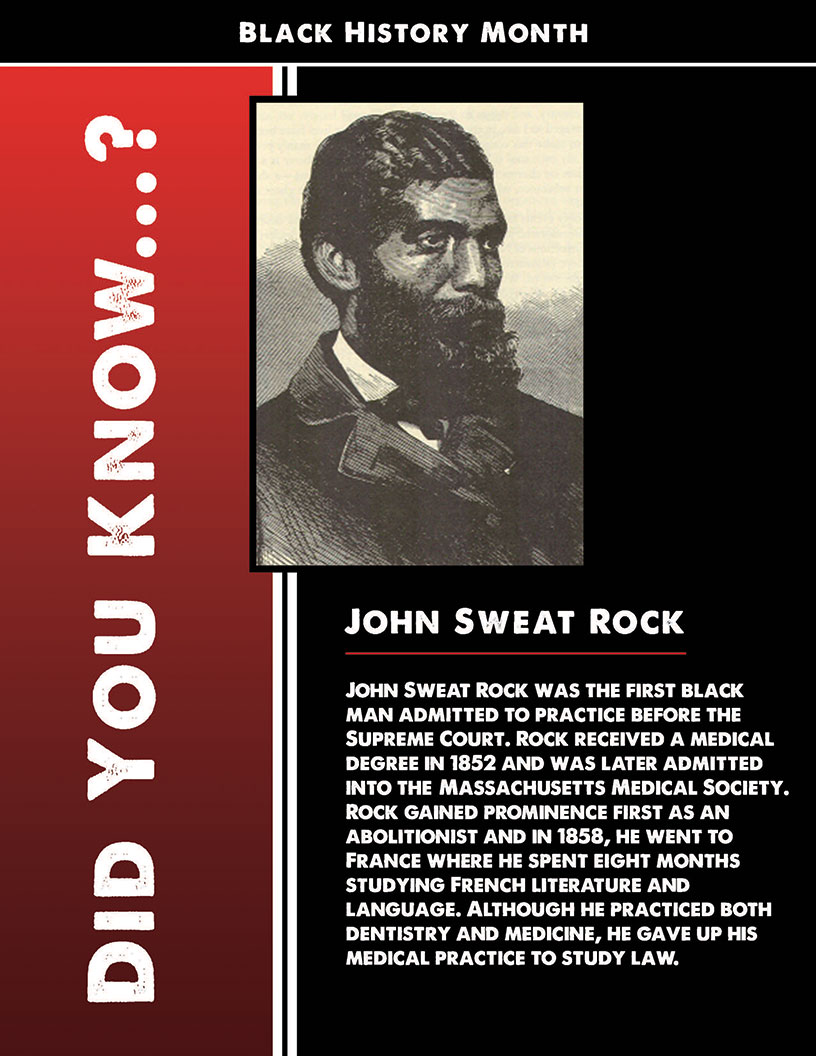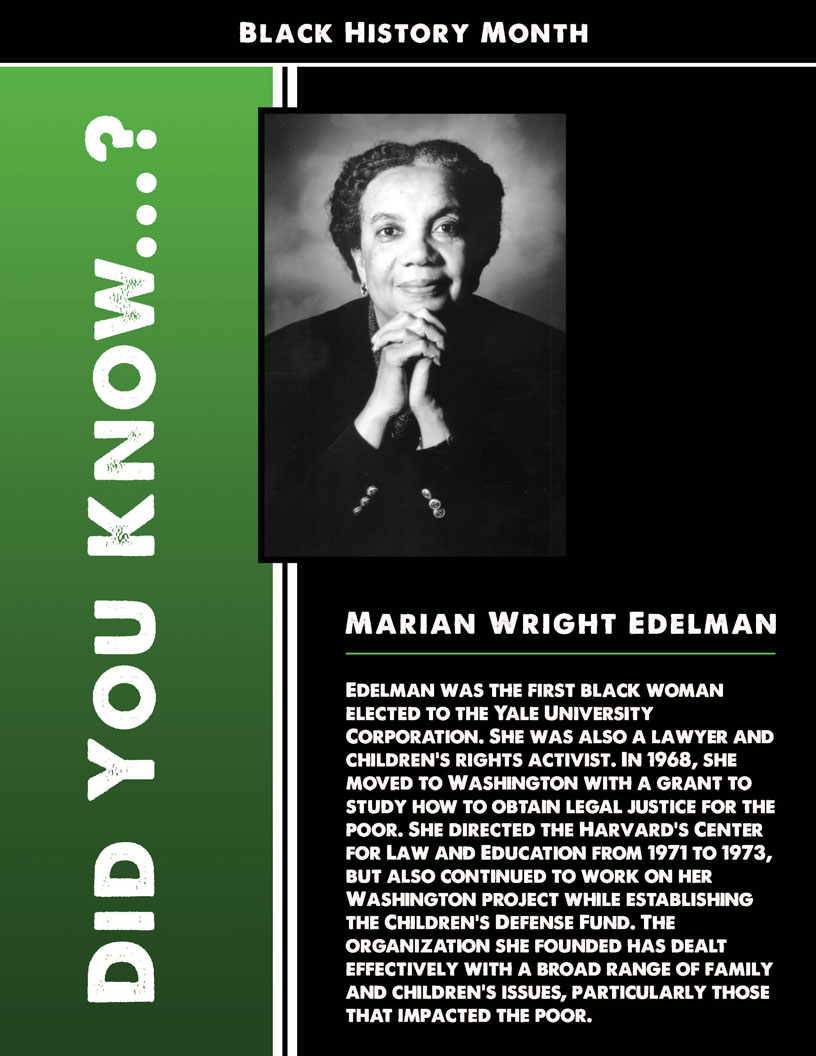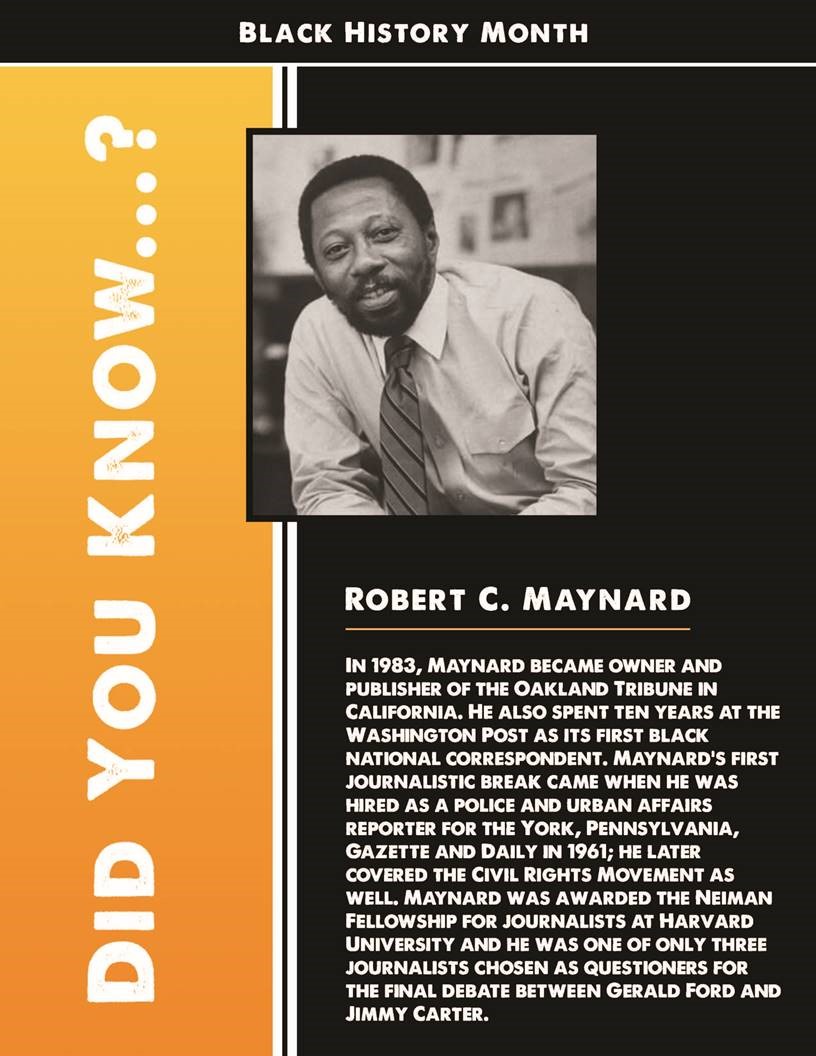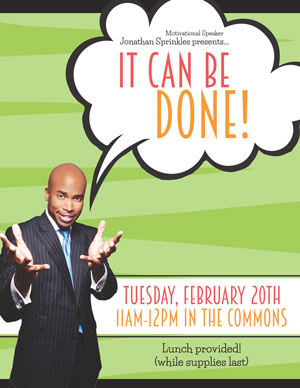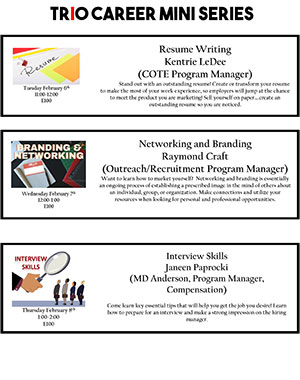 January 2018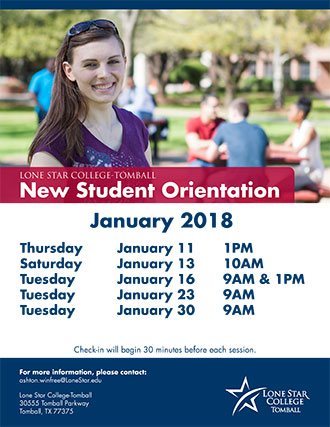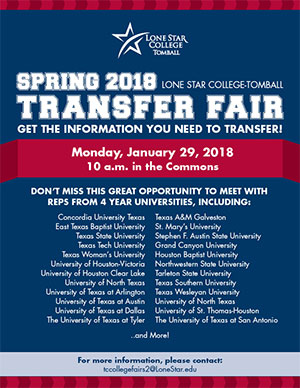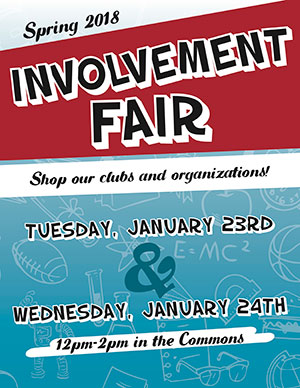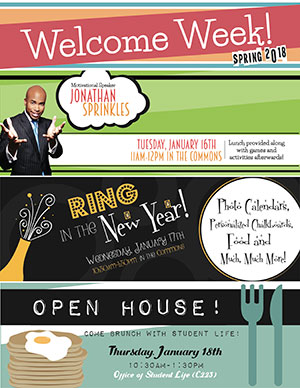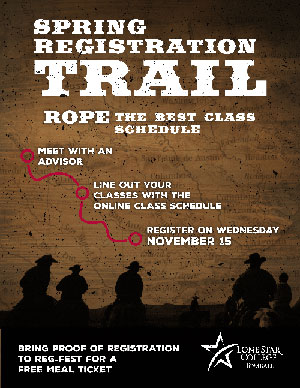 December 2017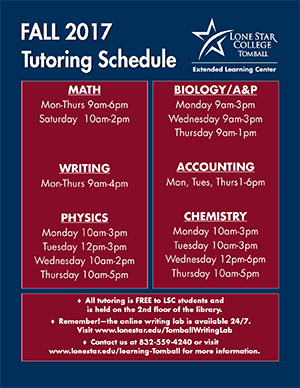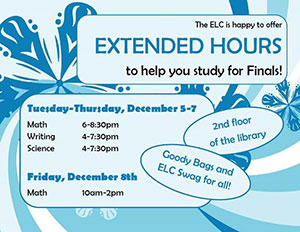 November 2017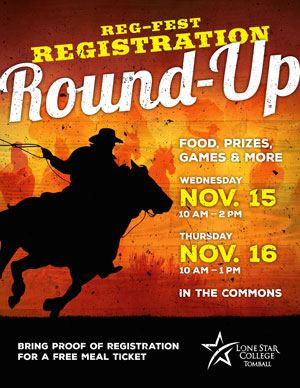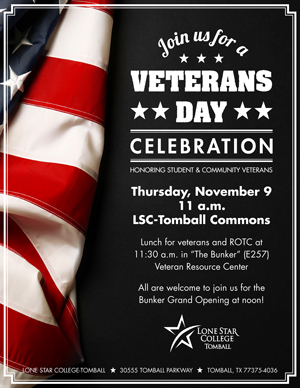 October 2017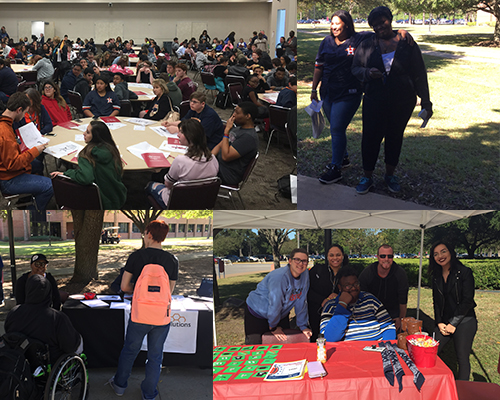 Our 13th annual Disability Awareness Day was held on Wednesday, October 25, 2017. The event was a great success and brought in high school seniors from Klein ISD, Waller ISD, Magnolia ISD and Tomball ISD. Approximately 200 students and their high school staff were in attendance. Disability Awareness Day began with an opening session from 9:00am – 11:00am, which included information from Disability Services on transitioning from high school to college.
Outreach and Recruitment also held an information session followed by a tour of the campus. Immediately following the tour, high school students and our college community were treated to a fair from 11:00am – 2:00pm. The fair included food, fair events and games that focused on educating our guests about the challenges individuals with different abilities face. Local vendors from the Houston area met with students and provided information about their organization. Disability Awareness Day ended with two drawings, one for the high school students and one for the college students.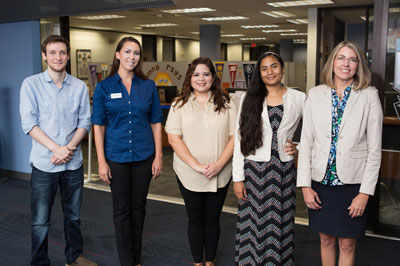 It is our pleasure to announce our newest pack members in the Advising and Counseling Department.
From left to right: Bryan Smelley, PT Specialist II; Heidi Ewing, PT Advisor; Maribel Zavala, PT Advisor; Karen Trejo, full-time Staff Assistant I; Amy Griffin, Director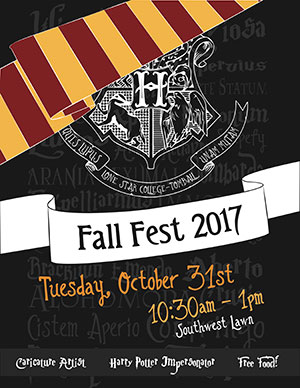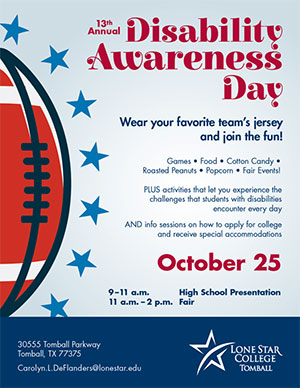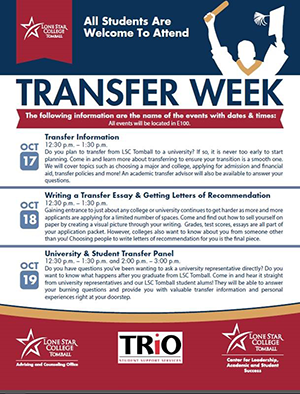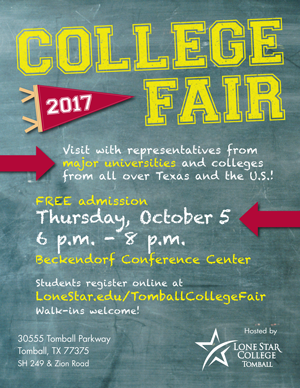 September 2017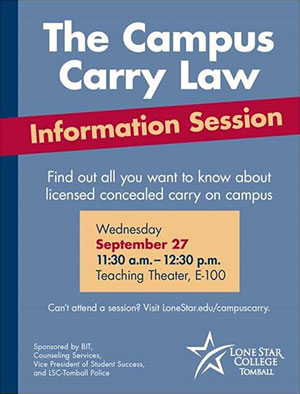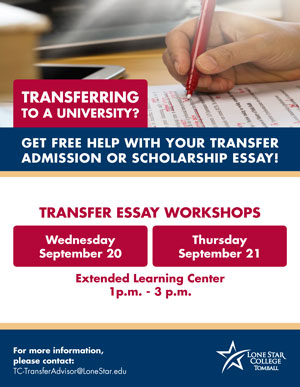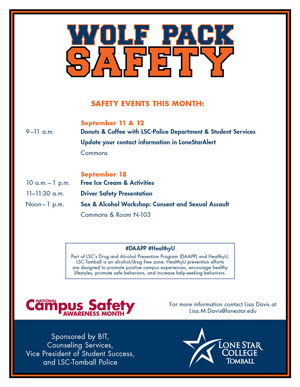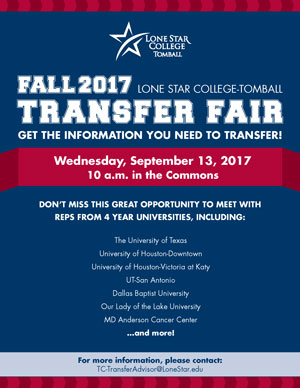 August 2017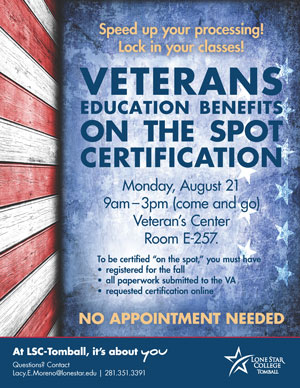 July 2017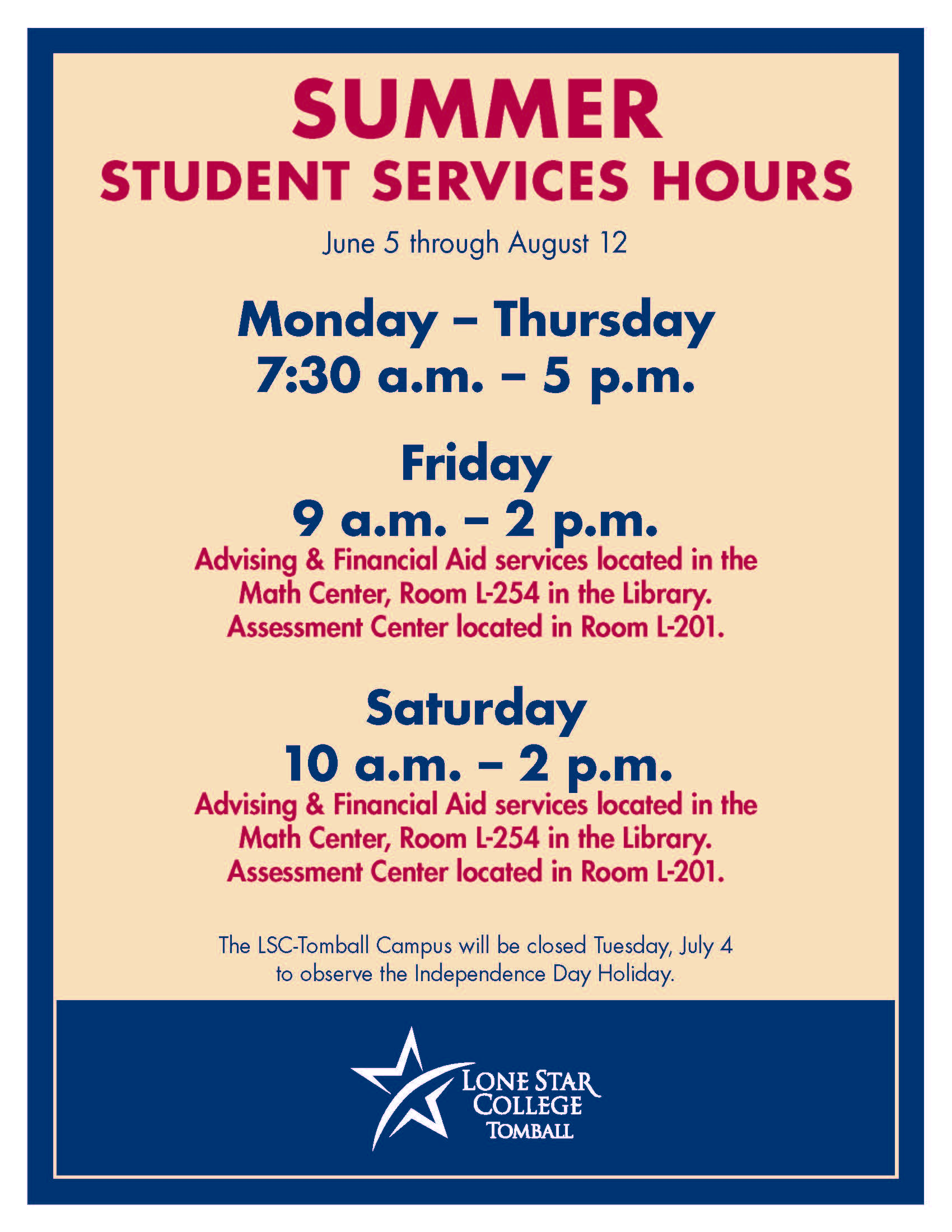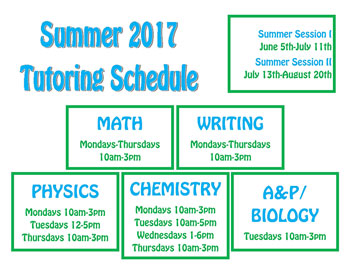 June 2017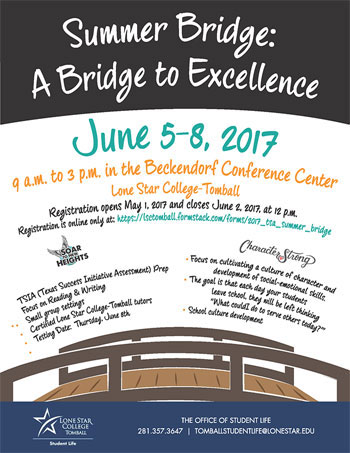 May 2017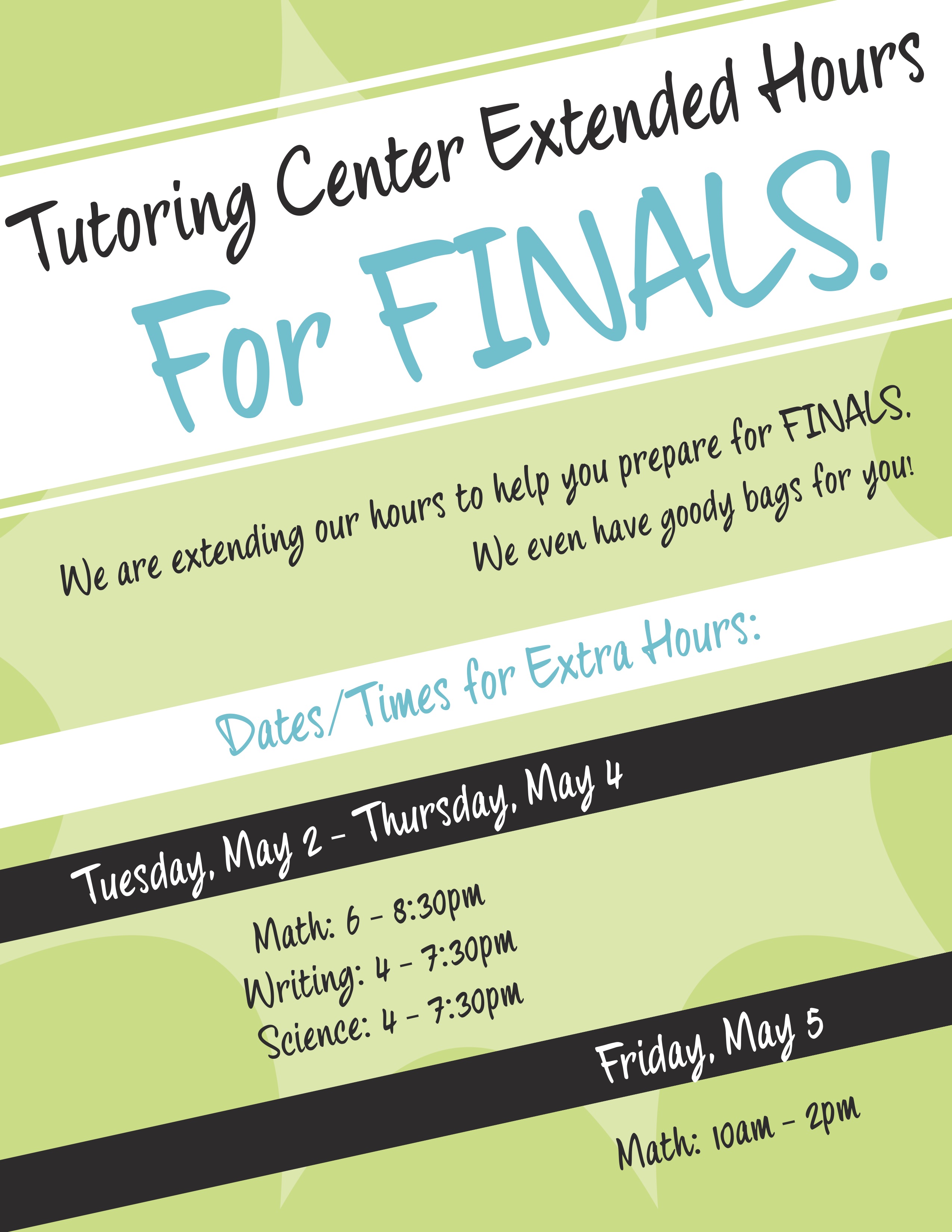 April 2017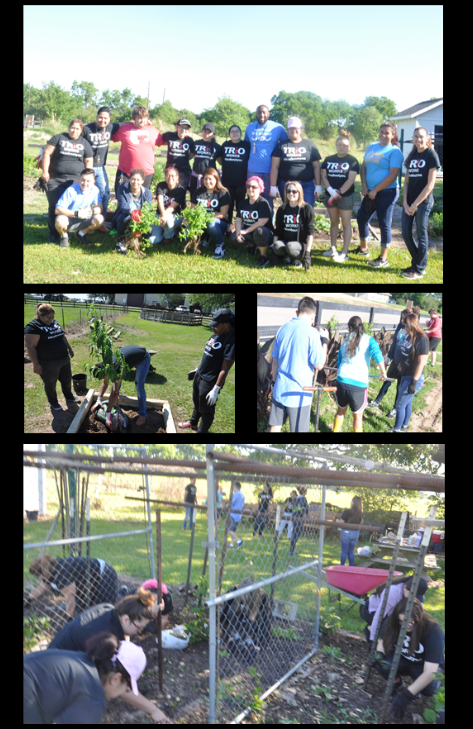 On Friday, April 7, 2017, the TRiO Advisory Council (TAC) completed their Leadership Project at Boys and Girls Country (BGC), assisting with their garden education center. BGC's mission is "to change the lives of children from families in crisis by loving and nurturing them in a Christian home environment, raising them to become self-sustaining and contributing adults." The TAC donated mulch, gardening soil, and potting soil to BGC to help build their garden center. In addition, the TAC assisted BGC in prepping flowerbeds and planting peach trees. With the help of TAC, children at BGC will be able to plant fruits, vegetables, and flowers in the summer.
In the summer, BGC has master gardeners volunteer their time to teach their children how to cultivate and grow plants, fruits and vegetables. BGC uses this garden to help provide food for the children and families that reside on campus. This was the TAC's first leadership project and there will be more to come in the future!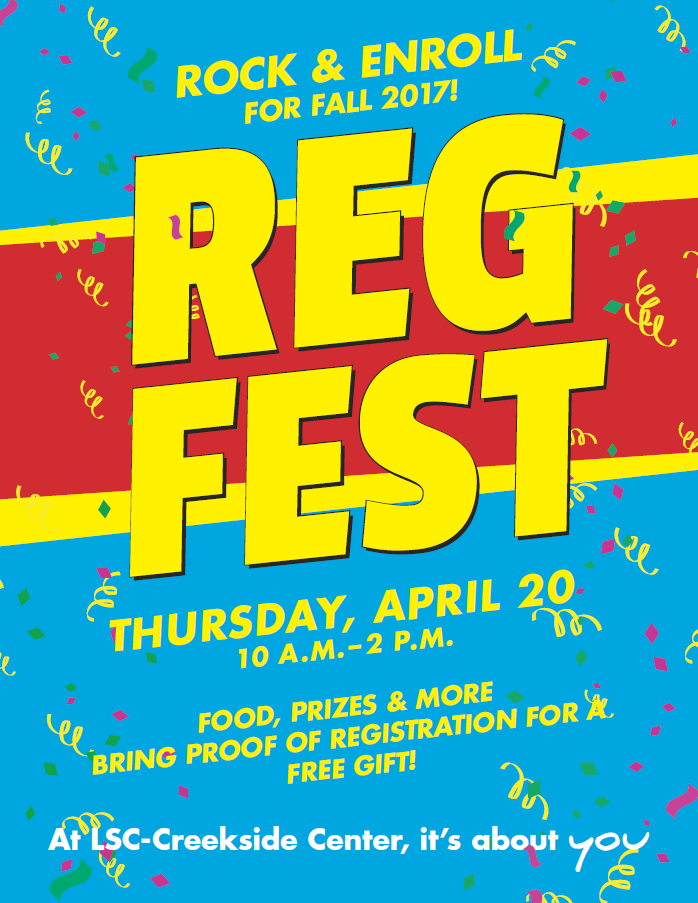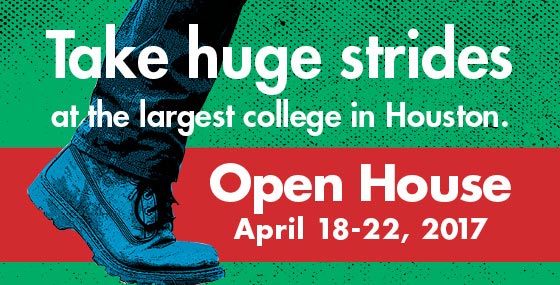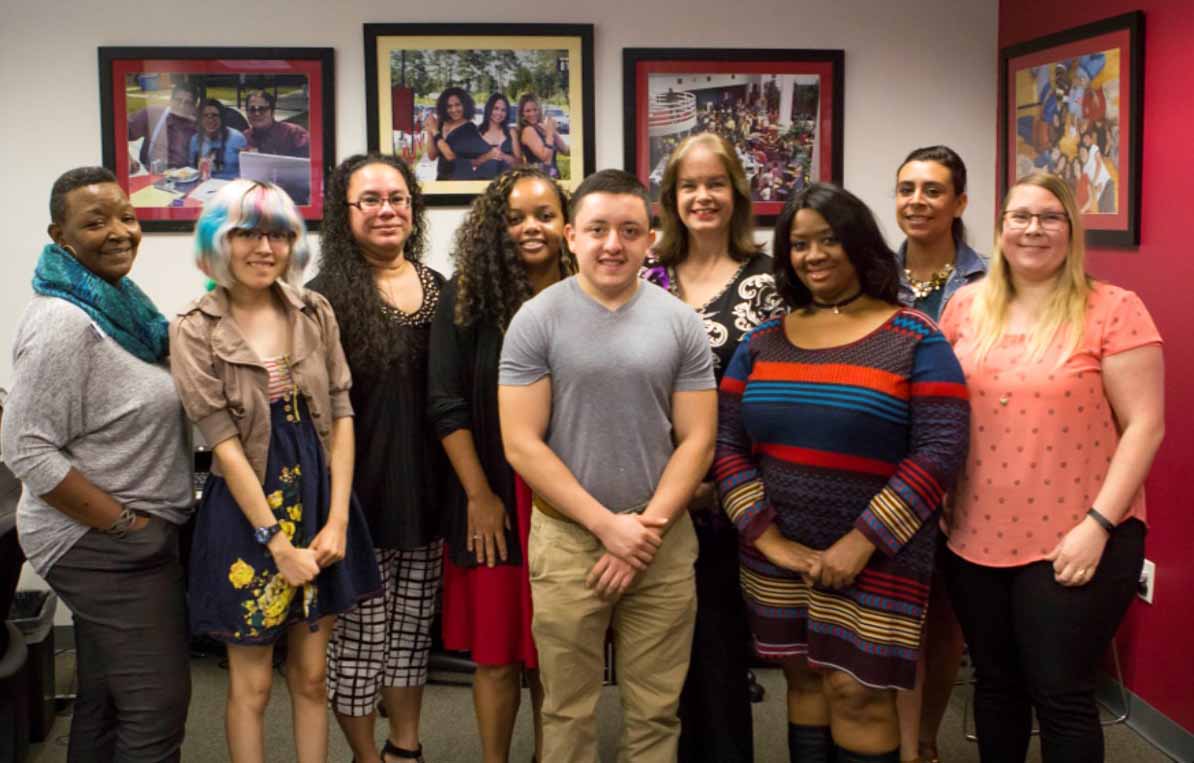 The Tomball campus now has a department dedicated to admissions. Our Admissions Advisors are working with all First Time in College, and Transfer students. We are also assisting with International students. As the Admissions and Records department expands, we will be handling admissions for all of our student populations. Our team is excited to have the opportunity to provide such a vital component to the Enrollment Services area. The department will continue to maintain the campus Records and process students for our favorite event ~ graduation!
Come by and see our newly remodeled space that includes a computer lab for students to complete the Pre-Assessment Activity, submit bacterial meningitis documents, or complete a Conscientious Objection Form. In Spring 2017 the department will also take on some of the Dual Credit admissions processes. A dedicated admissions department has been a long time coming, but we are now here, and ready to serve the Tomball faculty, staff and students!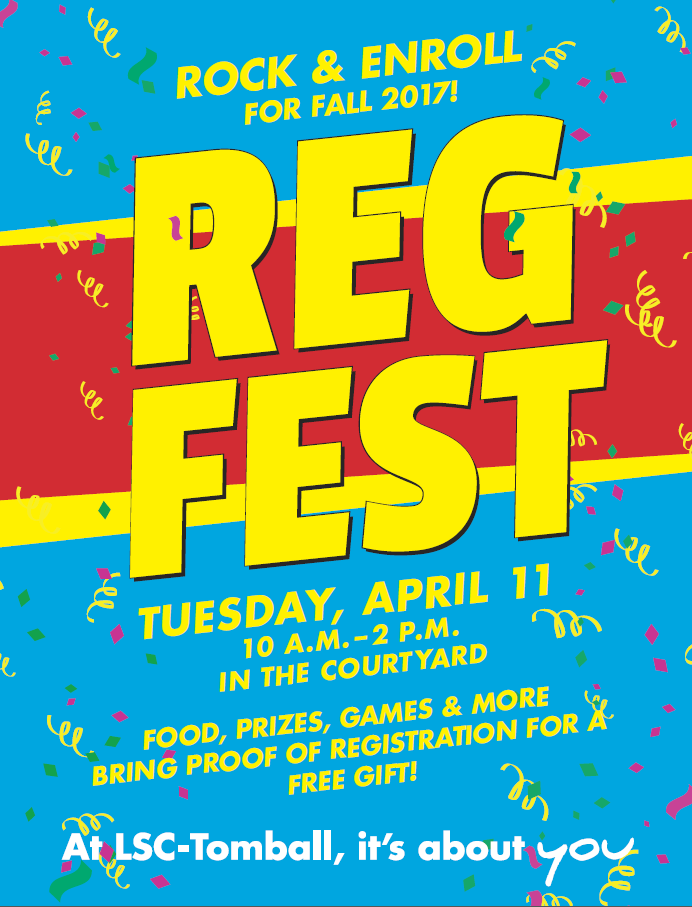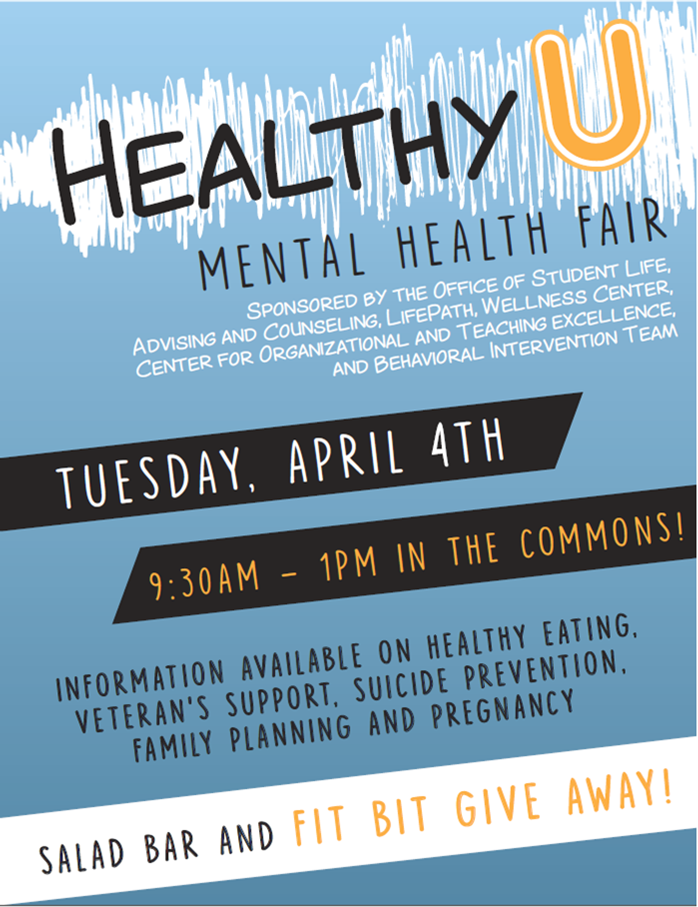 March 2017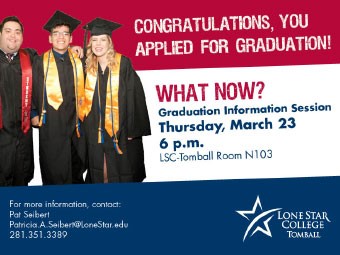 February 2017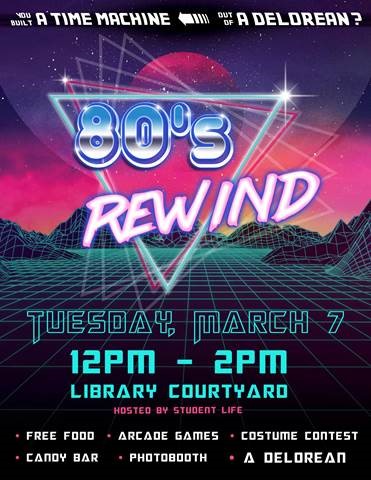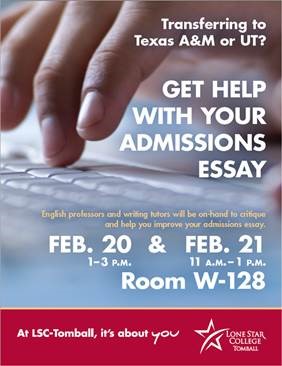 January 2017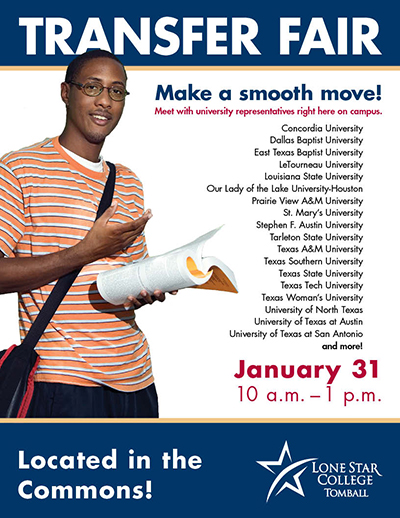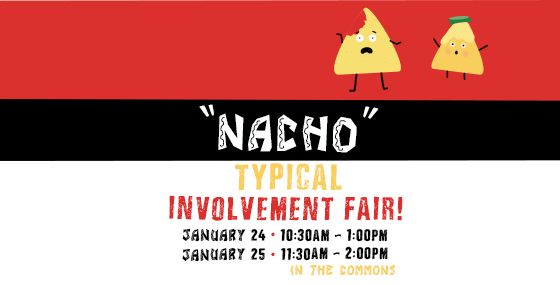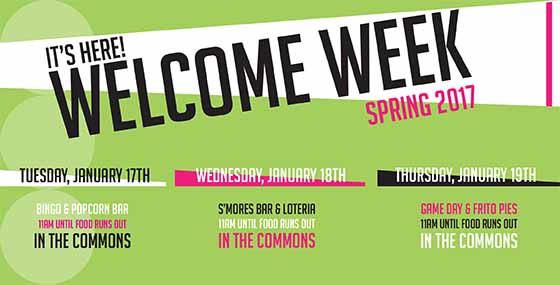 November 2016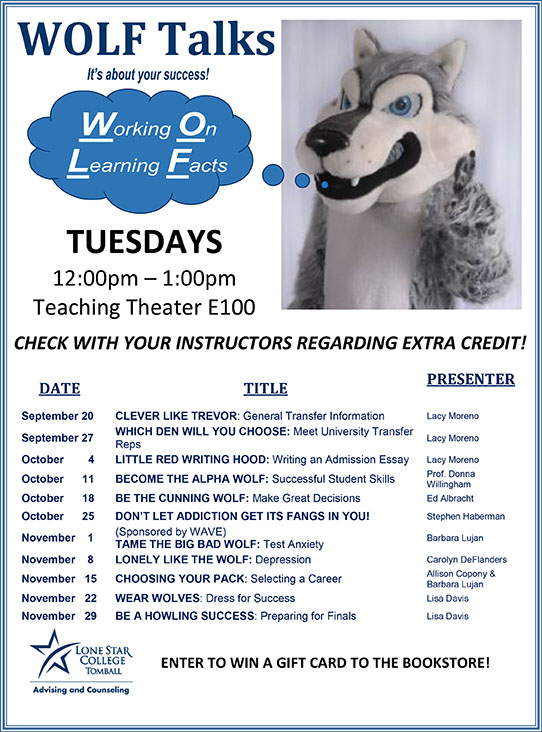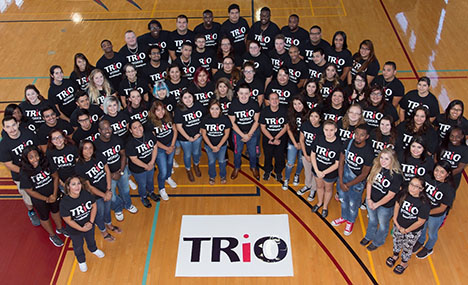 We are TRiO! What a great way to demonstrate our spirit of unity by coming out on a Friday afternoon for a group picture. We are still adding students to our 16-17 cohort and have been busy conducting interviews, selecting applicants and completing the intake process. This year, we have created the TRiO Advisory Council (TAC). The TAC students are responsible for welcoming new students into our family and working with our social media sites. They are also charged with completing a leadership project that will benefit TRiO/Tomball campus. We are excited about all of our events and special activities planned for this year. #itsaboutyou #trioproud
October 2016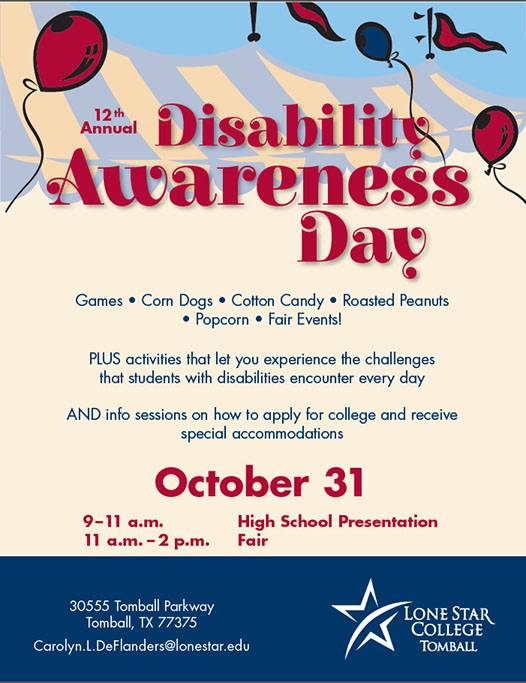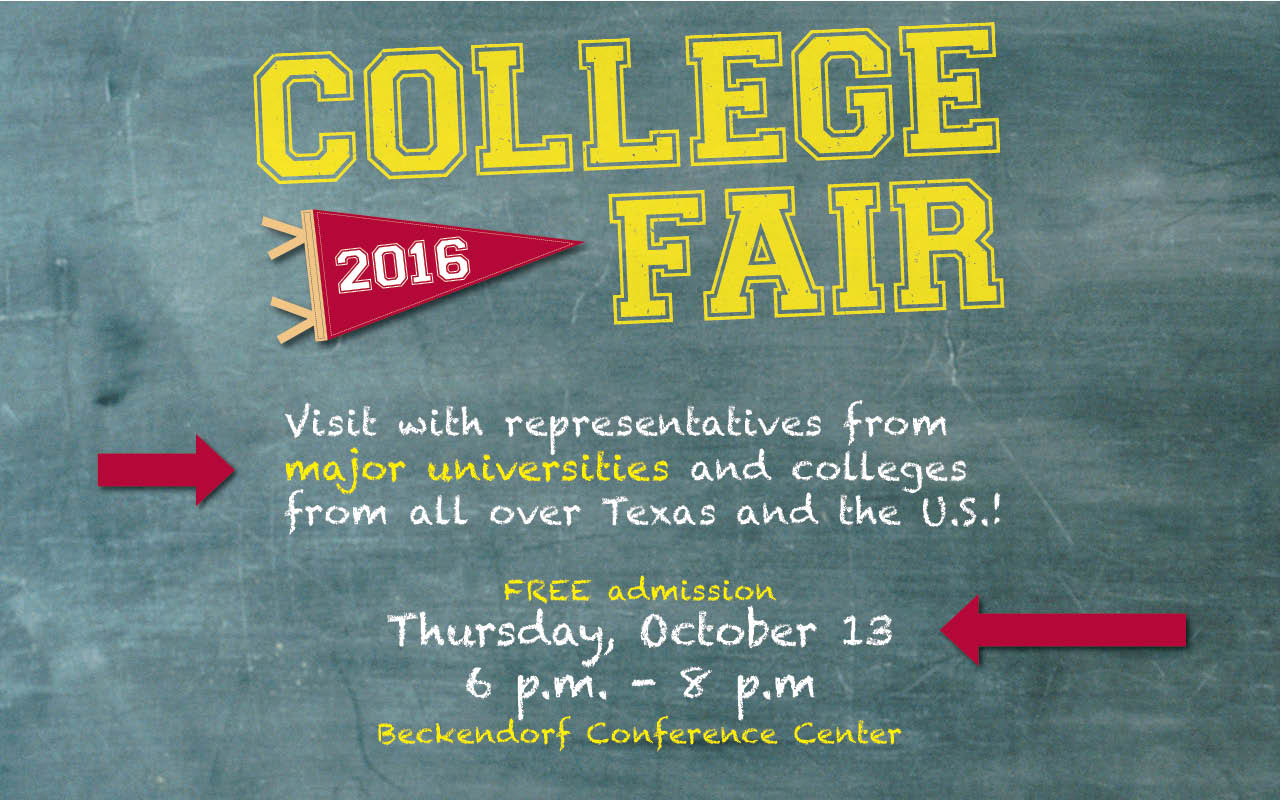 September 2016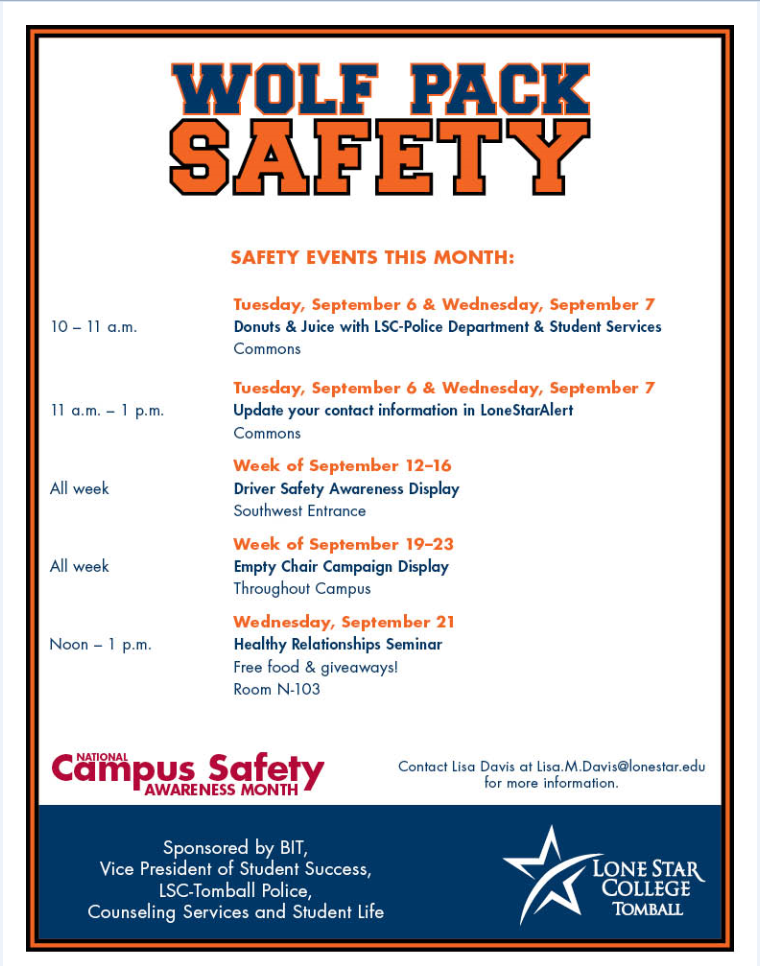 August 2016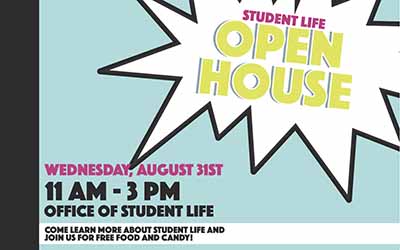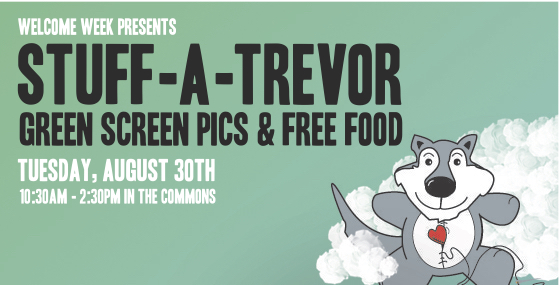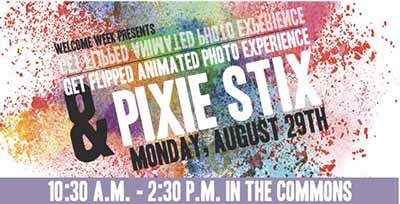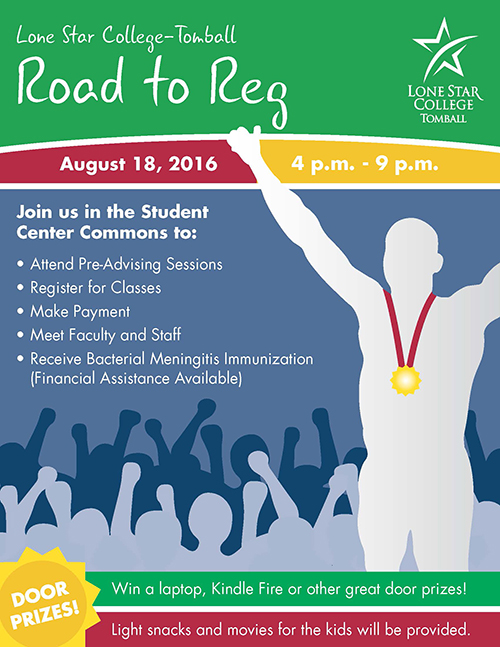 LSC-Tomball TRiO Trailblazers End Year with a Bang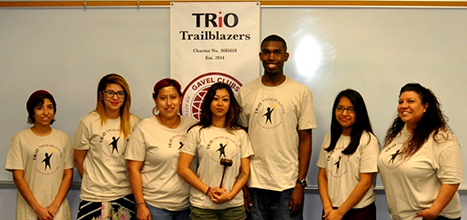 The LSC- Tomball TRiO Trailblazers, a Toastmaster's public speaking and leadership organization, ended the 2015-2016 academic year with a bang. The club achievements include an outstanding and very successful volunteer project donating items of need to Habit for Humanity, meeting all their club goals including increasing their membership a whopping 70%, and winning the prestigious Anne Donlon/Katie Walker Spirit Award among organizations on campus. They work hard throughout the year to instill in its members confidence, pride, and the value of helping others. They are excited to welcome the new executive board members: President-Diana Sandoval, Vice President of Education-Carmen Castellanos, Vice President of Membership-Lucy Goodson, Vice President of Public Relations-Cynthia Romero, Secretary/Treasurer-Maria Flores, and Sergeant at Arms-Anfernee Skinner. They are honored and very proud to take the gavel and continue building the club's legacy.
June 2016
LSC-Tomball Student Success Welcomes New Staff
The Student Success division announces some new staff additions to the team.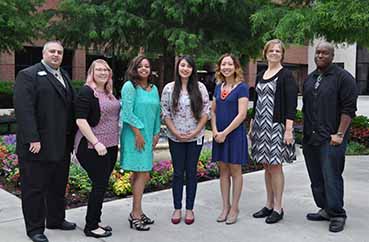 From the left to right:
Henri Dally (Dean - Student Development)
Erin Bandza (Advisor I – Admissions & Records)
Flonisha Dames (Advisor I – Admissions & Records)
Laura Cardiel (Program Manager II – Outreach & Recruitment)
Chinda Acosta (Advisor II – Advising & Counseling)
Amy Cook (Coordinator I – Extended Learning Center)
Kendrick Billings (Advisor II – Advising & Counseling)
May 2016
TRiO Students Donate their time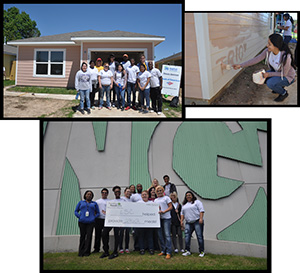 LSC – Tomball's Trio SSS Program made a difference on Saturday, April 2, 2016, volunteering with Habitat for Humanity, specifically their home build projects in Lancaster subdivision, located in Cypress, TX. Habitat for Humanity is a non-profit, faith based, volunteer driven organization dedicated to eliminating sub-standard housing. Our students assisted in building a project that a lucky family can one day call home! We participated in painting the entire outside of the house! Through Trio's efforts we were able to finish painting the home.
TRiO takes great pride in their volunteer work and are always eager to find opportunities to service the community.
Career Services Hosts Job Fair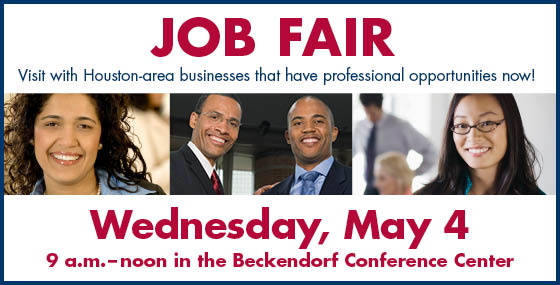 April 2016
Advising to Host Home School Open House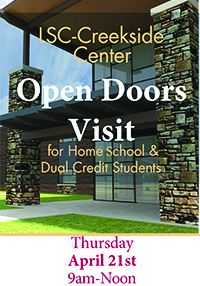 March 2016
Spring Fling Brings the Carnival to town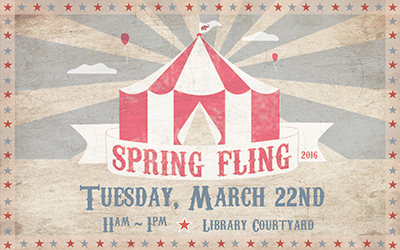 LSC Honors Wootan Scholarship Recipients
The following excerpt was written by LSC-Tomball Financial Aid Director Samreen Khurram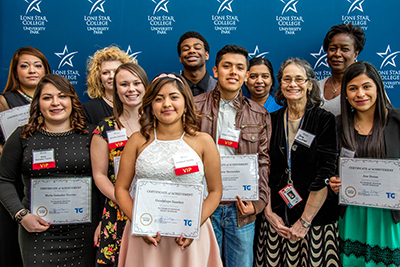 On January 26, I had the pleasure to be part of the Charley Wootan Grant Reception at the University Park Campus that was held to honor and recognize the Charley Wootan Recipients System wide. I was accompanied by our LSC-Tomball VPSS Ann Johnson, the LSC-Tomball Scholarship Coordinator Debra Stamper, LSC-Tomball SSS TRiO Grant Manager Jane Hakala-Buckner, LSC- System Office Financial Aid Compliance Director Tiffany Magee, the LSC-System Office Financial Aid Coordinator Marlene Ruffino and numerous other administrator's from across the College System. It was a proud moment for all of us to see our Lone Star College-Tomball Recipients walk across the stage and be recognized.
Lone Star College received $100,000 to award 20 student scholarships over a two year period. LSC-Tomball is one of the three Lone Star College Campuses that participated and had the most recipients. (out of all three Campuses.)
The TG Charley Wootan Grant Program provides post-secondary scholarships to students with financial need. Since 2000, the program has awarded more than $30 million to students in Texas and across the nation.
In 2001, the TG Board of Directors voted to expand and rename the program to honor the memory of former Chairperson of the TG Board of Directors, Dr. Charley V. Wootan, in recognition of his generous contributions and service.
Dr. Wootan served on TG's Board of Directors for six years prior to his death in March 2001. His accomplishments, lifetime contributions, and his outstanding character have had a profound impact on education and the lives of many students and their families. As a fitting tribute to Dr. Wootan, TG is proud to extend his legacy to directly impact students nationwide.
While many students were recommended and/or applied for the grant, only a handful were qualified because of the stringent criteria and the academic achievement requirements and commitment. Following are the name of the LSC-Tomball Recipients of the Charley Wootan Grant.
| | | |
| --- | --- | --- |
| TC | Angely | Alvarez |
| TC | Vannessa | Araniva |
| TC | Ana | Duran |
| TC | Maria | Gonzalez-Trevino |
| TC | Edwin | Hernandez |
| TC | Isai | Angelina |
| TC | Claudia | Laguna |
| TC | Cynthia | Romero |
| TC | Dereje | Mikell |
| TC | Guadalupe | Sanchez |
| TC | Jennifer | Swanson |
February 2016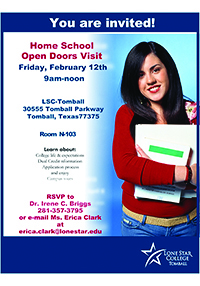 Gerald Hallford Named the 23rd Annual LSC Foundation Essay Winner for LSC-Tomball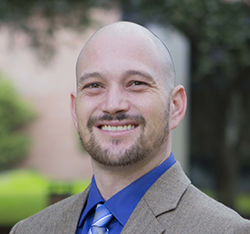 Gerald Hallford has been selected as the Lone Star College-Tomball winner of the annual Lone Star College Foundation essay contest. Hallford was one of six Lone Star College System students selected for the award and a $1,000 scholarship. He presented his essay during the 23rd annual LSC Foundation Chancellor's Breakfast on Jan. 26.
"My life is dramatically different than it was just fifteen short months ago," Hallford wrote in his award-winning essay. "Anyone who knew me before my time at Lone Star would find the man I am today unrecognizable."
A sophomore, Gerald has become an active member of the LSC-Tomball campus community. He serves as a member of Phi Theta Kappa, the national honor society for two-year colleges. He is a New Student Orientation Leader and Peer Mentor for TRiO Student Support Services. However, he explained in his essay that positive involvements did not always define his life. "Since graduating high school in 2002, I had struggled to maintain steady and gainful employment. I wandered from job to job always hoping to find employment that would allow me to support myself and my now seven-year-old daughter. I lacked drive and direction and I had a hard time fulfilling obligations."
It was not only unemployment that plagued him. "There was also a much darker to side to the person I was in the past," he wrote. "Since age sixteen, I had struggled with alcohol and drug addiction. I have numerous criminal charges which further hinder my ability to find employment and live a normal life. I felt as if I was destined to fail and that my life was ruined by negative decisions of my past."
One day, Hallford had, what he refers to in the essay as, "a revelation." He decided to seek help, get sober, and earn an education that would allow him to use his past experience to help others. After enrolling in LSC-Tomball, he learned about the TRiO program which provides targeted, individual advising and support to qualifying students. Hallford qualified because he is a first-generation college student.
Hallford plans to attend the University of Houston and earn a master's degree in counseling Psychology. He recognizes his own strength when it came to choosing sobriety and he credits LSC for providing opportunity beyond that. "I am thankful beyond measure for the opportunity provided for me by Lone Star College and for my newfound hope."
Each year The Lone Star College Foundation hosts the Chancellor's Breakfast, where endowment donors are invited to be honored and to hear first-hand accounts of student success from student essay winners. One essay winner is chosen each year from each of the six Lone Star Colleges.
January 2016
Men of Distinction (M.O.D.) Completion Ceremony

The Men of Distinction is a leadership/mentorship program founded and launched in the fall of 2014. It was designed to further develop and enhance leadership qualities which all young men possess but may never have had the chance to exhibit.
We are proud to announce that M.O.D.'s first completion ceremony took place on December 4, 2015.
Guest Speaker: The Honorable Dr. Quentin Wright
We honored a total of (10) students for completing the program after a year of participation. They have been active in the community, speaking at local conferences, as well as attending a variety of workshops to build their leadership skills.
During the ceremony, the 2016 cohort was inducted and introduced.
We were honored to recognize these "Men of Distinction!"
Involvement Fair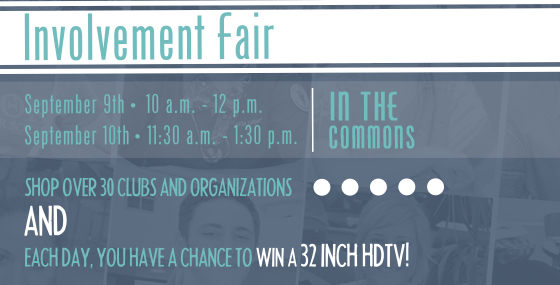 December 2015
LSC-Tomball TRiO Students Volunteer at Houston Food Bank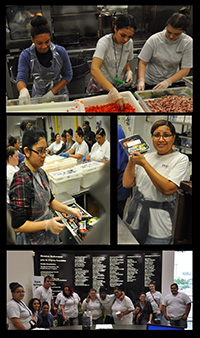 LSC-Tomball's Trio SSS Program made a difference this past month volunteering with the Houston Food Bank, particularly Keegan's Kitchen. Keegan's Kitchen provides food for children and families of the Kids Café afterschool program servicing a number of locations in Southeast Houston. Our students helped prepare meals and snacks chopping fruits and vegetables, slicing meat, and arranging various foods for freezer storage. We also participated in managing the sanitation of the facility washing coolers and mobile warming units where stored food is kept. Our biggest achievement of the day was participating in the assembly line packaging 2700 ready-to-eat, nutritious meals for delivery that day. Wow!
Trio takes great pride in our volunteer work and are always eager to find opportunities to give back. This school year, Trio plans to return to the Houston Food Bank for another day of service, contribute to Habitat for Humanity with a supplies drive, and participate in our annual day of volunteering with MD Anderson's Camp Star Trails, an interactive summer camp for children with cancer.
November 2015
LSC-Tomball Student Success Welcomes New Staff
The Student Success division announces some new staff additions to the team.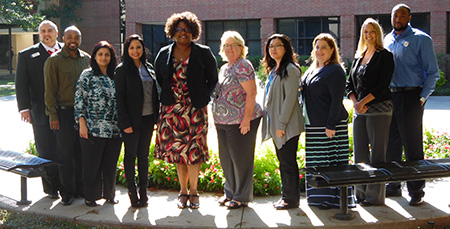 From the left to right:
Henri Dally (Interim Dean Student Development and Director Advising & Counseling)
Jordal Gipson (Advisor II – Advising & Counseling)
Anju Ramchand (Specialist III – Advising & Counseling)
Erica Clark (Advisor II – Advising & Counseling)
Robbie Richard Rogers (Director – Extended Learning Center)
Virginia Hernandez (Specialist II – Assessment Center)
Yen Ngo (Specialist IV – Financial Aid)
Elizabeth King (Acting Administrative Specialist III – Student Development)
Lacy Moreno (Advisor II – Advising & Counseling)
Emmitt Carter (Advisor/Coordinator II - TRIO)
---
Thankful Thursday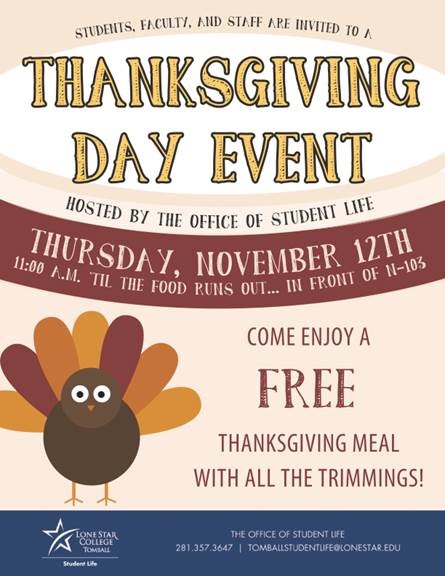 July 2015
LSC-TOMBALL TRIO PROGRAM RENEWED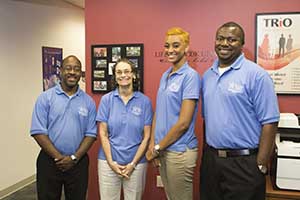 We are delighted to announce that Lone Star College-Tomball has been selected to receive continued funding through the Department of Education for the TRiO Student Support Services Program after receiving a perfect score from the grant reviewers. This continuation grant will be for a total of 5 years, ending in August 2020.
The SSS Program serves a cohort of 140 students and provides the following services: individualized advising for personal, career, and academic matters; financial literacy training; daily tutoring and monthly academic workshops; exposure to cultural events; college transfer trips; leadership and community engagement opportunities; and mentoring. Through case management and wrap-around services TRiO maintains a persistence rate of 88%.
To date, TRiO celebrates 89 graduates, including PTK members, Honor students, a Jack Kent Cook Scholar, and many scholarship recipients. Over 50% of the TRiO graduates have transferred to four year colleges and 12 have already completed their four year degrees.
June 2015
Leaders of the Pack Complete Their First Semester in the Male Mentoring Program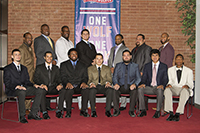 The first cohort of the Lone Star College-Tomball Male Mentor Leadership Program, completed its first semester Spring 2015. This cohort of 10 developing leaders is off to a great start. This year long leadership program kicked off on January 9, 2015 with Vice President of Student Success Ms. Ann Johnson providing the first greeting to the Mentee group, introducing the president, Dr. Lee Ann Nutt, who provided an extended welcome.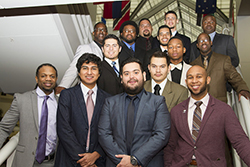 The kickoff meeting was facilitated by Program Coordinator Mr. Cornelius Johnson and the Male Mentor working team group: Dr. Jackie Thomas, Mr. Richard Lewis, Mr. Durell Forte, Mr. Clark Friesen, and Mr. Quentin Bates. In addition to the kickoff meeting, mentees completed 4 seminars during the Spring 2015 semester. Seminars included "Branding Yourself," "Preparing for Industry," "Communication Excellence," and "Man Talk" life tips. The LSC-Tomball Male Mentor Leadership Program also coordinated with the LSC-CyFair Male mentoring program for a Male Summit on February 28th at the CyFair Campus. To culminate a great semester, Mentees and Mentors took individual and group photos to celebrate its first semester of completion.
For More information regarding the LSC-Tomball Male Mentor Leadership Program – Contact Mr. Cornelius Johnson at 281-401-1840
SPRING 2015 MALE MENTOR LEADERSHIP SEMINARS
Mentee Orientation #Kickoff: January 9, 2015
MALE Mentoring Program Overview
Structure of mentee program/expectations/program schedule
Communication of Mentor and Mentee Expectations
Completion of Mentee Questionnaire
Mentee Seminar #1 Branding: February 6, 2015
Exploring your personal and leadership brand
Dress for Success
Professional mentors
Mentee Seminar #2 Preparing for Industry: March 6, 2015
Creating professional portfolio (resume, cover letter, professional references)
Career exploration (the first step in your career)
Developing professional portfolio (internships, volunteerism, jobs, externships)
Mentee Seminar #3 Communication Excellence: April 10, 2015 Location-East 101
Public speaking
Effective listening
Communication excellence
Mentee Seminar #4 "Man Talk" Life Skills: April 17th, 2015
Life Skills, (Social Skills, Soft Skills, Table Etiquette, Money Matters)
Rights and responsibilities/engaging with public officials (Respect for Authority)
Power of positive thinking
May 2015
Call Center Workers and Graduates, Too!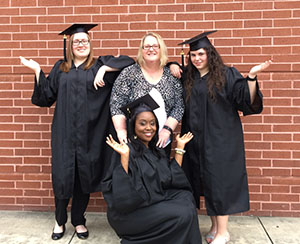 Our Call Center department supervisor and staff are doing more than just fielding calls for the campus community of Lone Star College-Tomball. Jackie Scrivens is proud to say that all three of her staff members will have earned a degree from LSC-Tomball.
First, starting with Alicia Bennett who has earned her Associate of Science degree in May 2013. Alicia has been working at the Call Center since October 2008 and plans to eventually pursue her Bachelor's degree in Nursing.
Shyann Miller, will be earning her Associate of Science degree in May 2015. Shyann Miller has been accepted into Stephen F. Austin and will be moving to Nacogdoches to pursue a Bachelors in Nursing. She will then determine her specialization in nursing and eventually pursue her Master's. Shyann is a recipient of the LSC-Tomball Mathematics' Faculty Endowment of 2014 -2015 and is also a member of the LSC-Tomball Trio program. Shyann has been working at the call center since March 2013.
Krista Bassani will be earning her Associate of Science degree in May 2015. Krista Bassani has been accepted into Texas A&M at College Station, to pursue her Bachelor of Science in Psychology with a Neuroscience minor. Krista will then move forward to Medical School. Krista is a recipient of the Hulon and Marion Madeley Endowment of 2014-2015. Krista is one of three Vice President's for Trailblazers, a member of Phi Theta Kappa and she is in the Trio program. Krista has been a working at the call center since May 2014.
Pictured from Left to right Krista Bassani, Jackie Scrivens (Supervisor), Alicia Bennett, Shyann Miller.
Student Life Program manager Earns Masters Degree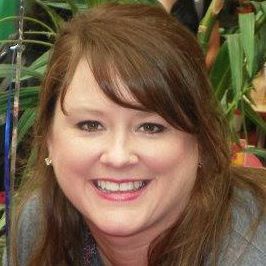 During this Academic Year, Shannon Marino was given a great opportunity to assist Dr. Nutt, Lone Star College-Tomball President and Dr. Casparis Interim Vice President of Instruction with the Creekside project. As a part of her practicum for graduate school, this Creekside project was an important guide for LSC-Tomball administrators, faculty, and staff to ensure that all tasks are completed in a proactive and effective manner. This comprehensive project included an enrollment management analysis, developing a diagram of the organizational structures, a budget for the center and the required submission of the SACS-COC Substantive Change document.
The opening of the Creekside Center is under the direction of the Office of the President. Shannon had an opportunity to work directly with the stakeholders involved with the development and operation of the new center. This project included interacting with a number of different individuals and departments including all academic divisions, student services, facilities, purchasing, technology services, finance and other entities who will be involved with the center. Shannon collected information from each area to develop recommendations for Dr. Nutt.
Primary Practicum Site On-Going Activities
The following tasks and activities made up the practicum experience. The practicum is designed to provide me with experiences outside of student affairs, where I have worked throughout my career, and will allow me to gain the knowledge and understanding of college leadership and administration throughout the institution.
Enrollment Management Analysis
The Lone Star College (LSC) budget is driven by student contact hours. Shannon worked with Dr. Nutt to establish an enrollment projection for the Creekside Center as well as the interim vice president of instruction and the academic deans to determine how many class sections would be needed to support the anticipated enrollment at the center in generating the needed contact hours for the center.
Shannon explains her project. "By assisting with the development of an enrollment management analysis, I had the opportunity to work through the process of developing an enrollment projection, in addition to learning how class schedules are developed and the importance of scheduling to maximize contact hours and support the budget. As a student affairs administrator, I will need an extensive knowledge of how the academic areas function in order to support the personnel who work within the student affairs division."
Organizational Structure
"Developing an organizational structure is another aspect of my practicum experience. I worked with Dr. Nutt and all of the stakeholders who oversaw faculty and staff needs at Creekside, to determine what positions are needed to support teaching, student services, facilities, campus safety and another areas that will have a presence at the new center. "
Developing a Budget for the Creekside Center
"I worked with Dr. Nutt and all of the stakeholders to develop an operating budget for the new center. Once again, in this I worked with all of the stakeholders to project costs for operating the new center based on different enrollment levels.
Budget management is an important part of every higher education administrator's position. Learning how to project revenue and estimate expenses will be an invaluable experience for me as a student affairs administrator."
SACS-COC Substantive Change
"I was the primary contact for the LSCS regarding the Substantive Change prospectus for SCS-COC. I collected the required information that is needed to develop the prospectus.
Accreditation is critical to the success of every institution of higher learning. My participation in the development of the new center's prospectus exposed me to SACS requirements and to the role of the different areas of college leadership with the accreditation process."
Shannon will be graduating on May 8, 2015 with Masters of Arts, Higher Education Administration at Sam Houston State University.
April 2015
The Student Success division announces some new staff additions to the team.
From the left to right:
Richard Lewis (Project Coordinator I –Student Outreach and Recruitment),
Perry Burns (Advisor II – Advising & Counseling)
Judy Mirabal (Specialist III – Assistive Technology Lab)
Erica Clark (Advisor I – Advising & Counseling),
Sharon Alewine (Specialist II – Advising & Counseling),
Brenda Alvarado (Advisor I – Advising & Counseling)
Laurie Taylor (Administrative Assistant I – Vice President of Student Success Office)
Kylan Voss (Specialist IV – Financial Aid)
Michesha Washington (Advisor I/Coordinator - TRIO)
March 2015
During the month of January, the Faculty Advising initiative was instituted at LSC-Tomball with a partnership between the Student Success division and Instruction division. The first two-part faculty training session was facilitated by Project Coordinator of Student Success Cornelius Johnson and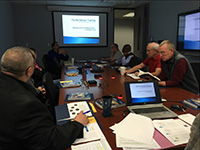 Director of Advising & Counseling Henri Dally on February 20 and March 6. This added component to the academic advising services at LSC-Tomball is sure to add to our student retention and engagement. The Faculty Advisor training has three components.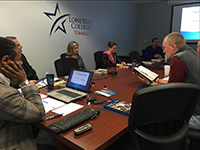 Part 1 covered the following areas:
The Implications of Advising
Lone Star College Advising Syllabus
New Student Enrollment Process
Student Types& First Touch of Advising
Pre-Core Foundational Classes
Core & Developmental Advising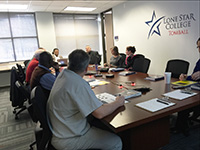 Part 2 covered the following areas:
Degree Plans & Certificates
Catalog
The Registration process
Part 3 covered the following areas:
Shadowing of Academic Advisors
February 2015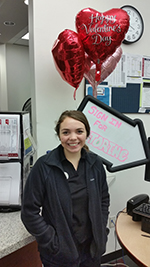 The Extended Learning Center hosted its annual Sweetheart Study Session on February 12. This event is used to encourage the student body to visit the learning center to seek out academic support services. The ELC promotes the event to the campus community attracting them with the possibility of winning a cool prize, something sweet to eat, as well as getting some much needed academic assistance.
This year, approximately 60 guests participated in the event, which was held between 10 am and 2 pm. Four lucky attendees won door prizes: $15 gift cards to the bookstore, iTunes and Subway.