Welcome to SWIRL
A Literary Arts Journal for Lone Star College-Montgomery
Now accepting submissions for the 2013-2014 Journal!
SWIRL 2013 is now available as an Online Publication.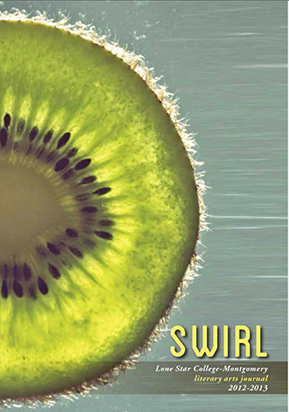 The magazine features student poetry, prose, art and photography in a full color format. Swirl is produced by a staff of student editors and designers and focuses on marrying unique design with literature and art. Swirl now also features very talented writers from the Montgomery County community.
Interested in submitting your work to SWIRL?
Fill out the Online Form.
For information about SWIRL
Email swirl@LoneStar.edu
Faculty Mentors

Cliff Hudder
Office: E-205E
Phone: 936.273.7399
Email: Clifford.W.Hudder@LoneStar.edu
LaNae Ridgwell
Office: E-101C
Phone: 936.273.7229
Email: LaNae.A.Ridgwell@LoneStar.edu
Mary Lasco
Office:
Phone:
Email: Mary.Lasco@lonestar.edu
Natasha Hunt
Office: G-220F
Phone: 936.271.6339
Email: Natasha.Hunt@lonestar.edu
Denise Lorenz
Office:
Phone: 936.273.7065
Email: Denise.A.Lorenz@lonestar.edu