Ambassadors
Student Ambassadors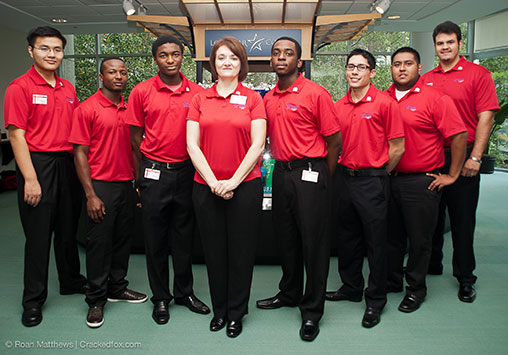 Serve • Dedicate • Inspire
The Ambassador program selects 25 students each fall & spring semester to be Student Ambassadors for the duration of the school year. Ambassadors are the student representatives of LSC-University Park and serve as liaisons between current LSC students, prospective students and the LSC-University Park community.
Benefits of being an Ambassador:
Network with college and community leaders
Meet students and make a difference in University Park Events
Leadership training
Diverse experiences of a Student Ambassador makes his/her resume stand out
Participation Requirements:
Strong academic skills as demonstrated by a GPA of 2.5 or higher
Maintaining enrollment in at least 9 credit hours in the Fall and Spring semesters
Desire to assist the college and fellow students through service and leadership
Ability to commit to serving Ambassador for Fall 2015 and Spring 2016 semesters
Commitment of 40 hours/semester to assist with activities that may be scheduled during the day, evening, and weekends. These events may include:

Welcome Week Events
Orientation Sessions & Campus Tours
Community Outreach Events
Events at local high schools
Student Ambassador Resources
Ambassador applications are due, for Fall by Sept. 15 and for Spring by Feb. 1.
Please submit documents to Ambassador Advisor Ja'Nelle Rivers, Coordinator, New Student Orientation c/o Admissions - Building 13, 2nd floor, Suite 210 or email scanned copy to 
UPark.Ambassadors@lonestar.edu