Adjunct Central
Contact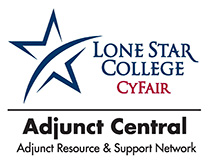 Stephanie Moss
Director - Teaching & Learning Center
832.482.1056
Teaching & Learning Center
LRNC 208S (Learning Commons, inside the TLC)
Main Phone: 281.290.3911
TLC Fax: 281.290.5266
Mission
The mission of Adjunct Central is to provide quality support, services, advocacy, and training to part-time instructors at Lone Star College-CyFair. Adjunct Central, part of the Teaching & Learning Center, serves adjuncts in many ways:
Adjunct Central is your one-stop area for all issues related to adjunct support. Come here for adjunct workrooms, training & orientation information, the Adjunct Certification Program, the Adjunct Faculty Advisory Board, adjunct awards, Adjunct Appreciation events, & more!
Adjunct Faculty Hiring Fairs
There is often need for additional adjunct instructors to teach developmental, credit, and continuing education courses in academic and workforce programs at the main campus (on Barker Cypress Road), at LSC-Fairbanks Center (on US 290), and at LSC-Cypress Center (on Clay Road). If there is sufficient need, the Teaching and Learning Center, in cooperation with the Lone Star College Human Resources office, organizes hiring fairs that are announced via press release in local media and via e-mail from Human Resources. For discipline-specific questions about positions and qualifications, please contact HR and/or the appropriate department chair, faculty lead, or director. All applications are submitted online. Do not send résumés, CVs, cover letters, or other application materials via email. Search and apply for all positions online at http://jobs.lonestar.edu/. For information on hiring fairs, contact Human Resources directly, or apply for any adjunct position in the college system, and your email address will be included in those to which announcements about upcoming fairs will be sent. Adjunct Central does not accept application materials for adjunct positions.
Upcoming Hiring Fair
Our next Hiring Fair will be 9:00 am - 1:00 pm on Saturday, November 8, 2014 in the classroom side of the CASA building here at the Barker Cypress campus. Visit the Hiring Fair website for more information. Flyer (with available positions) here. Press release here.
Other Programs
New Adjunct Faculty Orientation (NAFO)
At the beginning of each semester, we offer a full orientation session to new adjunct instructors who have been hired & on-boarded in the system to present current initiatives, orient faculty to technology resources, and list the services available to instructors and their students. Dates for NAFO are announced to divisions and chairs, sent by email to all faculty, included in the college's return week calendar, and posted on the web and in print in the Teaching & Learning Center.
Adjunct Faculty Workrooms
LRNC-209 and HSC2-145 are two large workspaces for adjunct instructors. LRNC-209, located within the Teaching & Learning Center in the Learning Commons / library building, contains computer workspace, a refrigerator, microwave, & coffee, access to a Scantron grading machine, and low-volume copying and printing, faculty mailboxes (where you collect your mail, including items left for you by your students at the welcome desk in the TLC). Important news and announcements are often posted on the whiteboard in this room. HSC2-145 is another adjunct workspace on campus with computer, printing, and copying access, as well as kitchen area. HS2-145 also contains the offices of the Evening & Weekend College staff, here to support part-time faculty when they are here for evening and weekend courses.
Adjunct Certification Program (ACP)
The college offers a certification program for adjunct instructors interested in growing as a higher education professional. Each semester (fall and spring), a call for applications is sent out via email. Accepted participants follow a five-week long curriculum facilitated by a full-time faculty member who guides the participants in various instructional modules. Participants who complete the program also receive a one-time stipend of $500.
Adjunct Faculty Advisory Council (AFAC)
One of the college's official committees, AFAC serves as an advocacy group for part-time instructors and presents its recommendations to college administration at the end of the academic year.
Adjunct Faculty Excellence Awards
Each year, the college accepts nominations from all members of the college community to invite instructors to apply for the Adjunct Faculty Excellence Awards. Winners are chosen from these applications by a sub-committee of the Adjunct Faculty Advisory Council, and they are acknowledged at the college awards ceremony in the spring as well as Adjunct Faculty Appreciation Night.
Adjunct Faculty Appreciation Night
Each spring, the college invites all adjunct instructors to a special event to thank them for their service to the college. Winners of the Adjunct Faculty Excellence Awards and participants of the Adjunct Certification Program are acknowledged at this event.
Adjunct Central Intranet Site
Visit the Adjunct Central website, and log into the Intranet site (see the bottom half of this page) by using lscs/yourusername and your network password. News and materials, including the Adjunct Faculty Handbook and materials and links from orientation sessions, are posted here on a regular basis.
Adjunct Central Newsletter
The Adjunct Central Newsletter is in the form of a blog on the Intranet site. Instead of visiting the Intranet site every time you want to access the newsletter, subscribe to it and receive any new posts and updates directly in your lonestar.edu email address. Go to our Intranet site (below), choose the Newsletter, and scroll down to 'Alert Me' towards the bottom of the page on the left. Click on 'Alert Me' and choose OK. Now, you will always be up to date on all news relevant to adjunct instructors at LSC-CyFair.
1:1 Consultations
If you have an issue in your courses, are looking to connect to another college resource or service, need general technology assistance, or are thinking of implementing a technology-enhanced project or task in your teaching, help is available by appointment. Call or e-mail Georges Detiveaux (see below) to make an appointment for assistance with your instructional technology needs (from anything as basic as finding your username and resetting your password, accessing your roster, or where to go for online gradebooks to setting up a course wiki, blog, or podcast). Depending on the nature of your technology request, you may be referred to a content expert in that area (advanced Angel settings, clicker software & use, etc.).
Locations
Teaching & Learning Center - LRNC-209
Health Sciences Building - HSC2-145
Click here to access the Adjunct Central intranet site, including useful information and downloads on New Adjunct Faculty Orientation, Adjunct Certification Program, and the Adjunct Faculty Advisory Committee.
Note: Please note that this link will take you to the LSC-CyFair TLC's Intranet SharePoint site, a password-protected area for employees of Lone Star College.