Commercial Pilot Certificate Level I and Associate of Applied Science in Professional Pilot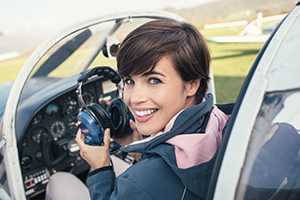 The Lone Star College Board of Trustees has approved Lone Star College-Montgomery to seek state and regional accreditation approvals for a Commercial Pilot Certificate Level I and Associate of Applied Science degree in Professional Pilot in order to provide a new career choice for its students and address a global pilot shortage.
Lone Star College is happy to announce a partnership with ALPA, the Air Line Pilots Association! The Air Line Pilots Association, International (ALPA) is the world's largest airline pilot union. ALPA represents and advocates for more than 60,000 pilots at 34 U.S. and Canadian airlines. ALPA's Education Committee promotes the piloting profession, advocates for ALPA, and mentors aspiring aviators who are preparing for the airline industry.
Lone Star College is preparing to launch an inaugural cohort as a spring 2019 late start session. Curriculum plans are currently under review with the Texas Higher Education Coordinating Board and the Southern Association of Colleges Commission on Colleges as well as with industry professionals.
Interested in enrolling?
The following are recommended next steps for prospective students:
Learn more about becoming a member of the next generation of airline pilots at the ALPA website, Cleared to Dream.
Review FAA guidelines for student pilots;
Demonstrate college-level readiness in reading, writing, and mathematics;
Learn about financing options;
Review the Lone Star College admissions checklist or International F1 student checklist.
Get on the program contact list by completing the form below.
Prospective students: to keep updated on program development, please bookmark this web page or submit this interest form.
Interested in teaching student pilots?
Lone Star College is currently accepting applications for the position of Professional Pilot Program Director at LoneStar.edu/Employment. All prospective candidates must create an account and submit application materials as directed in the vacancy posting. Adjunct faculty positions and support personnel positions are anticipated to be posted in January 2019. CFI candidates should plan to apply to flight school partner vacancy postings.
Have Questions?