LSC-Montgomery Luby's, etc.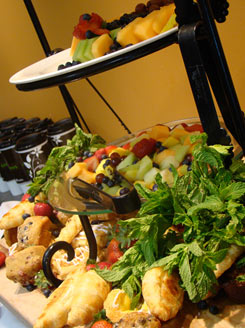 During the 2012 spring semester, Luby's, etc.'s on-site chefs prepare and serve a fresh and healthy selection straight from the Luby's Line. In a hurry? Whether you're, dining in, running to class, or need a munchie, Luby's, etc. has a wide variety of options from which to choose. We understand your money needs to go a long way in college and we try to accommodate by offering an affordable, yet healthy selection.
For the full menu please visit Luby's, etc. here
Luby's Combos
Select entree, 2 sides a roll & 20 oz. fountain drink or ice tea $5.99 or $6.99
Grab-n-Go menu includes:
Cold sandwiches, fruit, and yogurt parfaits.
The Express Grill serves:
Fresh-burgers, corn dogs, chicken tenders, chicken sandwiches, french fries, wings, and pizza.
In the mood for a healthier choice? We also have a delicious soup and salad bar.
Don't forget the most important meal of the day: BREAKFAST!
Luby's, etc. serves fresh, hot breakfast meals weekday mornings from 8-10 a.m. Enjoy a hot breakfast and a cup of Seattle's Best coffee.
Breakfast Express
Biscuits Gravy, Eggs, Sausage/Bacon $2.99
Taco & Coffee $1.99
Don't forget your cup!
Luby's is also offering a discount on any refreshing beverage. Just purchase a Luby's, etc. Green Cup, then fill it up again... and again... for $.79 + tax. Ask your cashier for details.
We'll see you there.
Luby's, etc. is located in the Commons Building (bldg. A). The Coffee Grounds coffee bars are located in the General Academic Building (G), the Library Building (F), and the Health and Science Center (B).
Catering Services
Luby's, etc. also provides the catering services for all on-campus meeting and special events.
Luby's, etc. Catering Menu
To order catering please fill out this form and email it to Brent West, bwest@lubys.com.
Luby's etc. Catering Form
'Coffee Grounds" Snack Bar & Coffee Shop
Luby's, etc. also operates LSC-Montgomery's coffee and snack bar, Coffee Grounds, located in:
General Academic Building (G), Lobby
Health Science Center (B), Atrium
Library Building (F)
Coffee Grounds coffee shop
Hours of Operation
Contact Luby's, etc.
Brent West
Manager
936.273.7585 (office) | 832.444.7823 (cell phone)