Community Development Institute
Improving Communities and Increasing Opportunities
Never before has the practice of community development been more important than it is today. As the world grows smaller through the increased use of global communications, communities of all sizes are finding their boundaries are expanding beyond their city limits. CDI Texas provides practical, interactive, and comprehensive training designed to meet the needs of economic and community development professionals working in a fast paced environment. CDI Texas builds the capacity of individuals and communities to effectively and positively impact economic and social development.
Who Should Attend?
Participants include community and economic development practitioners, city, county and state officials and community volunteers, non-profit staff and board members, chamber staff, private industry, municipal districts, and academics will find the Institute a valuable learning tool for the development of individual and community leadership skills. Attendees will expand their ability to identify community assets, set goals, encourage collaboration, and respond to a broad range of economic and quality of life issues.
Curriculum
Year 1 focuses on the foundations of community development. It covers community development principles and practices, strategic visioning and planning, ethics in community development, asset based community development, community assessment, diversity and communications, and group decision making. The group simulation helps participants better understand the challenges and benefits of a community development approach.
Year 2 places more emphasis on economic development, including the "nuts and bolts" of implementing specific commercial and industrial development projects, such as financing development projects, how to establish a business retention and expansion program, and how to support community entrepreneurs. Other topics include planning livable communities, site selection, international trends, how to use social media tools to market your community and a community development group simulation.
Year 3 focuses on implementing the knowledge gained in the previous sessions. Participants gain skills in leadership development, grant development and administration, community marketing, and organizing the community development effort. Downtown development, historic preservation, and tourism are also discussed. Furthermore, they learn how Community Foundations leverage philanthropy to improve liveability. They learn how community events and assets translate into income and tax revenue when tourism is a priority.
After completing three years of CDI, participants are well-prepared for the examination to become a Professional Community and Economic Developer.
CDI Advanced
The Advanced Year focuses on the application of community and economic development principles in a real-world setting. This two-day training is designed for individuals who have completed all three years of CDI as well as for non-CDI alumni working in the field who want to stay current with trends and best practices. Completion of Advanced CDI is recognized by the CDC for education requirements, training, work experience and eligibility criteria for re-certification.
PCED Certification
Enhance your career by becoming a Professional Community and Economic Developer (PCED). CDI helps prepare you for this nationally-recognized certification offered through the Community Development Council (CDC). Application and eligibility information are available at cdcouncil.com. Pre-registration for the exam is required 45 days in advance. The PCED is optional and not required for CDI attendance.
Registration and Attendance
The cost to attend CDI Texas is $600. The Advanced course is $350 for CDI alumni and $400 for non-CDI participants. Registration fee covers training, participant materials, and breakfast, lunch and refreshment breaks daily. Accommodations and other food costs are the responsibility of the participant. All sessions will be held at the Lone Star Community Building located at 5000 Research Forest Drive, The Woodlands, TX 77381.
Attendance at all sessions is required to earn full credit. If a participant misses more than 10 percent of the course sessions, credit for course completion will not be given. Completion of CDI earns one PCED certification or re-certification point.
CDI Across the Nation
CDI Texas is part of a national network of training sites endorsed by the Community Development Council (CDC), a nationally-recognized, non-profit organization with the mission of advancing the practice and profession of community development. For more information about the CDC and CDI site locations visit cdcouncil.com.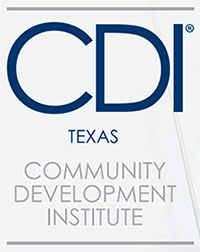 2017 Texas CDI
Presented by:
Lone Star College 

March 6 - 9, 2017