LSC-CyFair Fitness Center
Welcome to the LSC-CyFair Fitness Center!
We would like to thank our students, faculty, and staff for choosing LSC-CyFair Fitness Center to pursue your goals toward a healthy and happy lifestyle.
Registration
Upon arrival, students, faculty and staff are required to sign-in at the front desk (CENT 114). It is mandatory to show proper LSC-CyFair identification to the front desk staff on each visit.
Fitness Center Showcase
The Center for Student Life presents the Spring 2015 Fitness Center Showcase from 11:30 am - 1:00 pm on Tues., February 10 in the Fitness Center, located in the College Center building. Come join Student Life for prizes, fitness contests, free food, and more! All participants must provide a current student ID to enter contests and receive prizes. For questions, contact Jonathan Williams.
Policies & Procedures
Read our Policies and Procedures for the LSC-CyFair Fitness Center.
Check with your doctor before starting any exercise program.
An exercise program should be started with gradual increases to frequency intensity, time and type of activity.
Fitness Center Hours and Free Classes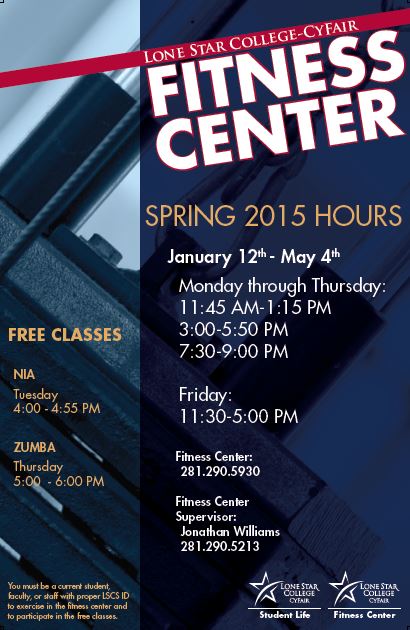 LSC-CyFair Fitness Center will follow closely with the college holiday schedule. These dates include, but are not limited to, Labor Day, Thanksgiving week, Winter Break in December and January (two weeks), Spring Mid-semester break (one week), Spring Holidays, Memorial Day, and July 4. The fitness center will also follow shortened hours during the summer. Please note time change postings at the front desk. Please note that scheduled college related use of the facility has priority over individual or group usage.
Maps