LSC-Kingwood Outreach and Recruitment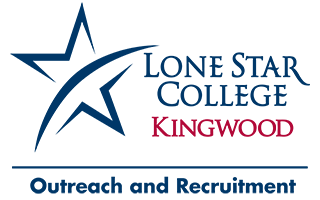 Welcome to the Lone Star College-Kingwood Outreach and Recruitment homepage! The Office of Outreach and Recruitment helps students attend college and succeed in achieving their goals. Please click on the links below for more information.
Programs
In addition to these programs, we also offer several additional programs throughout the school year. Check our site frequently for information on upcoming programs.
Our Mission
The mission of the Lone Star College-Kingwood's Outreach and Recruitment division is to empower prospective traditional and non-traditional students within our service area to accomplish their goals by providing guidance and education about the programs and services that LSC-Kingwood has to offer.
By creating close partnerships with ISD's and community organizations we strive to create opportunities in which we can engage individuals in conversations about their future and provide information that will be vital in their transition to college and into the workforce.