LSC-Montgomery Maps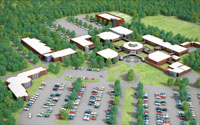 LSC-Montgomery sits nestled in a calm forest, but is conveniently
close to I-45.
3200 College Park Drive
Conroe, Texas 77384
Location
View
LSCS Locations
in a larger map
Important Information
Please be aware that Maverick Way (the eastern-most entrance to LSC-Montgomery) is no longer open to entering traffic coming from I-45, unless you are on the new flyover. You will have to use the University Center entrance or the West Campus Drive entrance. You can still access the parking lots off of Maverick Way – just use the other entrances and follow the signs.
Traffic coming from the west on 242 is still able to use the Maverick Way entrance. This DOES NOT affect the Maverick Way exit – just the entrance. Beginning July 6, a $.50 toll will be assessed for those using the flyover. Please be careful at the 242/Maverick Way intersection – follow all posted signs!
Campus Map
Building A - Commons Building
1st: Luby's, Wellness Center, Bookstore, Commons, Student Life, Child Care Center, Facilities
2nd: Classrooms/Labs
Building B - Health Science Center 1st: Science Classrooms/Labs; Teaching Theatre (B102)
2nd: Science Classrooms/Labs
Building C – Student Services Center 1st: Student Services (Welcome Center, admissions/advising, financial aid)
2nd: Extended Learning Center, Testing Center
Building D - Performing Arts Center
1st: Mary Matteson-Parrish Art Gallery, Mainstage Theatre, Labs
2nd: Blackbox Theatre, Labs
Building E - Administration Building
1st: Executive Offices, Human Resources, College Relations
2nd: Continuing Education, Office of Technology Services, Education for Tomorrow Alliance
Building F - Library Building
1st: Library, Coffee Bar, Cyber Café
2nd & 3rd: Classrooms/Labs
Building G - General Academic Center
1st: Classrooms/Labs, Lecture Hall (G102)
2nd - Classrooms/Labs
Building H - Music Hall
1st: Recital Hall, Band Hall, Choir Hall, Practice Rooms
Building I - University Center
SP - Student Parking >
S - Sports & Athletic Fields
T-112 - Temporary Building