Mindful Images-Laura Frare and Maryann Lucas
Laura Frare
| | |
| --- | --- |
| 11.29,30.07-12.9.07 (2kyo) | 10.8,12.07 (0902) |
| 9.17,22.05 (oy doi) | 3.17,19.07 (s oso) |
| 10.8,9,10.05 (schaan) | 4.25-29.05 (yellow) |
Artist Statement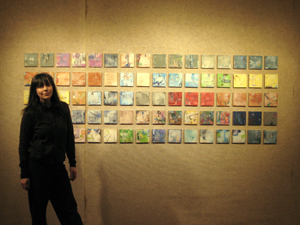 I am interested in the mode of image making that recognizes and allows for the mind's movement toward association. I am currently involved with a time-based project that explores an abstracted narrative, titled The Tiles Project, which was conceived in the fall of 2002 and continues to this present day.
The work emerges from a commitment to the daily practice of automatist drawing. This aleatory process is a means to free my subconscious image-making capabilities to gain access to a more personal vocabulary of image-making and to express those ideas within a visual language.
Taking a cue from the Surrealist game, exquisite corpse, I make daily automatist drawings on painted and sanded grounds that I prepare as blanks on square wood panels. Continuing to work in this mode every day, the tiles accumulate over time.
I am in the habit of dating every drawing like a kind of diary, arranging the tiles in chronological order like a calendar, but when they are shown out of context of the whole, in addition to the date, I give each drawing a subtitle based on the words or imagery apparent in the drawing. Seen as a group, there is a gestalt in the pattern of repetition and variation seen in the relationships of color, texture, imagery and detail within the whole.
For this exhibit I have presented a group of framed photographic enlargements of 6 selected tiles dating from 2005 and 2007. I have also selected 4 sketchbook drawings made during a recent trip to Italy in June 2008.
To learn more about Laura you may visit her website: http://www.laurafrare.com/.
Biography
Laura Frare earned a Master of Fine Arts degree in painting from The University at Albany and a Bachelor of Science in Visual Arts from the State University of New York at New Paltz.
She currently works as an adjunct instructor at Adirondack Community College and a collections assistant and art handler at the Tang Teaching Museum and Art Gallery at Skidmore College.
Her work has been exhibited regionally in New York state, including the Visual Arts Gallery at Adirondack Community College, the Yates Gallery at Siena College, The Albany Center Galleries, and the Albany Institute of History and Art. She lives and works in an old schoolhouse in Saratoga County, NY with her husband Nick Warner and their black pug, Bianca. Her email address is laurafrare@mac.com.
Mary Ann Lucas
| | |
| --- | --- |
| Ancient Scrolls | Spirits |
| Trilogy | Angelic |
| Ascension | Celestial Passage |
Artist Philosophy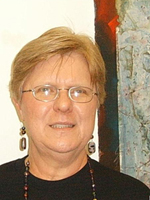 I consider myself an experimental artist. I started my artistic career depicting reality in nature and life and have evolved to a more abstract representation of that reality. I view my work as an exciting journey into the unknown. With each step I have unlimited choices to reach my final destination. That end then becomes my new beginning. I feel I can explore my creativity to the fullest when I work this way. Working in a variety of mediums enables me to constantly explore new possibilities and to push the composition to the limit. Recycling my artwork by tearing, cutting, repainting, making my own paper and treating various other papers with a variety of art supplies, and also using found objects, has allowed me to expand and explore different ways of presenting my love of man and nature through collage. Color is also very important and guides me throughout the creative process. If something doesn't work one way I try another. I know I learn from each experience.
By doing this I am trying to present another dimension to the viewer in an interesting manner - working intuitively, linking one idea to the next as I progress toward a finished product. This method enables me to keep my work fresh and creative. Early in my career Edgar Degas and then later Alexander Calder and Robert Rauschenberg has been most influential in my work - giving me permission to try anything.
My work in this exhibit reflects my desire to explore the complexity of humanity through imagery. Angels, woman with child, uplifted hands, ancient writings, Aztec mask, human figures. These are powerful images to me. By using them I hope to convey a message of hope, understanding and respect for all beliefs.
Alexander Calder as my inspiration combined with my love of the line led me to create these wire figures. I became fascinated with looking at them from various angles thinking how it represented the complexity of man and wanted to capture these poses through photography. I was working in pottery when I created the clay figures. I sketched some of these poses, then turned them into 3-D with clay and then back to 2-D with photography.
MaryAnn Lucas
Biography
Mary Ann Lucas was born and raised in Chicago, Illinois of parents who emigrated from Poland in 1928. She began making art in the late 1960's, and since then has had over 35 one woman shows and won numerous awards. She is former President of the Visual Arts Alliance, Northwest Art League and The Lone Star Art Guild, an alliance of 15 art groups in Southeastern Texas. She is an active participant in the Watercolor Art Society of Houston, the First Frontier Collage Society, Art League of Houston, and Lone Star Art Guild art shows. She is married and has two grown sons. You can learn more by visiting her website http://www.malucasart.com/. Her email is malucasart@hotmail.com.